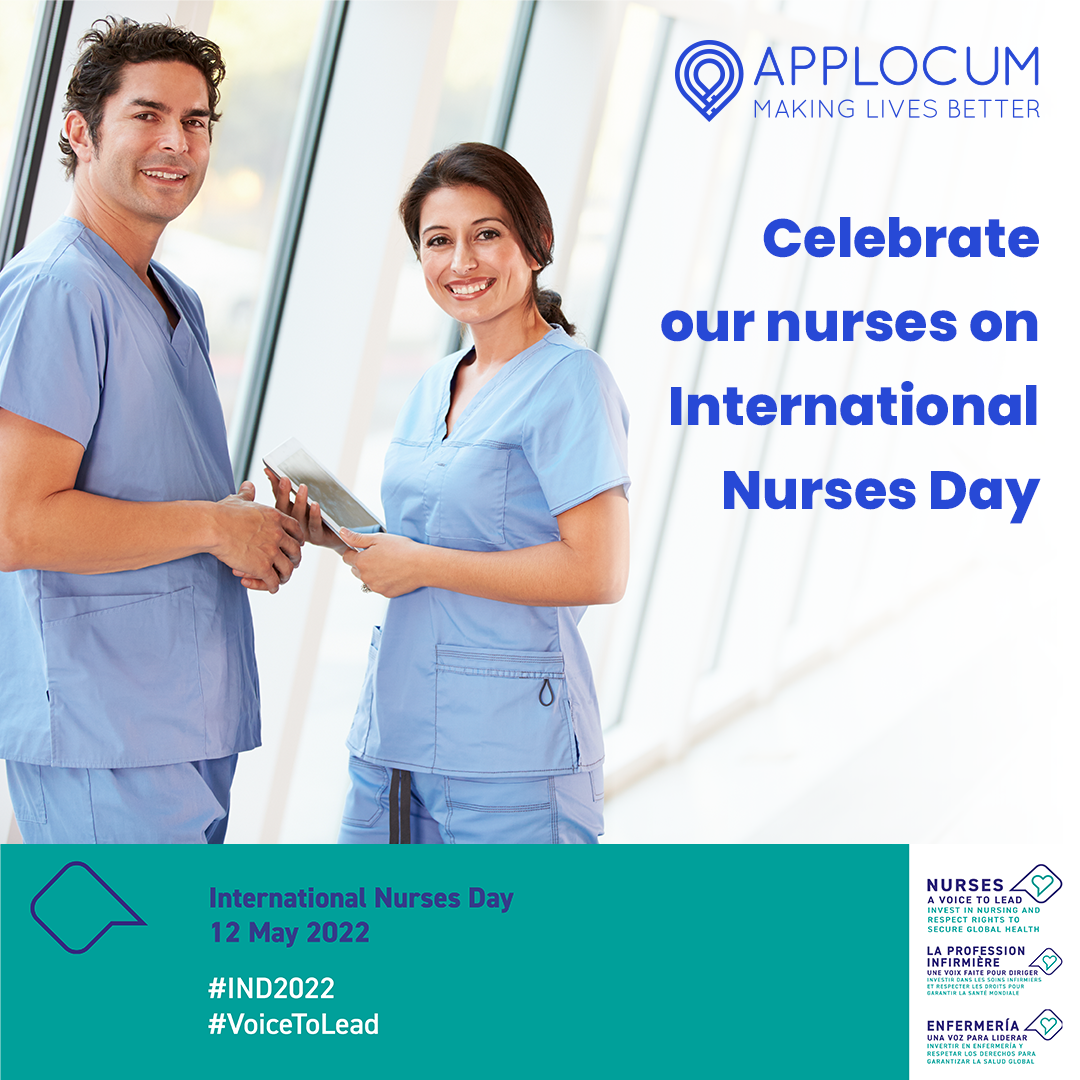 Celebrate our nurses on International Nurses Day
This is the day for the whole world to say thank you to our dedicated nursing professionals, who show such care and compassion towards us. We must ask the question 'where would we be without them?'
Held on 12th May every year, we not only have time to reflect on how our nurses have coped over the past few years, but we should also celebrate the birthday of Florence Nightingale.  Florence was a pioneer in nursing in many ways and fought her way through many difficult years. Our 'Lady with the Lamp' not only nursed her way through the Crimean War which began in 1854, but also coped with outbreaks of cholera, dysentery, typhus and typhoid, mainly treating soldiers during the battle. She respected the troops and they returned that sentiment. Respect surely must be shown when nurses risk their own health and in some cases their lives for the care of others.
The theme of this special day this year is Nurses: A voice to lead – Invest in nursing and respect rights to secure global health.

Are we anywhere near fulfilling this?
The current difficulties nurses are facing
Whilst our nurses have the benefit of electricity and not lamps, specialist equipment and sanitary conditions, they still experience a great deal of the same daily problems that Florence also faced.  An overwhelming surge of critical cases during the last few years has certainly shown the strength and resilience of our nursing body. In an article in 'The Economist' in 2020 (designated 'The Year of the Nurse'), it was stated that Florence would 'furrow her brow' or probably turn in her grave to see how nursing is today. The following points are the difficulties that nurses are experiencing in current times, that have been building up for a period of years.
Nurses find that they are increasingly expected to take on the role of GPs in treating chronic illnesses such as diabetes and to formulate each individual case with appropriate changes in lifestyle etc.
Constant and increasing nursing shortages means less time with patients and the likelihood of potential mistakes.
In pandemic times, increased hours, extra shifts etc. are taking a toll on both their physical and mental health. The constant threat of new viral strains creating another pandemic, must be constantly on their minds.
Nurses often feel that they are the brunt of patients' dissatisfaction, even experiencing verbal abuse and physical attacks. Most of this has been brought on by the advent of the Covid virus on our nation, causing backlogs in patient treatment in critical diseases such as cancer. With cancellations and delays in treatments such as scans, patients have shown more volatility towards nursing staff. In some instances, there is also abuse from other members of staff.
Pay prospects for nurses are certainly not the most attractive. Promised increases, have yet to reach the level originally discussed by the Government. The overall effect is one of nursing being a 'lack-lustre' and poorly remunerated profession. On top of this, the recruitment drive from overseas has by no means reached the required amount to boost the level of staff currently needed. Consequently, many nurses are thinking of leaving the profession.
Radical changes are obviously needed to ensure that our nursing community can perform to the best of their ability. Unfortunately, this is in the hands of the Government and the appropriate pay board, but let's hope that pay and conditions can be brought up to speed – this is one way the country can show respect. Our caring profession need to be rewarded.
Whilst the majority of the country can do nothing to help our nurses in terms of pay and other points mentioned, we can all show in some way that we thank them for everything they have done and continue to do. At some time, many of us have been hospitalized, whether short or long term. We need to say thank you or make a gesture to show that we care about them too. During Covid, the 'clap for carers' was instigated, and that same respect needs to be always shown in other ways.
At AppLocum, we encourage our nursing candidates to ask for our help too. We are your support system for any problems that you may encounter whilst in a placement, or even if you want some advice. AppLocum with do their best to help as much as we can. We do appreciate you.
Don't just take our word for it,
see what our users think
Within two days, I was registered and ready for work with a regular contract arranged by Matthew. When this contract ended Matthew provided me with great support and boosted my confidence enough to help me take a step up in my nursing role. He is a true credit to AppLocum and always maintains a highly professional service.
A M McGuire

Nurse
You guys are marvellous!! I work with a few agencies but to be honest you're miles better at everything so I just work with you guys now.
B McQuillan

Practice Nurse
I would recommend AppLocum! Matthew is always so helpful and great at getting shifts sorted quick and fast. The whole process was smooth and easy starting my set up at AppLocum. Matthew always keeps in touch to inform you what is going on with each job. Best agency out there!
C Brosnan

HCA
You have helped me so much throughout 2019 coming into 2020. Its been a hard year for everyone but you made sure I had work no matter what the circumstances were, you motivated me so much to apply for my [NMC] pin. You improved my skills and knowledge within these 2 years and I wouldn't have done it without you.
A Majeed

Practice Nurse
I have worked for AppLocum for three years now and they are fantastic to work for! They are like one big family! They really take the time to get to know you personally, and are so supportive from the compliance officers to the nurse consultants! They are easily accessible and really care about their ANP's.
S Brandreth

Nurse
I have been delighted by the commitment of the AppLocum team in finding me long term work during this difficult time and the communication has been superb. I started working with the team a few weeks ago and have had more work than with my usual two agencies.
L Gruszka

Locum GP
It was the best experience I have ever had, having been through the same process with other agencies many times before. Obviously, I was hesitant at first having had my own personal experiences with agencies but I soon got a good feeling about this one. Very personal and friendly approach.
R Taylor

Practice Manager
I have recently changed my locum provider and the service I receive is excellent There is always a quick response for any requirements and queries I have. A practice managers role is very hectic and having a reliable locum agency takes so much pressure off our working day.
D Cohoon

Surgery Admin