Know other healthcare professionals who would benefit from locum work? Earn rewards by referring your friends and colleagues to AppLocum.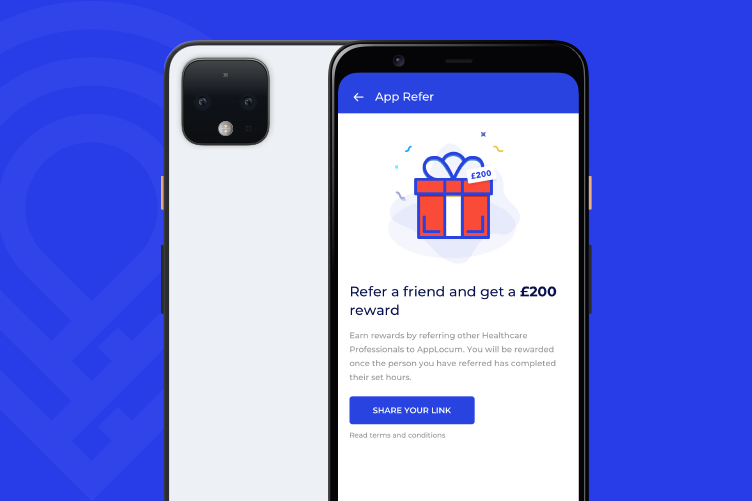 Refer A
Friend
Receive your voucher reward once the person you have referred has completed their set hours.
£200 for 200 hours
To qualify for this referral bonus, the referred person must be placed within 6 months of being registered and the 200 hours completed during this period.
There is no limit to the amount of people you can refer.
Terms and Conditions
The AppLocum Referral scheme and these terms and conditions refer to any instances of a valid candidate referral for AppLocum, any of its brands or group companies.
The new bonuses are effective as of the 15th March 2019. Any referrals made by submitting the web form or in writing to the consultant before this change, will not be valid.
Excludes referred candidates that are already registered with AppLocum and actively seeking work.
To qualify for a reward, the referred person must be placed within 3 months of being registered. Reward must be claimed within 3 months of the 200 hours being completed
AppLocum reserves the right to offer an alternative reward of the same value at any time.
The referee has the right to decline any offers from AppLocum.
AppLocum's decision is final.
You agree to refund on demand (without any time limit) any reward where you are found to be in breach of these terms. AppLocum shall not be liable arising out of or in connection with this agreement or (i) any loss of or damage to profit, revenue, savings, data, use, contract, goodwill or business or (ii) any indirect or consequential loss or damage, in each case howsoever caused or arising.
The term "howsoever caused or arising" when used in this agreement shall be construed widely to cover all causes and actions giving rise to liability, including but not limited to (i) whether arising by reason of any misrepresentation (whether made prior to and/or in this Agreement), negligence, breach of statutory duty, other tort, breach of contract, restitution or otherwise and (ii) whether arising under any indemnity and (iii) whether caused by any total or partial failure or delay by AppLocum. Nothing in this agreement shall limit or exclude any party's liability for fraud or for death or personal injury caused by the negligence, or to the extent otherwise not permitted by law.
Don't just take our word for it,
see what our users think
Within two days, I was registered and ready for work with a regular contract arranged by Matthew. When this contract ended Matthew provided me with great support and boosted my confidence enough to help me take a step up in my nursing role. He is a true credit to AppLocum and always maintains a highly professional service.
A M McGuire

Nurse
You guys are marvellous!! I work with a few agencies but to be honest you're miles better at everything so I just work with you guys now.
B McQuillan

Practice Nurse
I would recommend AppLocum! Matthew is always so helpful and great at getting shifts sorted quick and fast. The whole process was smooth and easy starting my set up at AppLocum. Matthew always keeps in touch to inform you what is going on with each job. Best agency out there!
C Brosnan

HCA
You have helped me so much throughout 2019 coming into 2020. Its been a hard year for everyone but you made sure I had work no matter what the circumstances were, you motivated me so much to apply for my [NMC] pin. You improved my skills and knowledge within these 2 years and I wouldn't have done it without you.
A Majeed

Practice Nurse
I have worked for AppLocum for three years now and they are fantastic to work for! They are like one big family! They really take the time to get to know you personally, and are so supportive from the compliance officers to the nurse consultants! They are easily accessible and really care about their ANP's.
S Brandreth

Nurse
I have been delighted by the commitment of the AppLocum team in finding me long term work during this difficult time and the communication has been superb. I started working with the team a few weeks ago and have had more work than with my usual two agencies.
L Gruszka

Locum GP
It was the best experience I have ever had, having been through the same process with other agencies many times before. Obviously, I was hesitant at first having had my own personal experiences with agencies but I soon got a good feeling about this one. Very personal and friendly approach.
R Taylor

Practice Manager
I have recently changed my locum provider and the service I receive is excellent There is always a quick response for any requirements and queries I have. A practice managers role is very hectic and having a reliable locum agency takes so much pressure off our working day.
D Cohoon

Surgery Admin