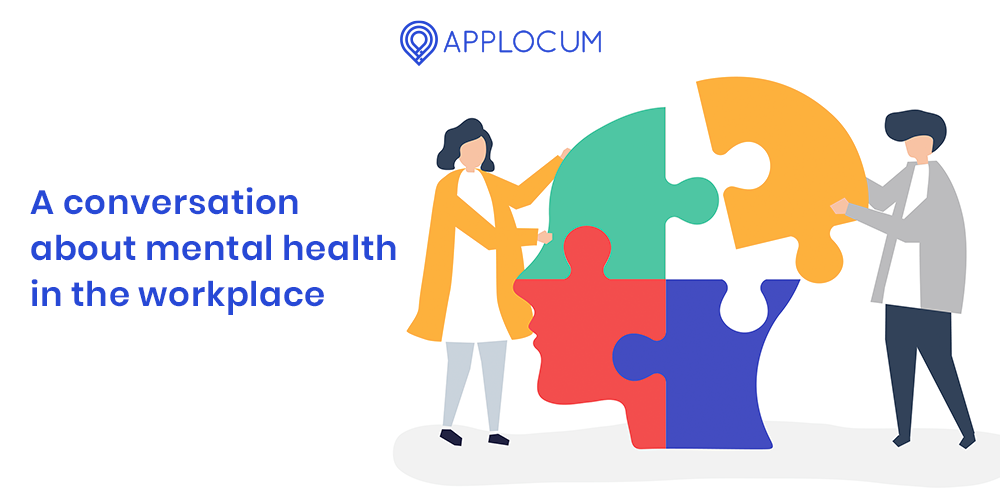 A conversation about mental health in the workplace
The COVID-19 pandemic has threatened not only our physical health, but our mental health too. After almost a year of challenges and restrictions, people are continuing to battle burnout and isolation, particularly in the healthcare industry. AppLocum's Director, Jane, and our HR Manager, Karolina, both have a strong interest in mental heath. They spoke to us about addressing mental health in the workplace and how to reach out to those who are struggling.
What has been the impact of COVID-19 on 
AppLocum
?
Jane:  It's had a massive impact. It has been important to keep our employees safe. We've had to consider their mental health, wellbeing and individual circumstances whilst having consistent policies and procedures in place for everybody. Whilst we want to look after people's wellbeing, we also need to make sure they're doing their jobs so that we can pay everyone's salary at the end of the month. Getting that balance has been hard but I think we've done it.  
Our clients are under an incredible amount of pressure. During the first lockdown, I don't think anyone knew what to do so it went a bit quiet. Once people found a different way to provide their services, it was busier than ever. They've had to do things differently whilst needing even more healthcare professionals.  
We already knew our healthcare professionals were wonderful. It's a shame that it took this long for them to get worldwide recognition for their amazing work. However, for many of them, the stress and pressure is a lot. We hear it in the calls we have with them each day.  
The AppLocum employees have needed to know how to support the healthcare professionals and clients through this tough time. It's been such a privilege to work alongside healthcare and feel like we can help. Whether it's one conversation with a nurse to make them feel a bit better that day, or the dramatic stories like when a hospital managed to put on two life-saving surgeries because of the staff we'd provided. 
Why do you think it is important to speak about mental health and wellbeing?
Karolina: I did my Master's dissertation on mental health in the workplace and found that 1 in 4 people experience mental health issues each year. We probably all have either experienced mental health issues or know someone who has. There are benefits to speaking loud about mental health, such as reducing the stigma. It is more recognised now. 
Mental health is on the agenda for many employers. Recently, we have also started talking about it more because mental health issues have increased due to people struggling with the impact of the pandemic. We need to make sure people aren't ashamed or afraid. If people don't know about the problem, they don't know how to get support. When you speak about your issues and problems, it helps you to heal.  
Jane: Mental health has been close to my heart for a long time. I have had personal experience with it when I was younger. Some of the statistics around mental health are quite frightening. Until the pandemic, suicide was the biggest killer of men aged 20-49 in the UK over any other illness. Yet, suicide is preventable if we can catch people earlier, the same as with any illness. So, I started speaking in schools to help with that prevention. 16-18 years old is a good age to start the conversation and even if it helps one person it is worth it. I want to show that there is help and support out there.  
What do you think are the risks to employees if mental health isn't addressed in the workplace?
Jane: Employees might think that it isn't okay to talk or they won't be supported. Once you get to a manager or director level, it is a privilege which comes with a responsibility to lead by example. Anyone in the business could speak out about mental health and it would make a positive impact. When you're someone that people look up to, you should show that it's okay to talk about it and that we all have mental health. 
Karolina: Mental health has an impact both on work and personal life. If it is not addressed, it just gets worse. The individual's general health may decrease and they may start to feel isolated in the workplace. It can lead to them being off sick. Long-term sick leave may add to their worries due to having less money or thinking that they may lose their job if they cannot return to work due to long absence. Poor performance in the workplace also adds to stress on the individual and on the whole team who will have to pick up the work. 
How can businesses support their employees' health and wellbeing? 
Karolina: First of all, it is important to have the correct policies and procedures in place for any cases of mental health. Leaders need to know where to signpost employees who are struggling. We can also introduce training for employees on how to spot their own mental health issues and know where to get support, as well as training for line managers to know how to support their staff. It is important to back these discussions up with support. AppLocum has an Employee Assistance Programme (EAP). This means that employees have access to counselling whereas through the government you might have to wait months.  
Jane: An EAP is a small cost for wellbeing. We also try to do things aside from that additional support. We make sure that there are spaces in which people can talk openly, that team managers know how to support their team and look out for signs. HR is also important so I wanted to ensure that we had Karolina as an expert. The EAP is a cost but what you get back in return, knowing that your staff are supported and you've done everything you can, is priceless. Businesses have a responsibility to look after the wellbeing of their staff. It shouldn't just be about making money. Money is a vehicle to do good with. If more businesses felt that way, the world would be a better place.  
What's something everyone can do to support others wellbeing?  
Karolina: You don't have to be a specialist to offer support. Even if you don't know your work colleagues as well, there are still little things we can all be doing. Tell people you are there if they need your help and ask if they want to talk. Due to COVID-19, many people are feeling even more alone. Keep in regular contact. Simply, be kind. This will make people feel more open with you.  
Sometimes with working from home you can think, I don't want to have a call every morning. But it is important to keep up regular communication so that you don't feel isolated.  
Jane: Whether it's a colleague, a friend, or a family member, accept that you might never understand. You don't need to, you just need to be there. Be patient. Be kind. Be consistent – don't be there for someone one week and gone the next. You don't have to constantly ask them if they're okay but let them know that if they need to talk, they can. Know that you can support each other.  
It's hard for people to understand depression if they've never had it. Just know it's there. I don't know what diabetes feels like, but I know it exists. If you don't understand then ask how you can support them and follow their lead. 
What are your aims for the future of AppLocum?
Karolina:  Especially now, it is so important to talk about mental health and wellbeing. My aim is to create an open culture and improve relationships between line managers and employees. As a HR Manager, I'm less likely to spot when things are wrong but it will be clearer to a line manager with that daily communication. I want to equip line managers to spot and manage those situations. We will put policies and procedures in place so that we know how to deal with mental health. I also want to equip employees with the confidence to seek support and be open with their line managers.  
In the long-term, it would be good to create a wellbeing strategy for the company. But I want to start with creating an open culture so that everyone feels supported and that wellbeing is a part of regular communication. 
Jane: Where do we start? Our mission is to provide a place where people can thrive. Making lives better starts at home with our employees. We want to provide opportunities for people, whether apprentices or people 20 years into their career, to learn new skills, enjoy themselves and feel like they've made a difference. They should feel proud of the contribution they've made to the business, the community and the healthcare world.  
We've been awarded both NHS frameworks which means we can help a wider range of services: supporting hospitals throughout the UK alongside the Primary Care Networks we already supply. We want to make our clients' lives better by providing a cost-effective staffing solution that they can trust and enjoy being a part of. We want to give our healthcare professionals the opportunity to work with clients they enjoy. It is also important for us to , for example, with our financial resilience partnership.  
As the tech and digital platforms that we're enabling come in, we will be able to pass cost efficiencies onto the NHS which can then be funnelled into patient care, which is where Suhel's (CEO and Co-Founder of AppLocum) heart lies as a GP. That's the end goal for us, to pass efficiencies onto the NHS, which will then provide better patient care and longevity of the NHS. We want to help give the NHS a sustainable future. 
Don't just take our word for it,
see what our users think
Within two days, I was registered and ready for work with a regular contract arranged by Matthew. When this contract ended Matthew provided me with great support and boosted my confidence enough to help me take a step up in my nursing role. He is a true credit to AppLocum and always maintains a highly professional service.
A M McGuire

Nurse
You guys are marvellous!! I work with a few agencies but to be honest you're miles better at everything so I just work with you guys now.
B McQuillan

Practice Nurse
I would recommend AppLocum! Matthew is always so helpful and great at getting shifts sorted quick and fast. The whole process was smooth and easy starting my set up at AppLocum. Matthew always keeps in touch to inform you what is going on with each job. Best agency out there!
C Brosnan

HCA
You have helped me so much throughout 2019 coming into 2020. Its been a hard year for everyone but you made sure I had work no matter what the circumstances were, you motivated me so much to apply for my [NMC] pin. You improved my skills and knowledge within these 2 years and I wouldn't have done it without you.
A Majeed

Practice Nurse
I have worked for AppLocum for three years now and they are fantastic to work for! They are like one big family! They really take the time to get to know you personally, and are so supportive from the compliance officers to the nurse consultants! They are easily accessible and really care about their ANP's.
S Brandreth

Nurse
I have been delighted by the commitment of the AppLocum team in finding me long term work during this difficult time and the communication has been superb. I started working with the team a few weeks ago and have had more work than with my usual two agencies.
L Gruszka

Locum GP
It was the best experience I have ever had, having been through the same process with other agencies many times before. Obviously, I was hesitant at first having had my own personal experiences with agencies but I soon got a good feeling about this one. Very personal and friendly approach.
R Taylor

Practice Manager
I have recently changed my locum provider and the service I receive is excellent There is always a quick response for any requirements and queries I have. A practice managers role is very hectic and having a reliable locum agency takes so much pressure off our working day.
D Cohoon

Surgery Admin