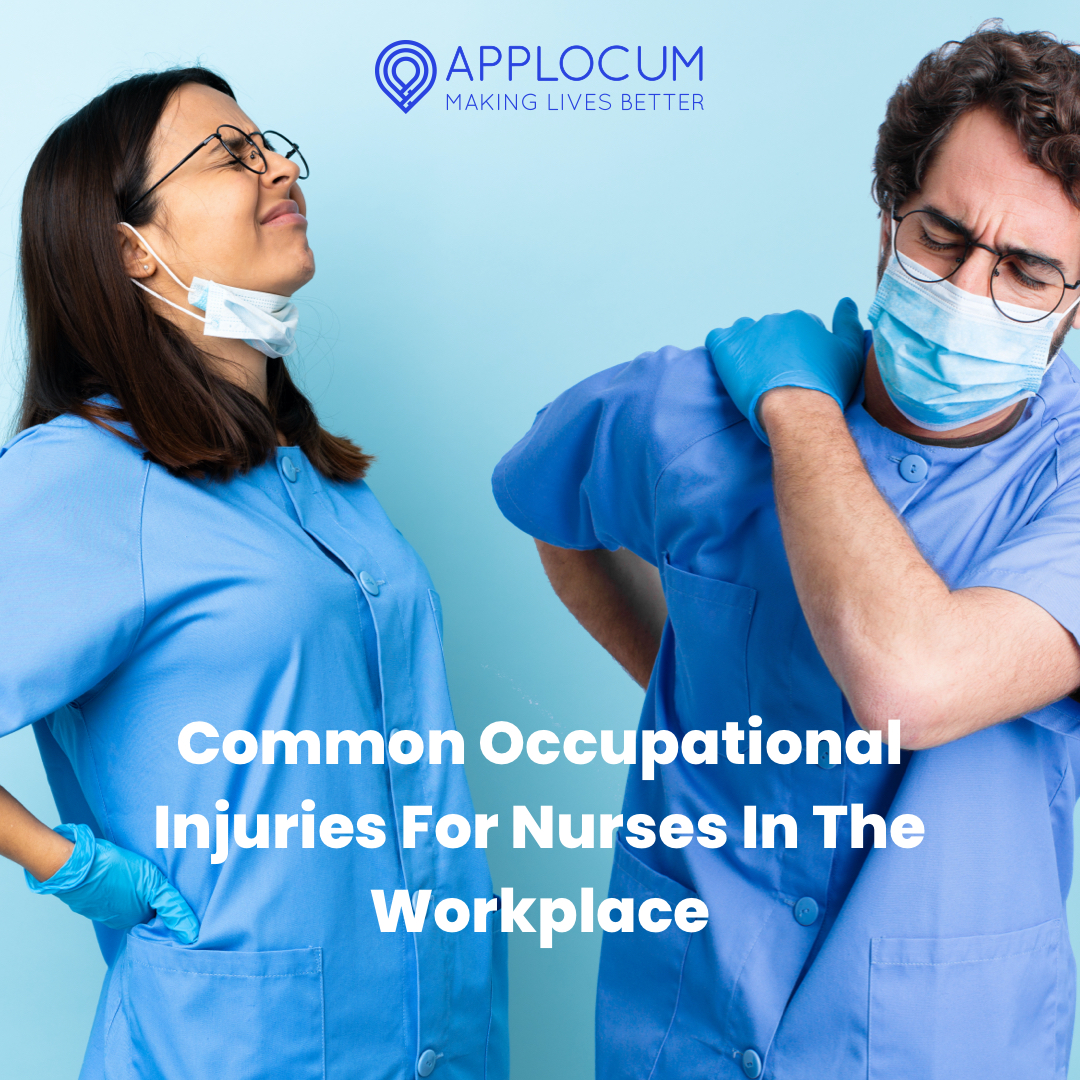 Common Occupational Injuries For Nurses In The Workplace
There are workplace hazards in many commercial workplaces, but the nursing fraternity are exposed to a great deal of them, due to the nature of their jobs. Nurses are at a much higher risk than those working in more sedentary environments where physical movement and strength are not part of their remit. Whilst certain steps can be taken to prevent some injuries, it is inevitable that they will occur, and to a certain extent, potentially more long term, and debilitating. According to Workplace Injury Statistics UK, upwards of 86,000 non-fatal injuries occurred in the past year. It is sad to hear that nurses ranked second in this list, with the wholesale and retail trade in top position.
Common injuries experienced by nurses
The following are potential risks that nurses face:
Falls, trips and slipping over (particularly common in nurses over 50). Refer here to find advice and more information https://activeseniorsclub.co.uk/principles-for-safe-moving-and-handling/
Over-exertion – with the physicality of a nurse's daily work, there is a tendency to overdo certain activities, i.e. lifting patients or turning them over, bathing patients or moving equipment, especially in a hurry. The result is usual muscle or potential ligament tears, sprains, and strains (particularly around the spine and back). It is stated that 40% of nursing injuries fall into this category. Depending on the severity, this type of injury can be more long term than expected.
Less regularly, there are instances of aggression or violence from patients. Fortunately, this is not a high percentage, but must be included.
Low on the scale is potential exposure to harmful substances or pathogens, but it does happen.
Burns, dislocation and cuts and other minor injuries are recorded at 14% or under.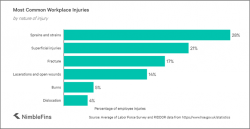 Source: Workplace Injury Statistics UK 2021 (NimbleFins, 2021)
Health and Safety Policy within Healthcare Facilities
Every organization be it surgeries, hospitals, or independent healthcare facilities must have a clearly defined policy, which should be available for all to see. The organization must have a health and safety policy which clearly identifies responsibilities for health and safety management and reporting mechanisms. The policy is communicated to all staff in order for them to know which steps to take in case of injury.
Furthermore, it is the responsibility of the healthcare facility to identify, assess and put control measures in place for any/and all health and safety risks to nursing staff. Within these identified areas, also included but not limited to the above:
Work related mental health issues
Third party harassment problems
Lone working
Any environmental issues (including temperature, ventilation)
In the interest of other nursing problems, the Royal College for Nursing state that protected characteristics including (but not limited to) age, gender, ethnicity, and disability should also be tactfully considered. This includes the interface between the menopause and work; domestic abuse; reasonable adjustments; age related risks to workers' health and safety and third-party harassment.
As you can see, the RCN is the voice for nurses and exceptionally protective towards nursing staff and their physical and mental wellbeing.
Workplace Health and Safety Tips for Nurses
We know that 'accidents will happen' but there are certain measures that can be taken to try to avoid them. It is exceptionally important to create a culture wherein safety is paramount. This will also create a united team of professionals who are patient centric. This will also emphasize healthcare workplaces' accountability to the care of not just patients, but staff as well.
To protect yourself, you need to take heed of safety issues (the majority of these will be obvious to you).
Beware of sharp objects such as needles when administering injections etc.
Watch where you tread. Look out for wet floors and signs for 'no entry' or 'hazard'. If you see a wet area, refer it to maintenance immediately.
When lifting or turning patients, ensure you have the correct grip and stance when doing so, and if possible, always get other colleagues to help. If the patient is too heavy, use lifting equipment or seek other professional help. https://activeseniorsclub.co.uk/principles-for-safe-moving-and-handling/
Gloves – an essential nurse's tool to prevent transferable diseases. Gloves always consist of latex, so if you have an allergy or likely to flare up with dermatitis or similar, wear cotton gloves underneath.
What to do if you are injured at work
If you do experience injuries (or other reportable issues) there should be an injury log on every ward or within a practice etc. It is important that you report it to the Health and Safety Office or whoever is charged with the equivalent position, so that it is logged immediately. Depending on the severity of the injury, the HSO will take the responsibility of rectifying the issue and most importantly, make sure you receive whatever treatment is necessary.
Claims for Injury
If you have the misfortune of being injured at work and need to make a claim against it, you can refer to the NHS Injury Benefits Scheme. This covers both temporary absence from work or a more serious case, when you are no longer able to work at all. https://www.nhsbsa.nhs.uk/about-injury-benefits-scheme
Should you have an issue that you feel your employer is responsible for, by all means reach out to your consultant at AppLocum, who will try to help you with the problem.
Don't just take our word for it,
see what our users think
Within two days, I was registered and ready for work with a regular contract arranged by Matthew. When this contract ended Matthew provided me with great support and boosted my confidence enough to help me take a step up in my nursing role. He is a true credit to AppLocum and always maintains a highly professional service.
A M McGuire

Nurse
You guys are marvellous!! I work with a few agencies but to be honest you're miles better at everything so I just work with you guys now.
B McQuillan

Practice Nurse
I would recommend AppLocum! Matthew is always so helpful and great at getting shifts sorted quick and fast. The whole process was smooth and easy starting my set up at AppLocum. Matthew always keeps in touch to inform you what is going on with each job. Best agency out there!
C Brosnan

HCA
You have helped me so much throughout 2019 coming into 2020. Its been a hard year for everyone but you made sure I had work no matter what the circumstances were, you motivated me so much to apply for my [NMC] pin. You improved my skills and knowledge within these 2 years and I wouldn't have done it without you.
A Majeed

Practice Nurse
I have worked for AppLocum for three years now and they are fantastic to work for! They are like one big family! They really take the time to get to know you personally, and are so supportive from the compliance officers to the nurse consultants! They are easily accessible and really care about their ANP's.
S Brandreth

Nurse
I have been delighted by the commitment of the AppLocum team in finding me long term work during this difficult time and the communication has been superb. I started working with the team a few weeks ago and have had more work than with my usual two agencies.
L Gruszka

Locum GP
It was the best experience I have ever had, having been through the same process with other agencies many times before. Obviously, I was hesitant at first having had my own personal experiences with agencies but I soon got a good feeling about this one. Very personal and friendly approach.
R Taylor

Practice Manager
I have recently changed my locum provider and the service I receive is excellent There is always a quick response for any requirements and queries I have. A practice managers role is very hectic and having a reliable locum agency takes so much pressure off our working day.
D Cohoon

Surgery Admin