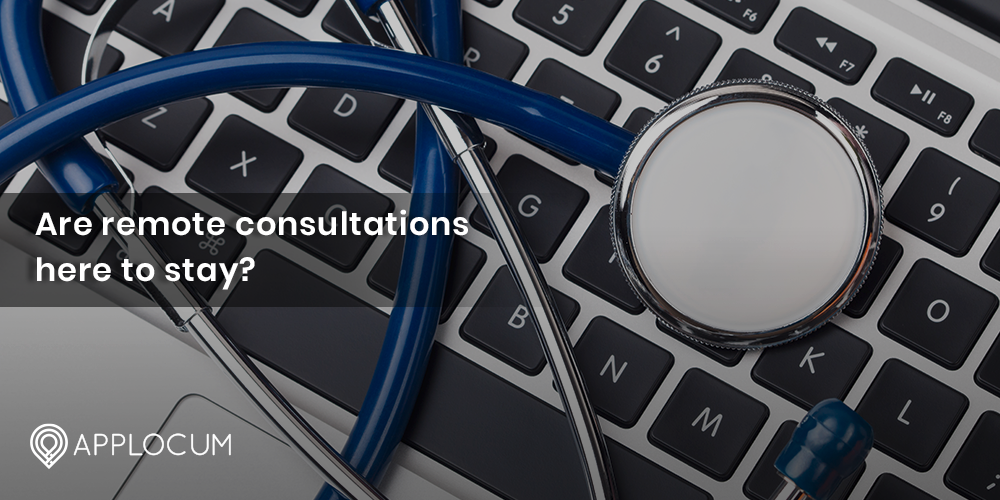 Are remote consultations here to stay?
The subject of remote consultations generates mixed opinions amongst healthcare staff. It became a key issue in March 2020 at the beginning of the pandemic. The government advised primary care providers to triage all patients remotely before an in-person appointment could take place, in the hope it would reduce the spread of Covid-19.
Before the pandemic, only 10% of GP practices offered remote consultations. That figure has climbed significantly to 99%. Matt Hancock has urged all GP consultations to take place remotely in the future 'unless there is a compelling clinical reason not to.' The chair of the RCGP disagrees. He remarked that the health secretary has 'overplayed his hand' by trying to enforce a near-total use of remote consultations. He insisted that the 'best patient care' is delivered through face-to-face consultations.
In the AppLocum GP locum survey, 39.5% of respondents said that their primary source of income during Covid-19 has been remote consultations. We also asked their thoughts on the long-term implications of Covid-19. An answer which kept popping up was that 'telemedicine' is here to stay. Many believe that "GP practices will continue with telephone triaging and see very few patients for face-to-face consultations". We are yet to see if this will come to fruition, but what do locum GPs think of this abrupt switch to a new way of delivering care?
The Benefits
The total or majority remote triage model is compelling to many GPs. It can offer more flexibility and prevent surgeries from becoming overwhelmed. One respondent to our GP survey said that there is "much more control now" thanks to the ability to prioritise "those requiring appointments sooner". According to another, it has made GPs "aware of how much can actually be dealt with by remote telephone consultations".
A survey by Visionable found that a majority of patients are happy with the quality of remote consultations. During the pandemic, more and more patients agreed that they can receive appropriate care remotely. In addition, four out of five believe that the technology is essential to the future of the NHS.
The Challenges
Of course, no-one is suggesting that we abandon face-to-face appointments entirely. Many clinicians really value the in-person connections they have with patients. Several of the surveyed GPs also did not shy away from describing the difficulties of remote consultations. Some suggested that many issues are "too complex and difficult to deal with remotely". Others considered the patients who may not be able to access remote consultations. For example, the "elderly are particularly hard at times as they might be hearing impaired and quite a few are unable to do video consultations".
It is not just age that can create barriers to digital technologies. The Nuffield Trust expressed concern that a move to majority remote appointments may "exacerbate health inequalities." This includes those without access to digital alternatives. In addition, chair of the RCGP Professor Martin Marshall stated that visual cues are often important in making diagnoses. This is particularly true in the case of complex health needs such as mental health. It is essential that these complexities are properly considered before a permanent migration to digital healthcare.
Locums finding their place
Locum GPs are still trying to find their place in the evolution of telephone and online GP consultations. 37% of surveyed GPs said that they saw fewer work opportunities during the pandemic. 25% said their biggest concern was uncertainty for the future. One respondent said that "it is likely that this current model of remote consulting will continue and therefore phase out the use of regular locums." However, the move to remote consultations has been abrupt. Strong infrastructure is not yet in place to fully understand the role of locums. Additionally, non Covid-19 related healthcare was being regularly cancelled or delayed during the first lockdown. The resurgence of these services may increase demand for locum GPs.
An analysis by GPonline found that face-to-face appointments increased by 54% from the last week of August to the end of September. This proves wrong the negative media rumours that GPs were not working hard enough to offer face-to-face appointments. It may also provide hope to locum staff who are concerned about being left behind by sudden structural changes in the NHS. The impact of the second lockdown is yet to be seen.
No matter the circumstances, our dedicated GP consultant team at AppLocum is working hard to continue finding work for locum GPs. Please feel free to contact us whenever you need to speak to one of the team. Check out our current vacancies here.
How do you feel about the rise of remote consultations? Let us know through our social media channels: Facebook, Instagram, Twitter and LinkedIn.
Don't just take our word for it,
see what our users think
I would recommend AppLocum! Matthew is always so helpful and great at getting shifts sorted quick and fast. The whole process was smooth and easy starting my set up at AppLocum. Matthew always keeps in touch to inform you what is going on with each job. Best agency out there!
C Brosnan

HCA
You have helped me so much throughout 2019 coming into 2020. Its been a hard year for everyone but you made sure I had work no matter what the circumstances were, you motivated me so much to apply for my [NMC] pin. You improved my skills and knowledge within these 2 years and I wouldn't have done it without you.
A Majeed

Practice Nurse
I have worked for AppLocum for three years now and they are fantastic to work for! They are like one big family! They really take the time to get to know you personally, and are so supportive from the compliance officers to the nurse consultants! They are easily accessible and really care about their ANP's.
S Brandreth

Nurse
I have been delighted by the commitment of the AppLocum team, in particular Waheed in finding me long term work during this difficult time and the communication has been superb. I started working with the team a few weeks ago and have had more work than with my usual two agencies.
L Gruszka

Locum GP
It was the best experience I have ever had, having been through the same process with other agencies many times before. Obviously, I was hesitant at first having had my own personal experiences with agencies but I soon got a good feeling about this one. Very personal and friendly approach.
R Taylor

Practice Manager
I have recently changed my locum provider and the service I receive is excellent There is always a quick response for any requirements and queries I have. A practice managers role is very hectic and having a reliable locum agency takes so much pressure off our working day.
D Cohoon

Surgery Admin