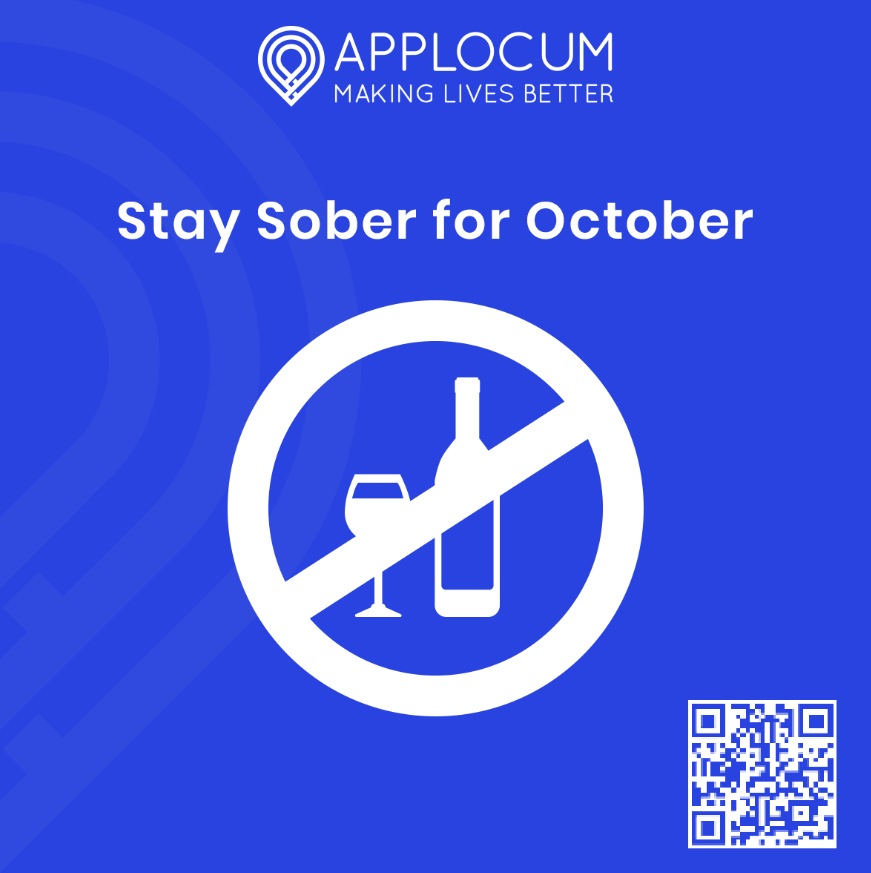 Sober October – the benefits of taking part
Are you taking part in 'Sober October'? 
You will certainly be aware of this special campaign in October if you enjoy a drink or two at the pub or anywhere out with friends or family. A drink after a hard day's work or a big Saturday night out, maybe? Signs in social venues are everywhere about drinking responsibly, you can't miss them! 
In case you don't know, Sober October is a Macmillan Cancer campaign that has run every October since 2014 and is aimed at raising much needed funds for the charities connected to it, in order to continue the fight against potential disease. However, it is also aimed at social drinkers and challenges them, for a period of 14, 21 days or a whole month of abstaining from alcohol and improving their health. Known as 'Soberheroes', their aim is to raise funds from their friends, families, work colleagues – in fact anyone who wishes to support and admire the work that MacMillan and their partnership with other charities constantly strive to help sufferers and allow more research into the dangers of alcohol and connections to cancer. Maybe it's your time to help them, help sufferers and indeed, help yourself. 
All of the charities behind the campaign wish to increase awareness of the disease and at the same time, the dangers of alcohol and its associated dependency. The ONS (Office for National Statistics) state that close to 8,000 alcohol related deaths occurred in 2020, an increase of 20% more than the previous year. It is still rising, so now would be a great chance along with hundreds of thousands of people in the UK taking the challenge. 
Benefits of taking part
in Sober October
See what is so satisfying about taking part: 
You are helping others with vital treatment.

 

You are helping the charities raise money for research and treatment.

 

You are helping yourself by abstaining from alcohol, to become a better and healthier you.

 

You can easily recognise whether you need alcohol or not, i.e. maybe it's a bit more important to you than you realised, or you find the campaign easy to get through, a good 'red flag' if you start to struggle.

 
How your health benefits
Take a look at what you can achieve, it can be a great deal towards your lifestyle improvement. Look at it as a detox, an MOT like you would a car, whichever way it will improve your body and your mind's performance, in the following ways: 
A much clearer head, and more get up and go (no hangovers, headaches or feeling nauseous).

 

More energy to battle with the daily tasks of a busy lifestyle.

 

Much improved sleep patterns.

 

Weight loss if you need to shed a few pounds.

 

Better appetite.

 

A good indication of whether you can go without, and a marker to do something about it if you are craving a drink.

 

Safety on the road if you are a driver!

 

A massive sense of achievement (helping others and helping yourself).

 
So, get ready to reset your thinking, stop drinking even for 14 days (try for longer) and get back on track. Productivity is bound to increase, and you will feel a great deal better and much more organised. Alcohol can 'muddle' the brain, for sure. 
Just a little word – please drink responsibly if you don't take part, have a thought for others and stay within the recommended guidelines for alcohol consumption. But think about it – 14 days or a month is not long out of your life and is a far better option than fighting a disease. 
If you do struggle with giving it up during October, it might be wise to seek the help of your GP, there is help available from many sources. 
Good luck, and please participate if you can, to help such a worthy cause. 
Don't just take our word for it,
see what our users think
Within two days, I was registered and ready for work with a regular contract arranged by Matthew. When this contract ended Matthew provided me with great support and boosted my confidence enough to help me take a step up in my nursing role. He is a true credit to AppLocum and always maintains a highly professional service.
A M McGuire

Nurse
You guys are marvellous!! I work with a few agencies but to be honest you're miles better at everything so I just work with you guys now.
B McQuillan

Practice Nurse
I would recommend AppLocum! Matthew is always so helpful and great at getting shifts sorted quick and fast. The whole process was smooth and easy starting my set up at AppLocum. Matthew always keeps in touch to inform you what is going on with each job. Best agency out there!
C Brosnan

HCA
You have helped me so much throughout 2019 coming into 2020. Its been a hard year for everyone but you made sure I had work no matter what the circumstances were, you motivated me so much to apply for my [NMC] pin. You improved my skills and knowledge within these 2 years and I wouldn't have done it without you.
A Majeed

Practice Nurse
I have worked for AppLocum for three years now and they are fantastic to work for! They are like one big family! They really take the time to get to know you personally, and are so supportive from the compliance officers to the nurse consultants! They are easily accessible and really care about their ANP's.
S Brandreth

Nurse
I have been delighted by the commitment of the AppLocum team in finding me long term work during this difficult time and the communication has been superb. I started working with the team a few weeks ago and have had more work than with my usual two agencies.
L Gruszka

Locum GP
It was the best experience I have ever had, having been through the same process with other agencies many times before. Obviously, I was hesitant at first having had my own personal experiences with agencies but I soon got a good feeling about this one. Very personal and friendly approach.
R Taylor

Practice Manager
I have recently changed my locum provider and the service I receive is excellent There is always a quick response for any requirements and queries I have. A practice managers role is very hectic and having a reliable locum agency takes so much pressure off our working day.
D Cohoon

Surgery Admin