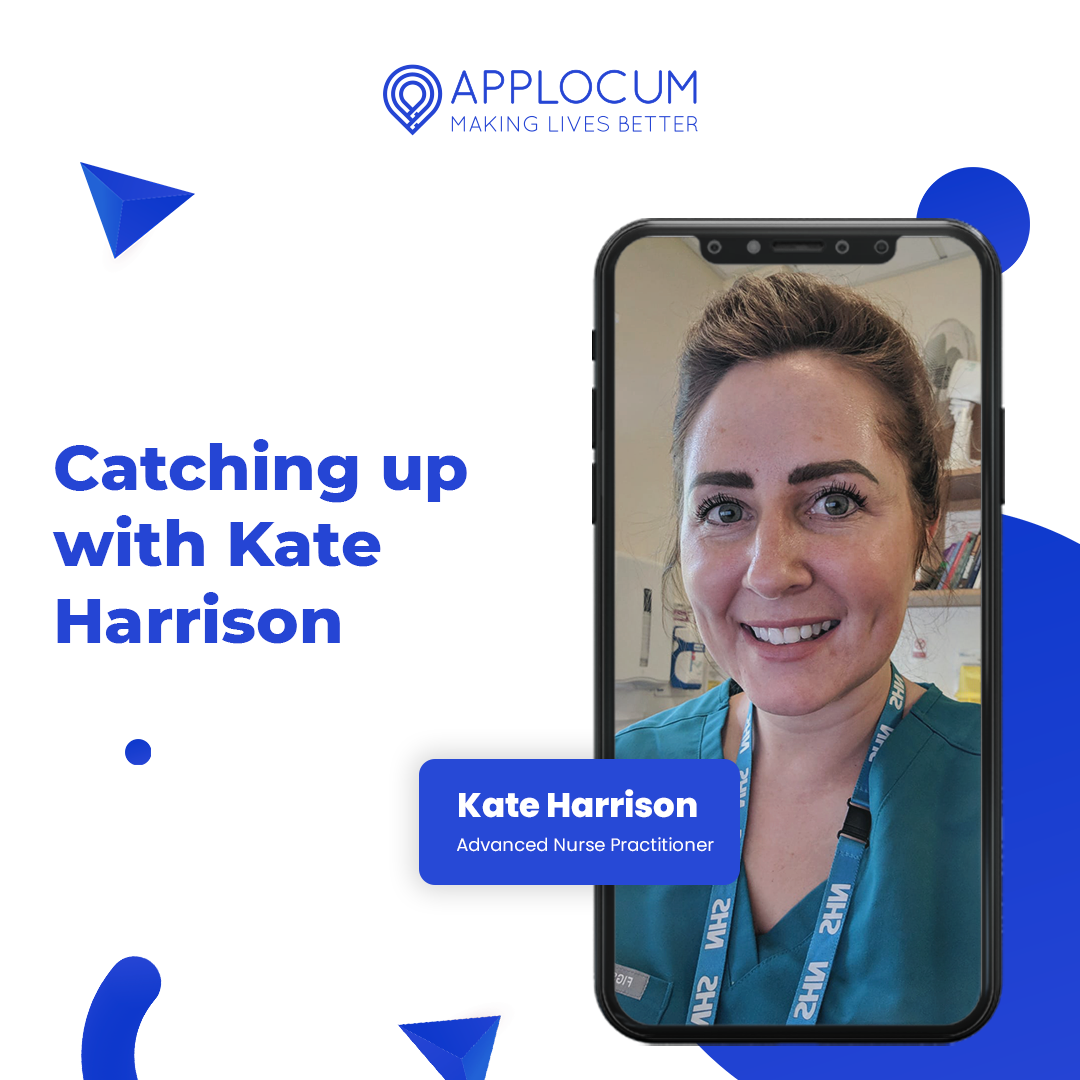 Catching up with Kate Harrison
Kate Harrison is an Advanced Nurse Practitioner who works with AppLocum. We are thrilled to catch up with her virtually, where she shares her thoughts about being a nurse and what International Nurses Day means to her. Given that the theme this year for International Nurses Day is about leading with a voice, we also discussed about the importance of leadership as a nurse towards their patients and colleagues.
Why did you choose nursing as a career?
I have always wanted to be a nurse since I was little, but I didn't jump straight into that career so soon because I still wanted to party as a teenager. At the age of 23, I was ready for nursing and so I attended a nursing course at my university. I've always had the passion for taking care of people and I'm a fixer by nature – that is the main reason why I chose nursing as a career.
What does International Nurse's Day mean to you?
There's nothing like being a nurse – we should be proud of ourselves. Of course, it's a day to celebrate Florence Nightingale's birthday, but ultimately, it's a day where nurses should realise how proud they should be for what they have done and are still doing for society. What we do is something that people will not do every day. Most of us will go the extra mile to help every patient despite what we have going on mentally and physically. It's a special day to acknowledge every nurse that you know and give them a round of applause for all the work they have done and are still doing.
Considering that theme for IND is Nurses – a voice to lead, how do you lead as a nurse?
As a nurse, you're expected to lead patients, your members, and even yourself. Being a nurse, you're naturally giver to your patients and to your colleagues. Unfortunately, I gave too much to the society which has caused me to burn out last February. Additionally, I had various responsibilities such as my Masters degree, taking care of my children and the added pressure from the pandemic. That's when I knew I had to take a step back and give myself a few months off from work. I've learnt that I can't give everything, and I need to look after myself. Being able to lead myself from a healthier perspective allows me to provide my best service to my patients and team members.
I would also lead the other members within the surgery such as providing training especially to our newer staff. Whenever an issue is being raised by our newer staff, it's only natural for me to lead them because I want to ensure that they are not stressed out. I believe that supporting and guiding them shouldn't always be in a formal setting – by having a cup of tea with them to understand and empathise with their concerns is very important. It helps to increase their productivity especially when they feel respected and valued by other members. On top of that, having a supportive manager that understands my concerns and supports my growth as a nurse is very rewarding. It makes me feel appreciated as a nurse which motivates me to give my best during my work.
During the pandemic, my team and I had to visit various nursing homes to get patients vaccinated with the covid-19 vaccines, 150 jabs in 4 hours. There was a lot of physical work to it as the vaccines are kept in a special refrigerator. Although 4 hours seems long, but while assisting patients the time went by very fast. We had to strategically plan out everything to ensure that our patients receive the necessary care that they required. When it came to consulting during the pandemic, everything was done via a phone call. It was hard to assess patients as you couldn't assess them physically. We've learnt how to adapt and now that GPs are opening up to the public, we do a hybrid consultation where we meet patients face-to-face in the morning and phone patients in the afternoon. This pandemic has been such a learning curve for everyone and it's nice to see everything going back to normal. Patient expectations are much higher now as they are more aware about their health. We currently have a back log of patients to catch up on especially those who suffer from certain conditions.
What are your words of encouragements for other nurses?
Thank you for everything you have done – now and through Covid – no matter where you have or are working. Keep going, it will get better, remember why you got into nursing in the first place. It is a tough job! The industry i2s still understaffed and underpaid – but remember why you went into nursing. It's a calling and it's an amazing job given what you got to do physical and emotionally. Don't beat yourself up for not doing enough because you have and still are. I am proud of myself and all the nurses in this little nursing family.
Don't just take our word for it,
see what our users think
Within two days, I was registered and ready for work with a regular contract arranged by Matthew. When this contract ended Matthew provided me with great support and boosted my confidence enough to help me take a step up in my nursing role. He is a true credit to AppLocum and always maintains a highly professional service.
A M McGuire

Nurse
You guys are marvellous!! I work with a few agencies but to be honest you're miles better at everything so I just work with you guys now.
B McQuillan

Practice Nurse
I would recommend AppLocum! Matthew is always so helpful and great at getting shifts sorted quick and fast. The whole process was smooth and easy starting my set up at AppLocum. Matthew always keeps in touch to inform you what is going on with each job. Best agency out there!
C Brosnan

HCA
You have helped me so much throughout 2019 coming into 2020. Its been a hard year for everyone but you made sure I had work no matter what the circumstances were, you motivated me so much to apply for my [NMC] pin. You improved my skills and knowledge within these 2 years and I wouldn't have done it without you.
A Majeed

Practice Nurse
I have worked for AppLocum for three years now and they are fantastic to work for! They are like one big family! They really take the time to get to know you personally, and are so supportive from the compliance officers to the nurse consultants! They are easily accessible and really care about their ANP's.
S Brandreth

Nurse
I have been delighted by the commitment of the AppLocum team in finding me long term work during this difficult time and the communication has been superb. I started working with the team a few weeks ago and have had more work than with my usual two agencies.
L Gruszka

Locum GP
It was the best experience I have ever had, having been through the same process with other agencies many times before. Obviously, I was hesitant at first having had my own personal experiences with agencies but I soon got a good feeling about this one. Very personal and friendly approach.
R Taylor

Practice Manager
I have recently changed my locum provider and the service I receive is excellent There is always a quick response for any requirements and queries I have. A practice managers role is very hectic and having a reliable locum agency takes so much pressure off our working day.
D Cohoon

Surgery Admin