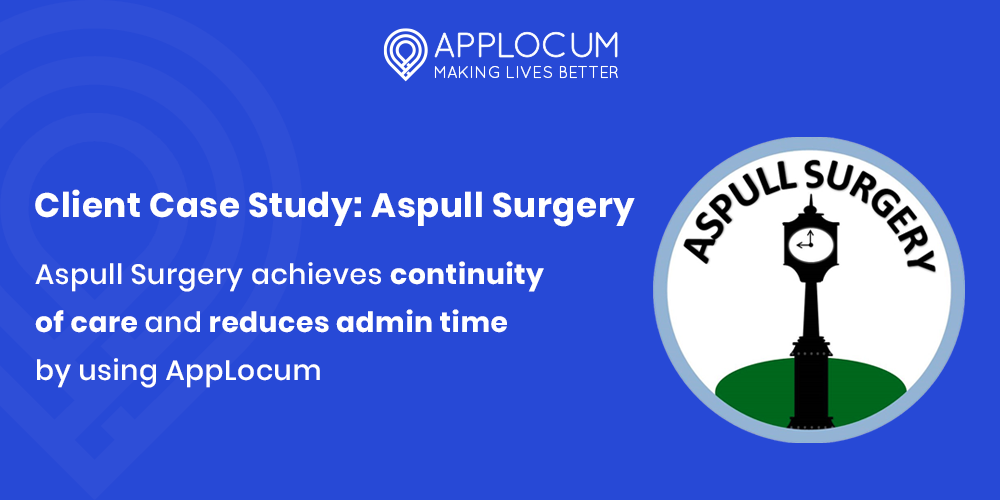 Client Case Study: Aspull Surgery
Aspull Surgery achieves continuity of care and reduces admin time by using AppLocum. 
We spoke with Kirstie, Practice Manager who has been with Aspull since 2019. Aspull has 1 GP Partner and 1 ANP Partner.  
Challenge 1: Needed locums to fill the reduced sessions of some partners.
AppLocum's solution: Effective service-led approach through strong consultant relationship and understanding
Challenge 2: Short notice shortages or cancellations.
AppLocum's Solution: Robust process so they feel confident that the surgery is never left unattended
Challenge 3: Staffing was difficult due to long admin tasks and time constraints
AppLocum's solution: Staff bank of excellent locums to fill short notice shifts
Challenge 4: Small surgery so patients need a strong level of consistency and familiarity
AppLocum's solution: Selection of long-term locums that patients can become familiar with

Result 
AppLocum has addressed the challenges faced by Aspull with positive results. Aspull surgery now has continuity of care and service to patients, at a consistently high level. Kirstie said that AppLocum has provided an easy, efficient process which gives them confidence in the service provided, thus reducing stress and admin tasks. 
Locum quality: 10/10                           Service satisfaction: 10/10 
Looking for the perfect locums to fill your staffing needs? Visit our client services page to get started.
Don't just take our word for it,
see what our users think
Within two days, I was registered and ready for work with a regular contract arranged by Matthew. When this contract ended Matthew provided me with great support and boosted my confidence enough to help me take a step up in my nursing role. He is a true credit to AppLocum and always maintains a highly professional service.
A M McGuire

Nurse
You guys are marvellous!! I work with a few agencies but to be honest you're miles better at everything so I just work with you guys now.
B McQuillan

Practice Nurse
I would recommend AppLocum! Matthew is always so helpful and great at getting shifts sorted quick and fast. The whole process was smooth and easy starting my set up at AppLocum. Matthew always keeps in touch to inform you what is going on with each job. Best agency out there!
C Brosnan

HCA
You have helped me so much throughout 2019 coming into 2020. Its been a hard year for everyone but you made sure I had work no matter what the circumstances were, you motivated me so much to apply for my [NMC] pin. You improved my skills and knowledge within these 2 years and I wouldn't have done it without you.
A Majeed

Practice Nurse
I have worked for AppLocum for three years now and they are fantastic to work for! They are like one big family! They really take the time to get to know you personally, and are so supportive from the compliance officers to the nurse consultants! They are easily accessible and really care about their ANP's.
S Brandreth

Nurse
I have been delighted by the commitment of the AppLocum team in finding me long term work during this difficult time and the communication has been superb. I started working with the team a few weeks ago and have had more work than with my usual two agencies.
L Gruszka

Locum GP
It was the best experience I have ever had, having been through the same process with other agencies many times before. Obviously, I was hesitant at first having had my own personal experiences with agencies but I soon got a good feeling about this one. Very personal and friendly approach.
R Taylor

Practice Manager
I have recently changed my locum provider and the service I receive is excellent There is always a quick response for any requirements and queries I have. A practice managers role is very hectic and having a reliable locum agency takes so much pressure off our working day.
D Cohoon

Surgery Admin