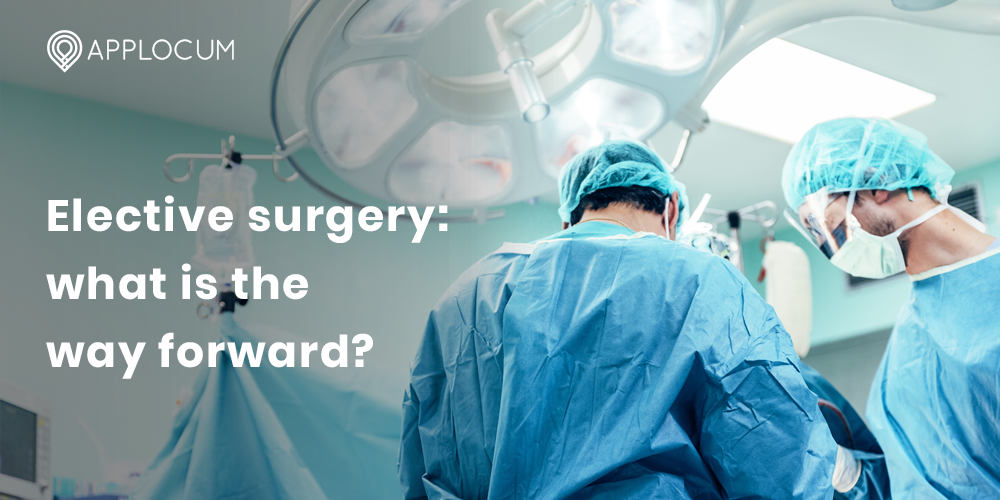 Elective surgery: what is the way forward?
The NHS has been under tremendous pressure for the last year or more coping with the pandemic, which has stretched resources thin. Now, the NHS faces the challenge of getting through the backlog of elective surgery cases. Figures from the BMA in March 2021 show 4.7m cases of patients on NHS waiting lists for routine operations, of which almost 390,000 have waited at least a year or more. Usually, the figure is around 1,500 cases of extended waiting time. 
Which services are affected?
Whilst urgent surgery for illnesses such as cancer and others that require emergency surgical intervention are being handled as a priority, specialist surgeons and any staff involved in these types of procedures can only be stretched so far. Skilled theatre staff cannot be produced by magic, and the ancillary personnel such as those in charge of preparing theatres for use from cleaning down to equipment, also require a level of training and professionalism. Theatre staff and anaesthetists more than ever have their work cut out for them. 
Many of the delays are for elective surgery. Whilst elective surgery is regarded as 'non-critical', patients' conditions will inevitably worsen the longer the wait becomes. 
Routine scans such as those for breast cancer and skeletal scintigraphy have also been put back, with experienced radiographers flat out with important diagnostic imaging. Junior doctors and advanced nursing staff have been on hand for COVID cases, so it is understandable why elective surgery has suffered with staffing as they eased the COVID crisis. Other vital staff including scrub nurses and those involved in qualitative pre- and post-op assessments have also been seconded for help during the pandemic. 
Plans to reduce NHS waiting lists
Is there good news on the horizon? The Prime Minister Boris Johnson made a statement, saying that the Government will ensure that "we give the NHS all the funding that they need to beat the backlog". On the back of this, NHS England said that a £1bn fund would be put in place to restore operative work and other services that are currently suffering. The extra investment would be used to ensure a maximum 7-day usage of operating theatres and to fund overtime that would necessitate this. The Government have since launched a blueprint of the 'way forward', and in spite of the rumoured '5-year recovery period', Trusts are of the opinion that if promises are kept and radical transformations are made, the backlog should be cleared in a shorter time. The next few months will be critical in order to avoid any repetition of such lengthy backlogs and NHS waiting lists. 
Certain points suggested towards faster improvement are: 
–Reconfiguration and additional/extensions of current hospitals throughout the UK to avoid further disruption of standard patient treatment, as well as surgical intervention (increased capacity). 
-Adaptation of new ways of treating patients by using new technology, new treatments and successfully streamlining our current modus operandi, without affecting overall patient care. 
-Improved collaboration, regionally as well as nationally. 
-The addition of a new network of community diagnostic hubs. 
Most importantly, a further point of the blueprint is to increase physical and workforce capacity – something that has been urgently needed for some time. 
It also needs to be considered that extra workload on staff such as surgeons and their operating teams are not made to work longer than the 'safe hours', and do not suffer burn out from the proposed '7-days a week' operation schedule. Perhaps, which has been suggested, a regional approach to surgical scheduling should be taken, as opposed to one nationwide blanket system. Questions are also being asked as to whether we should adopt the European system, whereby surgeons work 3 to 4 days per week, purely operating, as opposed to the UK pattern of 1.5 days per week, with a small amount of dispensation of admin and clinic time taken up by other personnel. Would this decrease the backlog? Michael Griffin, President of the Royal College of Surgeons feels that it will certainly assist. 
NHS Providers Chief Executive, Chris Hopson, said 'there is no quick fix, and what is needed now is a team approach'… The NHS and the government working together should enable this transformation'. 
AppLocum has 100s of vacancies for theatre staff every day to tackle waiting lists and ensure that surgeries can go ahead. See our theatre vacancies here or ring the team on 0161 711 0655 to find out more.
Don't just take our word for it,
see what our users think
Within two days, I was registered and ready for work with a regular contract arranged by Matthew. When this contract ended Matthew provided me with great support and boosted my confidence enough to help me take a step up in my nursing role. He is a true credit to AppLocum and always maintains a highly professional service.
A M McGuire

Nurse
You guys are marvellous!! I work with a few agencies but to be honest you're miles better at everything so I just work with you guys now.
B McQuillan

Practice Nurse
I would recommend AppLocum! Matthew is always so helpful and great at getting shifts sorted quick and fast. The whole process was smooth and easy starting my set up at AppLocum. Matthew always keeps in touch to inform you what is going on with each job. Best agency out there!
C Brosnan

HCA
You have helped me so much throughout 2019 coming into 2020. Its been a hard year for everyone but you made sure I had work no matter what the circumstances were, you motivated me so much to apply for my [NMC] pin. You improved my skills and knowledge within these 2 years and I wouldn't have done it without you.
A Majeed

Practice Nurse
I have worked for AppLocum for three years now and they are fantastic to work for! They are like one big family! They really take the time to get to know you personally, and are so supportive from the compliance officers to the nurse consultants! They are easily accessible and really care about their ANP's.
S Brandreth

Nurse
I have been delighted by the commitment of the AppLocum team in finding me long term work during this difficult time and the communication has been superb. I started working with the team a few weeks ago and have had more work than with my usual two agencies.
L Gruszka

Locum GP
It was the best experience I have ever had, having been through the same process with other agencies many times before. Obviously, I was hesitant at first having had my own personal experiences with agencies but I soon got a good feeling about this one. Very personal and friendly approach.
R Taylor

Practice Manager
I have recently changed my locum provider and the service I receive is excellent There is always a quick response for any requirements and queries I have. A practice managers role is very hectic and having a reliable locum agency takes so much pressure off our working day.
D Cohoon

Surgery Admin