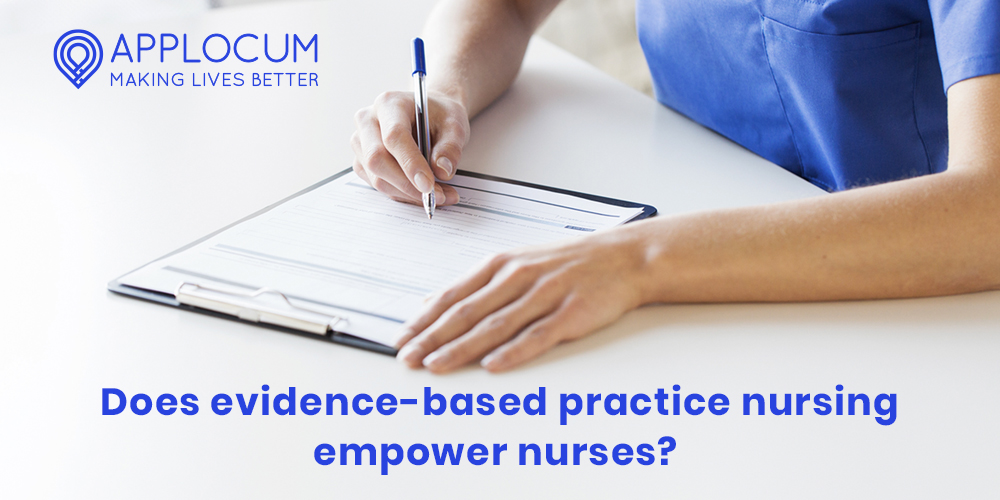 Does evidence-based practice nursing empower nurses?
What is evidence-based practice nursing? 
To succeed at an evidence-based approach to nursing, nurses need to apply current studies and research to their practice. The goal is to improve the health and safety of patients by using problem-solving skills in conjunction with up-to-date research. Clear use of evidence should help to reduce variation in health outcomes.
However, evidence-based practice nursing does not mean an absence of other parameters of clinical judgement such as the needs of individual patients and personal clinical experience. All of these variables should be integrated in order to make the best decisions. So, how and why should nurses utilise evidence-based practice (EBP)?  
How can you implement EBP into your practice? 
Generally, nurses use the following steps to effectively implement evidence-based practice.  
Ask questions to identify clinical problems.

 
Collect and analyse high-quality evidence.

 
Apply this evidence to clinical decisions regarding patient care.

 
Reflect on the results of this process.

 
Kaplan et al (2003) have the emphasised the importance of nurses being able to identify strong and appropriate evidence, particularly with the growth of the internet [source]. In 2021, the ability to analyse the validity of information online is an essential skill for anyone using the internet for research.  
In addition, Hewitt-Taylor (2002) has suggested that evidence be seen as a guideline rather than a rule due to the constantly evolving nature of the nurse's role. Evidence-based practice should give nurses more professional autonomy if they are able to effectively combine research with their own clinical expertise and the needs and preferences of individual patients [source].  
Examples
Evidence-based practice nursing can involve clinical judgements such as oxygen use and blood administration. However, it is also necessary to apply EBP to other skills such as communication with patients and shift scheduling [source]. A well-rounded approach to EBP will help nurses to achieve the highest standards of care.  
Areas for improvement
There are still areas where evidence-based practice can be improved. Nurses can face barriers to accessing evidence such as time, poor access to information and lack of confidence with technology [source]. Referencing evidence regularly when communicating with others could also create a better environment of shared decision making.  
Why is evidence-based practice nursing helpful to nurses and patients? 
Evidence-based practice helps to standardise health outcomes, minimising errors and giving confidence to patients and nurses. The University of Maine suggests that it is "an empowering approach to care [as] EBP gives nurses the tools they need to become change agents for improved healthcare outcomes."  
By integrating evidence into everyday practice, nurses can also write more effective reflective accounts to continuously improve their practice and prepare for revalidation. 
Through evidence-based practice nursing, nurses can have more confidence in their decision-making and critical evaluation skills. It does not mean sacrificing personal experience and knowledge of individual patients to make evidence the number one parameter of care. Evidence is another way to improve decision-making alongside the skills learnt on the frontline of care. It grants nurses greater autonomy in decisions of care by valuing their clinical expertise and ability to analyse research. Nurses can have the confidence to stand up for their choices, backed up with high-quality clinical evidence.  
Looking for flexible nursing work? We have shifts for nurses nationwide to meet every preference. See our latest vacancies or register online to get first access to work in your area. 
Don't just take our word for it,
see what our users think
Within two days, I was registered and ready for work with a regular contract arranged by Matthew. When this contract ended Matthew provided me with great support and boosted my confidence enough to help me take a step up in my nursing role. He is a true credit to AppLocum and always maintains a highly professional service.
A M McGuire

Nurse
You guys are marvellous!! I work with a few agencies but to be honest you're miles better at everything so I just work with you guys now.
B McQuillan

Practice Nurse
I would recommend AppLocum! Matthew is always so helpful and great at getting shifts sorted quick and fast. The whole process was smooth and easy starting my set up at AppLocum. Matthew always keeps in touch to inform you what is going on with each job. Best agency out there!
C Brosnan

HCA
You have helped me so much throughout 2019 coming into 2020. Its been a hard year for everyone but you made sure I had work no matter what the circumstances were, you motivated me so much to apply for my [NMC] pin. You improved my skills and knowledge within these 2 years and I wouldn't have done it without you.
A Majeed

Practice Nurse
I have worked for AppLocum for three years now and they are fantastic to work for! They are like one big family! They really take the time to get to know you personally, and are so supportive from the compliance officers to the nurse consultants! They are easily accessible and really care about their ANP's.
S Brandreth

Nurse
I have been delighted by the commitment of the AppLocum team in finding me long term work during this difficult time and the communication has been superb. I started working with the team a few weeks ago and have had more work than with my usual two agencies.
L Gruszka

Locum GP
It was the best experience I have ever had, having been through the same process with other agencies many times before. Obviously, I was hesitant at first having had my own personal experiences with agencies but I soon got a good feeling about this one. Very personal and friendly approach.
R Taylor

Practice Manager
I have recently changed my locum provider and the service I receive is excellent There is always a quick response for any requirements and queries I have. A practice managers role is very hectic and having a reliable locum agency takes so much pressure off our working day.
D Cohoon

Surgery Admin