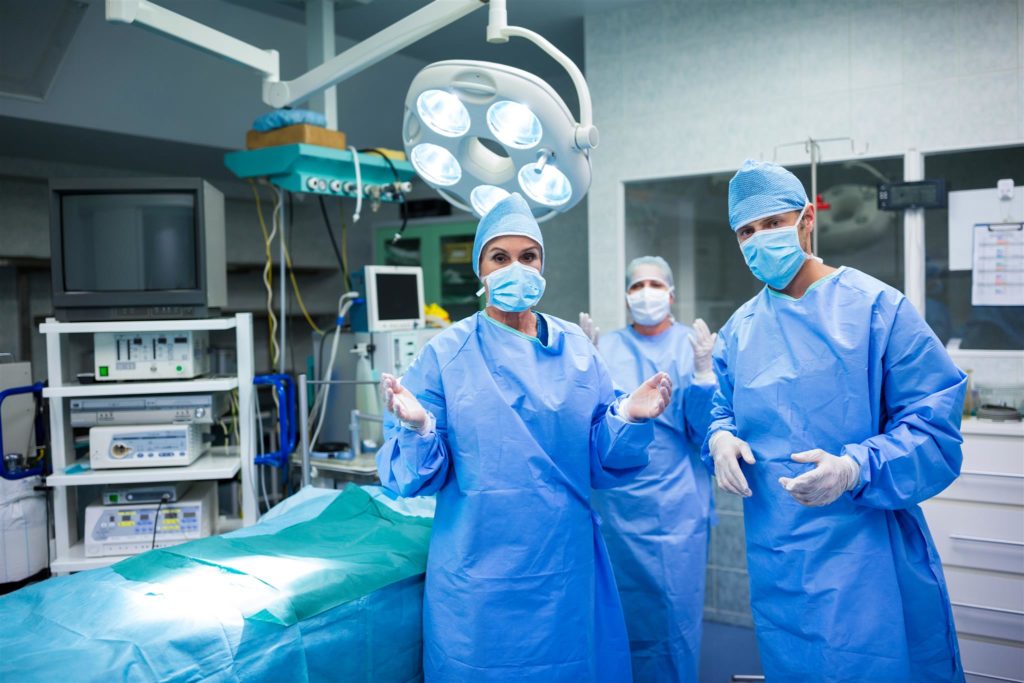 Future Tense For UK's Elective Surgery
Last month, the Government announced that independent hospitals in the UK would, once again, be able to perform elective surgery for private patients with prior approval from the NHS. Although this is no doubt good news for the lucky few, figures show that only around 11% of the UK population hold private healthcare insurance. For around eight million NHS patients, the halting of non-essential treatments due to the COVID-19 crisis means that waiting times have jumped to between six months and a year, and could get progressively longer due to backlog. It is, of course, essential that NHS hospital staff can resume elective routine surgery, but concerns remain regarding safety.
Going viral
As of the 15th of June, it is now compulsory for all operating department practitioners in England to wear type 1 or 2 surgical masks throughout their shifts. Additionally, The Royal College of Surgeons advises that surgical staff wear full gowns rather than aprons which have been deemed less than effective during the pandemic. This does, of course, raise concerns yet again regarding the availability of high quality PPE for hospital employees during surgical procedures.
Government offers mixed signals for NHS staff
When announcing the new legislation, Secretary of State for Health and Social Care, Matt Hancock, said that the government was 'confident in stocks of face masks to meet demand and continues to pursue contracts for additional stock'. Throughout April, the government was widely criticised for the devastating shortage of gowns and other PPE items in UK hospitals – something which Matt Hancock admits is 'still a challenge'. Within the same update, Hancock said that 'One of the things that we've learnt is that those who are working in hospitals are more likely to catch coronavirus, whether they work in a clinical setting or not' – something which is reflected in the fact that it is estimated that 181 NHS workers have died from COVID-19 related illness this year.
PPE – proving a challenge
The Royal College of Surgeons has repeatedly advised that hospitals do not perform elective surgeries until it is reasonably safe to do so. Without adequate PPE for surgical operation staff, safety very much remains an issue. As well as hospitals still suffering PPE shortages, having it presents its own set of problems. Face shields and visors can be restrictive for surgical personnel and, can also lead to communication problems.
Professor Martin Birchall, an ENT surgeon at University College London Hospitals who recently took part in a BBC documentary, is a 50-year veteran of the NHS. In the programme, he explained some of the issues faced by staff. Professor Birchall said, 'It is very difficult to talk when you are covered in full personal protective equipment and, it is difficult for theatre teams to communicate with one another. This was highlighted in the program by the fact that the runner outside the theatre was holding a walkie talkie in a plastic bag – and she struggled to make sense of what we were asking for'.
Long term care
In addition to safety concerns, it should also be noted that many NHS surgeons will need to continue redeployment to COVID-19 departments. Whilst it is true that the number of cases – and the number of deaths in the UK are on the decline, the discharge of a patient is by no means the end of the story. Many patients who have 'recovered' from COVID-19 are still experiencing serious health issues including extreme fatigue, heart problems and intermittent pain many weeks later.
These issues are now becoming so widespread that scientists have begun to examine 'post-COVID-19 syndrome' with a view to recognising this as a standalone condition. These lingering effects of COVID-19 very much mirror those suffered by patients affected by the legionella outbreak in Cumbria in 2002 during which seven people died. For up to 17 months afterwards, survivors reported ongoing respiratory tract conditions, malaise and neuromuscular conditions which required continued treatment. For thousands of coronavirus survivors within the UK, stubborn symptoms may mean that ongoing care will be necessary for years, rather than months. Yet another drain on resources.
Future tense for elective surgery
It's clear that the threat posed by the coronavirus is by no means over and, as such, the wisdom of resuming non-essential elective surgery is still very much in question in the UK. Long term, this could be disastrous for the NHS with many predicting that recovery could take years. Nigel Edwards, Chief Executive of the Nuffield Trust think-tank says that, in his opinion, the NHS will experience an overall decline and added, 'we are a country with high income standards and high-income expectations, but we'll be confronted with a capacity of something considerably less than we've been used to'.
As the NHS navigates the long road to recovery, many patients will remain on waiting lists – many of whom will experience a lessened quality of life and, in some cases, a loss of income. With about 1.6 million patients joining the waiting lists every month, one ODP said, 'There is no question in anyone's mind, current capacity will not deal with a post-COVID world. The numbers we are looking at is around 50 percent theatre efficiency – we are looking at losing half our operating time'. As we wait for an update on further lifting of restrictions, one thing is clear – half measures simply will not be good enough to get the NHS up and running again.
Although concerns remain, there is a chink of light at the end of the tunnel in the form of employment opportunities created by the backlog of surgical patients.  Locums in particular may be in great demand and, AppLocum is ready to meet this challenge with its database of skilled and experienced staff.
You can find our previous blog on elective surgery here.
You can view our full list of vacancies on our website.
Don't just take our word for it,
see what our users think
Within two days, I was registered and ready for work with a regular contract arranged by Matthew. When this contract ended Matthew provided me with great support and boosted my confidence enough to help me take a step up in my nursing role. He is a true credit to AppLocum and always maintains a highly professional service.
A M McGuire

Nurse
You guys are marvellous!! I work with a few agencies but to be honest you're miles better at everything so I just work with you guys now.
B McQuillan

Practice Nurse
I would recommend AppLocum! Matthew is always so helpful and great at getting shifts sorted quick and fast. The whole process was smooth and easy starting my set up at AppLocum. Matthew always keeps in touch to inform you what is going on with each job. Best agency out there!
C Brosnan

HCA
You have helped me so much throughout 2019 coming into 2020. Its been a hard year for everyone but you made sure I had work no matter what the circumstances were, you motivated me so much to apply for my [NMC] pin. You improved my skills and knowledge within these 2 years and I wouldn't have done it without you.
A Majeed

Practice Nurse
I have worked for AppLocum for three years now and they are fantastic to work for! They are like one big family! They really take the time to get to know you personally, and are so supportive from the compliance officers to the nurse consultants! They are easily accessible and really care about their ANP's.
S Brandreth

Nurse
I have been delighted by the commitment of the AppLocum team in finding me long term work during this difficult time and the communication has been superb. I started working with the team a few weeks ago and have had more work than with my usual two agencies.
L Gruszka

Locum GP
It was the best experience I have ever had, having been through the same process with other agencies many times before. Obviously, I was hesitant at first having had my own personal experiences with agencies but I soon got a good feeling about this one. Very personal and friendly approach.
R Taylor

Practice Manager
I have recently changed my locum provider and the service I receive is excellent There is always a quick response for any requirements and queries I have. A practice managers role is very hectic and having a reliable locum agency takes so much pressure off our working day.
D Cohoon

Surgery Admin