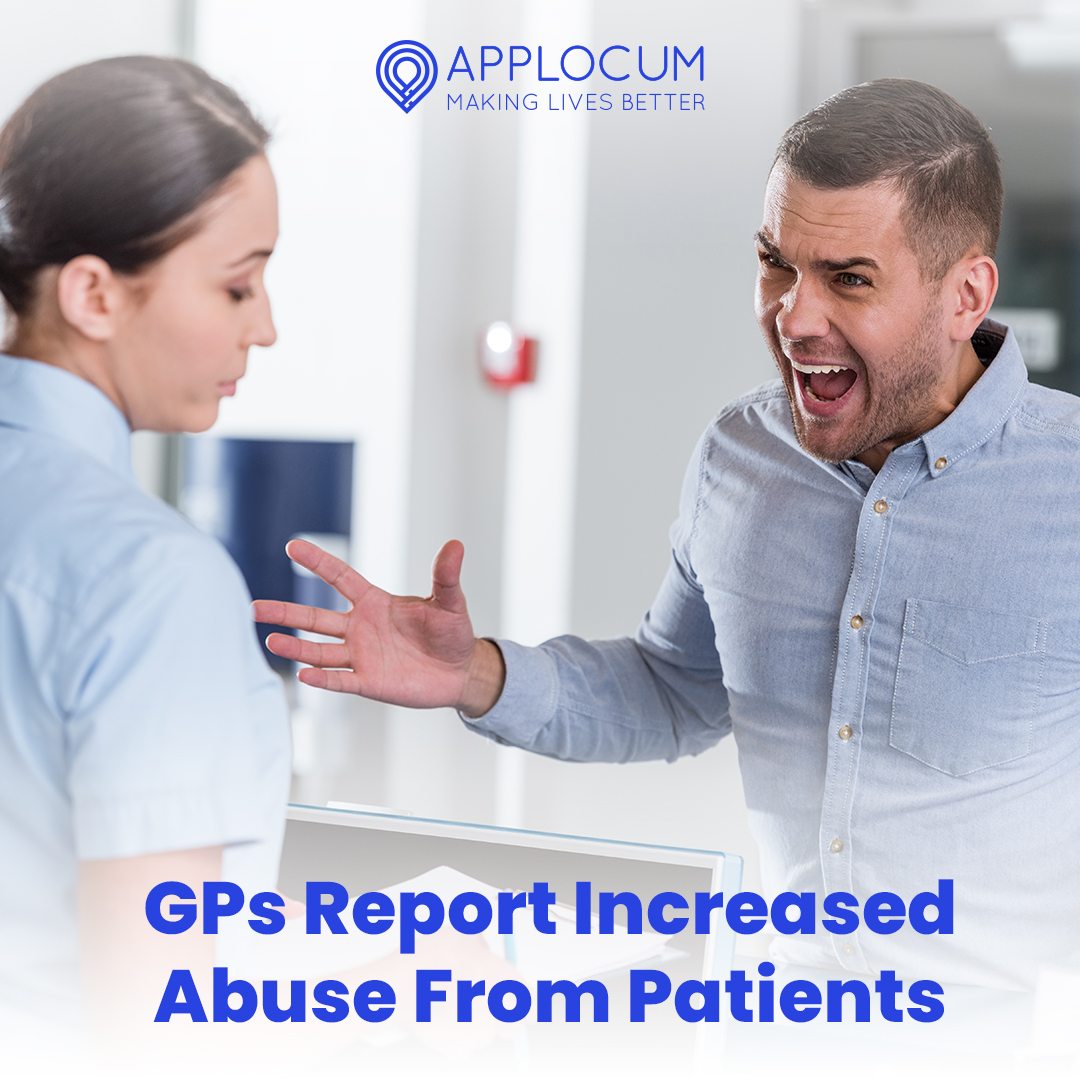 GPs Report Increased Abuse From Patients
It's almost hard to believe that with everything our healthcare professionals have been through over the last few years, they are still subjected to abuse and sometimes physical attacks. This can be from the public or patients, but from media reports also from their colleagues (to a lesser extent).  Abuse has probably existed prior to the pandemic, but unfortunately there appears to be an increase in instances.
There is little doubt that the advent of Covid and the pressures this put upon our population would certainly have caused more cases to be highlighted.  As huge waiting lists for standard procedures seemed to be constantly in the ascendency and routine operations were cancelled, scans, x-rays and other diagnostic tests were also drastically delayed. No wonder frustration and 'fear' levels reached an all-time high during this period, resulting in angry confrontations, aggression and in some cases, violence.
We are by no means 'out of the woods' yet, despite the constant government requests to treat our dedicated healthcare professionals with kindness.
What types of abuse are encountered by healthcare professionals?
Members of our medical staff who worked through Covid and saw or experienced abuse, reported these types of instances:
Verbal abuse including being sworn at, called names, racial prejudice, sexual discrimination, and even statements such as 'Nazis. These were mainly directed at GPs and their surgeries who obviously put in place strict measures during the pandemic.
Physical attacks – whilst a much rarer occurrence, medical staff have reported being pushed and shoved and even slapped by angry or frustrated patients. However, they do report that these instances are 'outbursts', after which patients are usually extremely embarrassed, and do apologies and show remorse.
Threatening behavior – This is particularly notable towards GPs, with 1 in 5 stating that they had been threatened. Just as worrying, GP surgeries report that they encountered abuse and threats, with 96% of those directed at reception staff – the first port of call, naturally.
Abuse towards female medical professionals appeared to have increased during the pandemic, with instances of both racial and sexual discrimination. In the BMA report, one GP stated 'after asking someone not to attend the surgery waiting room with a cough and a cold but to go to our 'hot clinic' where Covid patients were seen safely, I was told 'to go back from where you came from' – a distinctly racial comment, and one that other staff were familiar with.
This is just a small selection of comments and behavior that healthcare professionals are facing. It is almost like an epidemic/pandemic.
The knock-on effect to the industry could be dramatic. With patients' attitude and behavior constantly a worry, many GPs are seriously thinking of leaving the profession completely. This is also reflected amongst the nursing community. It is not hard to understand why they feel unappreciated/undervalued when trying to do a difficult job in such circumstances when people they want to care for direct their volatility at them.
Can the finger of blame be laid anywhere? There is no doubt that the government have received unprecedented criticism about lack of funding, lack of support, insufficient salary increases and a huge shortfall in the proposed escalation in recruitment numbers.
Morale must be at an all time low amongst GPs who are not responsible for the chaos that has ensued due to Covid. They have no control over testing or operation schedules but are constantly being blamed for it. They see their jobs as a potentially thankless task.
It's a long way back to 'normality' for GP surgeries and their staff. They need realistic avenues to bring the practices and their doctor/patient relationships back in line. Yes, they need recognition and reassurance, but these are words and the government need to bring their promises to fruition as well. 'In the aftermath of Covid and the ongoing abuse being received by surgeries, hundreds of GPs have signed an open letter to patients warning that 'decades of neglect' have left general practice in crisis – and urging patients to direct frustration with the service at politicians, not practices.'
Everyone involved in the healthcare sector has a duty of care towards the public and the staff. Rest assured that we care about you and will always have your best interests at heart. As a locum, if you experience any of the circumstances above, please do get in contact with AppLocum and we will help you however we can.
Don't just take our word for it,
see what our users think
Within two days, I was registered and ready for work with a regular contract arranged by Matthew. When this contract ended Matthew provided me with great support and boosted my confidence enough to help me take a step up in my nursing role. He is a true credit to AppLocum and always maintains a highly professional service.
A M McGuire

Nurse
You guys are marvellous!! I work with a few agencies but to be honest you're miles better at everything so I just work with you guys now.
B McQuillan

Practice Nurse
I would recommend AppLocum! Matthew is always so helpful and great at getting shifts sorted quick and fast. The whole process was smooth and easy starting my set up at AppLocum. Matthew always keeps in touch to inform you what is going on with each job. Best agency out there!
C Brosnan

HCA
You have helped me so much throughout 2019 coming into 2020. Its been a hard year for everyone but you made sure I had work no matter what the circumstances were, you motivated me so much to apply for my [NMC] pin. You improved my skills and knowledge within these 2 years and I wouldn't have done it without you.
A Majeed

Practice Nurse
I have worked for AppLocum for three years now and they are fantastic to work for! They are like one big family! They really take the time to get to know you personally, and are so supportive from the compliance officers to the nurse consultants! They are easily accessible and really care about their ANP's.
S Brandreth

Nurse
I have been delighted by the commitment of the AppLocum team in finding me long term work during this difficult time and the communication has been superb. I started working with the team a few weeks ago and have had more work than with my usual two agencies.
L Gruszka

Locum GP
It was the best experience I have ever had, having been through the same process with other agencies many times before. Obviously, I was hesitant at first having had my own personal experiences with agencies but I soon got a good feeling about this one. Very personal and friendly approach.
R Taylor

Practice Manager
I have recently changed my locum provider and the service I receive is excellent There is always a quick response for any requirements and queries I have. A practice managers role is very hectic and having a reliable locum agency takes so much pressure off our working day.
D Cohoon

Surgery Admin