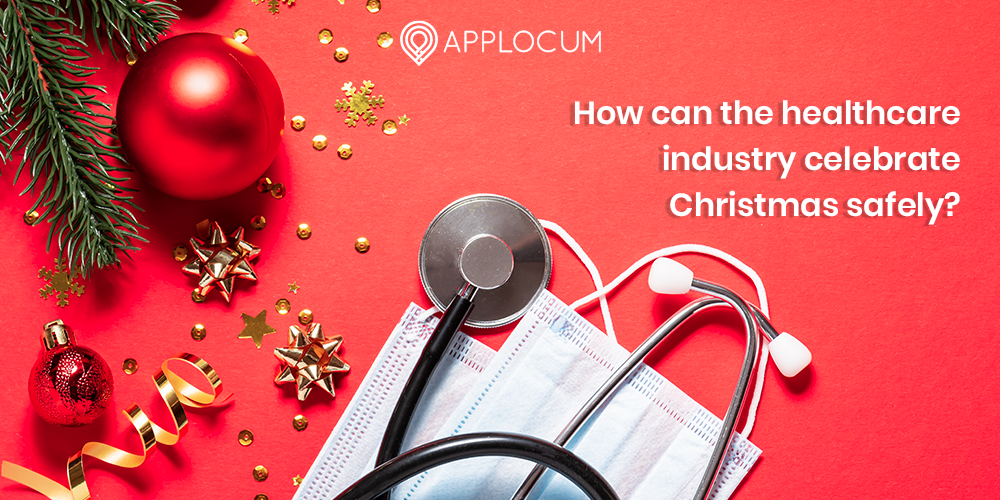 How can the healthcare industry celebrate Christmas safely? 
On the first day of Christmas Covid-19 gave to me…socially distanced festivities. This is set to be one of the weirdest Christmas periods we'll ever experience. Practices and hospitals usually look forward to Christmas parties and decorating, making work during the festive period a little easier. The beginning of the vaccination programme provides hope for the new year, but for now PPE, masks, enhanced cleaning and strict social distancing will remain. So, how can we create a fun and festive workplace whilst keeping a distance?  
Are Christmas decorations safe? 
Decorating the reception or ward is a great way to raise spirits and create a cheerful atmosphere. There's nothing like an explosion of tinsel or a badly drawn snowman pasted on the wall. Covid-19 doesn't have to mean abandoning the festive atmosphere entirely, you just need to put extra precautions in place. For healthcare organisations, regular cleaning and careful planning of decorations is not a new concern.  
-With strict cleaning in place, it may be worth keeping decorations in one area so that it can be regularly maintained and checked.  
-Don't get too attached to the decorations as in the event of a Covid-19 outbreak you need to be prepared to throw them away. 
-Key areas like the reception and seats should be kept free of clutter to prevent contamination risks. High up battery–operated fairy lights or handmade snowflakes hanging from the ceiling could be a good way to use the space safely.  
The online party
A Christmas party is a great way to boost morale and employee engagement. For a moment, people can ditch the uniform and band together in festive solidarity. For managers, it is also a fantastic way to show staff that you value their hard work over the year and want to celebrate their success. This has been an incredibly difficult year for healthcare professionals who have put their lives on the line to help people. A Christmas party may not be a worthy reward but it injects some fun into the workplace after an exhausting year. 
For most organisations, this celebration will be taking place online. Over lockdown, people have done enough Zoom quizzes and online parties to last a lifetime so it's worth putting in the effort to do something different. Even better if it caters to all requirements, whether it be vegan or non-alcoholic options. You can send out wintery mocktail recipes for people to make together or send out a hamper to each of the team to create a shared experience.  
Don't let Covid-19 stop you from celebrating – just get creative and do it safely! 
Christmas as a locum
Christmas with its slew of bank holidays is often a good opportunity to get high-paid work as a locum. If you are someone who celebrates Christmas, it can be easy to resent missing out on the festivities. However, there's a collective solidarity between healthcare workers and patients because most of them would rather be with their families. Playing Christmas music or dressing up can be a good way to beat the blues and make it a day that stands out from the stresses of daily life.  
Merry Christmas from 
AppLocum
! 
We know that many of you are still working during the festive period – so we are too! You can speak to a friendly consultant whenever you need via our 24/7 out of hours phone: 0161 711 0655  
If you want to plan for the new year – have a look at our current vacancies.  
We wish you a Merry Christmas and all the best for the New Year! Here's hoping 2021 is better for all of us.  
Don't just take our word for it,
see what our users think
I would recommend AppLocum! Matthew is always so helpful and great at getting shifts sorted quick and fast. The whole process was smooth and easy starting my set up at AppLocum. Matthew always keeps in touch to inform you what is going on with each job. Best agency out there!
C Brosnan

HCA
You have helped me so much throughout 2019 coming into 2020. Its been a hard year for everyone but you made sure I had work no matter what the circumstances were, you motivated me so much to apply for my [NMC] pin. You improved my skills and knowledge within these 2 years and I wouldn't have done it without you.
A Majeed

Practice Nurse
I have worked for AppLocum for three years now and they are fantastic to work for! They are like one big family! They really take the time to get to know you personally, and are so supportive from the compliance officers to the nurse consultants! They are easily accessible and really care about their ANP's.
S Brandreth

Nurse
I have been delighted by the commitment of the AppLocum team, in particular Waheed in finding me long term work during this difficult time and the communication has been superb. I started working with the team a few weeks ago and have had more work than with my usual two agencies.
L Gruszka

Locum GP
It was the best experience I have ever had, having been through the same process with other agencies many times before. Obviously, I was hesitant at first having had my own personal experiences with agencies but I soon got a good feeling about this one. Very personal and friendly approach.
R Taylor

Practice Manager
I have recently changed my locum provider and the service I receive is excellent There is always a quick response for any requirements and queries I have. A practice managers role is very hectic and having a reliable locum agency takes so much pressure off our working day.
D Cohoon

Surgery Admin