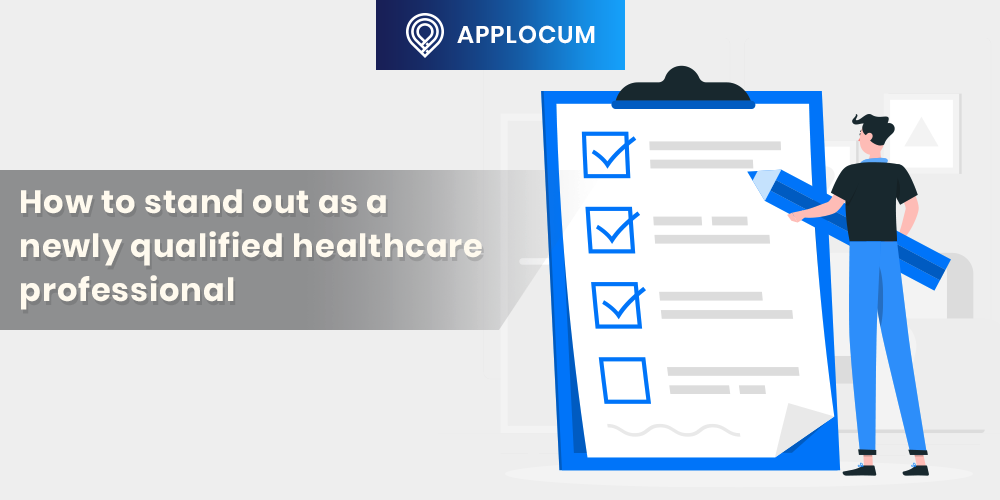 How to stand out as a newly qualified healthcare professional
Newly qualified healthcare professional in primary care, what now? If the thought is slightly daunting, just take a step back and make sure you are prepared for your first sessions, which will stand you in good stead for your future. No doubt your heart will be racing for the first few placements that you achieve, but with preparation, very soon you will be comfortable with your new experience. Remember, you qualified, so you have all the accreditations that you need, and can put your best foot forward.
Working as a locum whether a GP, Nurse Practitioner or other related primary healthcare position, can be extremely rewarding, with being able to pick your times and dates, working around family commitments or other reasons.
Your chosen agency, such as AppLocum, will ensure that they are equipped with enough information to offer you the right placements.
Top Tips for reaching 'top of the ladder' locum positions

Get Organised
Before accepting your first placement, make sure that you have all your documentation in one place, for easy access and to speed up the approval process. If you are working with an agency, they should also be aware of all of your qualifications, documentation etc., So they can achieve the best locum positions for you. You may want to keep an excel sheet as a timetable, and a diary that matches that.

Reliability
Be willing and accommodating, even if your first position is a little further away than you wish it to be, but don't over-commit to something that you may not be able to uphold, as recruiters and practice managers will shun a 'flaky' locum. If the position is in an area you are not familiar with, check out the route and potential heavy traffic during your working hours.

First Impressions
Try to arrive at least 15 minutes early, introduce yourself and check with the Practice Manager or Receptionists where everything is. If you are able to, try to meet with one of the GPs as well. Above all, be communicative and friendly, you will have to rely on other staff to fill you in on how the practice runs and help you right from the word go. First impressions are important, and certainly a way to attain repeat work, flexibility and the confidence from the practice.

Willingness
Be willing to 'soak up' everything the practice is offering you, from information through to extending your skill set. The more you learn, the more ability you will have to secure better placements, as your services and knowledge will be easier to sell yourself into the best GP practices. Ask for help if you need it, patients need to feel confidence in you too.

Respect Goes a Long Way
Hopefully, your practice will have a Locum Pack to help you on your way, for you to read through and take in the information. Whichever room they have placed you in should already have items such as prescription pads, printer and paper, so do check and ensure that these things are present. The likelihood is that you will be in another GP's/Nurse's room anyway, but remember to treat it with respect and leave it as you found it.

Financial issues to take care of
If you are a self-employed locum, having an accountant (preferably one who is experienced in locum dealings) to help keep your finances straight is quite essential. They can be invaluable in setting you on the right path in terms of taxation and what expenses you can legitimately claim for. Keep every receipt and anything else you feel relevant for when they prepare your tax returns. Whilst this should not affect you gaining locum positions, it will certainly keep your head clear and you won't need to worry about anything other than improving your locum prospects.
Likewise, with pensions and insurance.

Keep in touch
Finally, keep in touch with any other locums you meet on your new journey, or join an organisation such as the NASGP (National Association of Sessional GPs), or any other relevant body who can provide you with more information that you may find useful. Keeping in touch with other locums can often lead to more opportunities, PLUS, you could well qualify for AppLocums' Referral Bonus Scheme.

AppLocums' commitment to you
Once you register with AppLocum, you can be assured of first-class professionalism, both on the recruitment side, knowledgeable medical staff, and technology. We are here to support you all the way and to get you to the top as a locum. Join us today and you won't regret it.
Don't just take our word for it,
see what our users think
I would recommend AppLocum! Matthew is always so helpful and great at getting shifts sorted quick and fast. The whole process was smooth and easy starting my set up at AppLocum. Matthew always keeps in touch to inform you what is going on with each job. Best agency out there!
C Brosnan

HCA
You have helped me so much throughout 2019 coming into 2020. Its been a hard year for everyone but you made sure I had work no matter what the circumstances were, you motivated me so much to apply for my [NMC] pin. You improved my skills and knowledge within these 2 years and I wouldn't have done it without you.
A Majeed

Practice Nurse
I have worked for AppLocum for three years now and they are fantastic to work for! They are like one big family! They really take the time to get to know you personally, and are so supportive from the compliance officers to the nurse consultants! They are easily accessible and really care about their ANP's.
S Brandreth

Nurse
I have been delighted by the commitment of the AppLocum team, in particular Waheed in finding me long term work during this difficult time and the communication has been superb. I started working with the team a few weeks ago and have had more work than with my usual two agencies.
L Gruszka

Locum GP
It was the best experience I have ever had, having been through the same process with other agencies many times before. Obviously, I was hesitant at first having had my own personal experiences with agencies but I soon got a good feeling about this one. Very personal and friendly approach.
R Taylor

Practice Manager
I have recently changed my locum provider and the service I receive is excellent There is always a quick response for any requirements and queries I have. A practice managers role is very hectic and having a reliable locum agency takes so much pressure off our working day.
D Cohoon

Surgery Admin