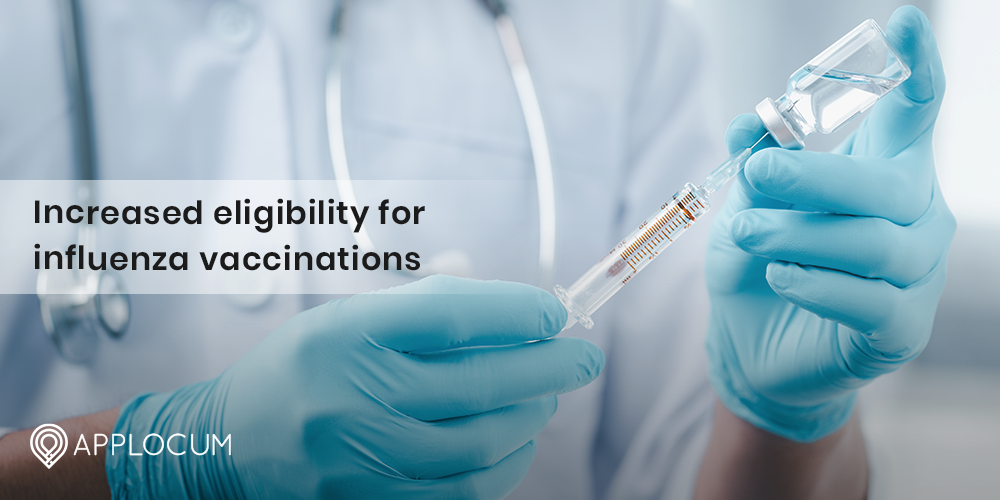 Increased eligibility for influenza vaccinations – more winter pressure?
With Covid-19 still raging through the UK, PHE (Public Health England) states that it is vital that those vulnerable to the disease ensure that they get vaccinated for the winter influenza season without delay. It is believed that the risk of death doubles if both Covid-19 and influenza are contracted at the same time. PHE and RCGP (Royal College of General Practitioners) strongly recommend that the flu vaccination programme is completed prior to the end of November.
This can cause problems, with the increased eligibility for flu jabs to include NHS workers. However, without this, the UK could find themselves devoid of key workers should we be in another pandemic crisis. There is already an element of 'scaremongering' within the medical profession and the media, with reports that small pharmacies and High Street groups such as Boots and Lloyds are suspending appointments for their flu vaccination programme, and that GP surgeries only have a limited supply to cope with long patient lists, and a waiting time of up to 6 weeks.
Should we vaccinate NHS workers for flu?
Yes, we should. The NHS were overwhelmed during the first wave of Covid-19, which produced a considerable amount of pressure on our hospitals to cope with seriously ill patients. With 'flu season' about to commence, we cannot afford to lose any more medical staff during this period, or for there to be an increase in patients suffering from both. But does this leave the vulnerable categories, such as pensioners and those with long term illnesses such as diabetes or heart problems, in danger of not receiving the vaccine prior to the end of November, the recommended time limit? Peak season for flu is mid-December through until at least the end of January, so it is a difficult task.
There were 30 million doses of vaccine for influenza issued to surgeries, independent pharmacies and High Street groups, but the government also states that there is a reserve central stockpile purchased directly from pharmaceutical companies who manufacture the vaccine.
Professor Jonathan van Tam, Deputy Chief Officer for PHE, reiterated the need for high risk groups to be vaccinated first, but that we should not exclude essential key workers who will be left to cope with increased Covid-19 cases as well as potential hospitalisation from flu, or in fact both illnesses concurrently.
Collaboration and Community Response
This coming winter season will see the largest ever flu vaccination programme, and the RCGP report states that it is essential that the LMCs and pharmacies work together in their local community and plan when and where clinics will be held, to ensure that as many people are vaccinated as possible, and as soon as possible. IT systems should be up to date so that patient records are easily accessed between them.
Whilst protecting the vulnerable is imperative, it is hoped that the vaccine can continue to be rolled out to everyone over the age of 50 later in the year, should supply of vaccines be readily available. Hopefully, this system will all run smoothly and any potential pressure on the NHS can be alleviated. There is also consideration being undertaken for care home workers, another part of our healthcare system that suffered greatly during the first outbreak of Covid-19.
Will the influenza vaccination be successful?
This is always a difficult question to answer. The WHO recommends the combination of flu strains that should be included in the vaccination, around February time, before the anticipated flu season at the end of the year. Viruses can occur at random at any time, and the vaccine produced may not include all that may crop up.
Last year, almost 650,000 healthcare workers were vaccinated against influenza, , with the estimated number being 14 million in total. Will this increase this year? With no coronavirus vaccination on the near horizon, we do need to protect our population as much as possible. A flu jab is better than nothing at all. The following percentages (including children, previously not vaccinated), were:
-adults aged 65 or older: 72.0%
-adults in at-risk groups: 48.0%
-pregnant women: 45.2%
-children aged 2: 43.8%
-children aged 3: 45.9%
The 2020/21 flu programme is being expanded this year to include other categories, including the 50-65 age group, and children in the first year of secondary schools. It is estimated that vaccinations will double to around the 30 million mark. Not all vaccinations will be given at the same time, and the new categories added will commence at the end of the year/beginning of 2021.
So far, looking at various areas throughout the country, the flu jab programme implemented by GP surgeries and pharmacies seems to be a good collaboration – some are using weekends to provide the service. Keeping this collaboration going will be part of the uphill battle to avoid any future winter pressures.
Don't just take our word for it,
see what our users think
I would recommend AppLocum! Matthew is always so helpful and great at getting shifts sorted quick and fast. The whole process was smooth and easy starting my set up at AppLocum. Matthew always keeps in touch to inform you what is going on with each job. Best agency out there!
C Brosnan

HCA
You have helped me so much throughout 2019 coming into 2020. Its been a hard year for everyone but you made sure I had work no matter what the circumstances were, you motivated me so much to apply for my [NMC] pin. You improved my skills and knowledge within these 2 years and I wouldn't have done it without you.
A Majeed

Practice Nurse
I have worked for AppLocum for three years now and they are fantastic to work for! They are like one big family! They really take the time to get to know you personally, and are so supportive from the compliance officers to the nurse consultants! They are easily accessible and really care about their ANP's.
S Brandreth

Nurse
I have been delighted by the commitment of the AppLocum team, in particular Waheed in finding me long term work during this difficult time and the communication has been superb. I started working with the team a few weeks ago and have had more work than with my usual two agencies.
L Gruszka

Locum GP
It was the best experience I have ever had, having been through the same process with other agencies many times before. Obviously, I was hesitant at first having had my own personal experiences with agencies but I soon got a good feeling about this one. Very personal and friendly approach.
R Taylor

Practice Manager
I have recently changed my locum provider and the service I receive is excellent There is always a quick response for any requirements and queries I have. A practice managers role is very hectic and having a reliable locum agency takes so much pressure off our working day.
D Cohoon

Surgery Admin