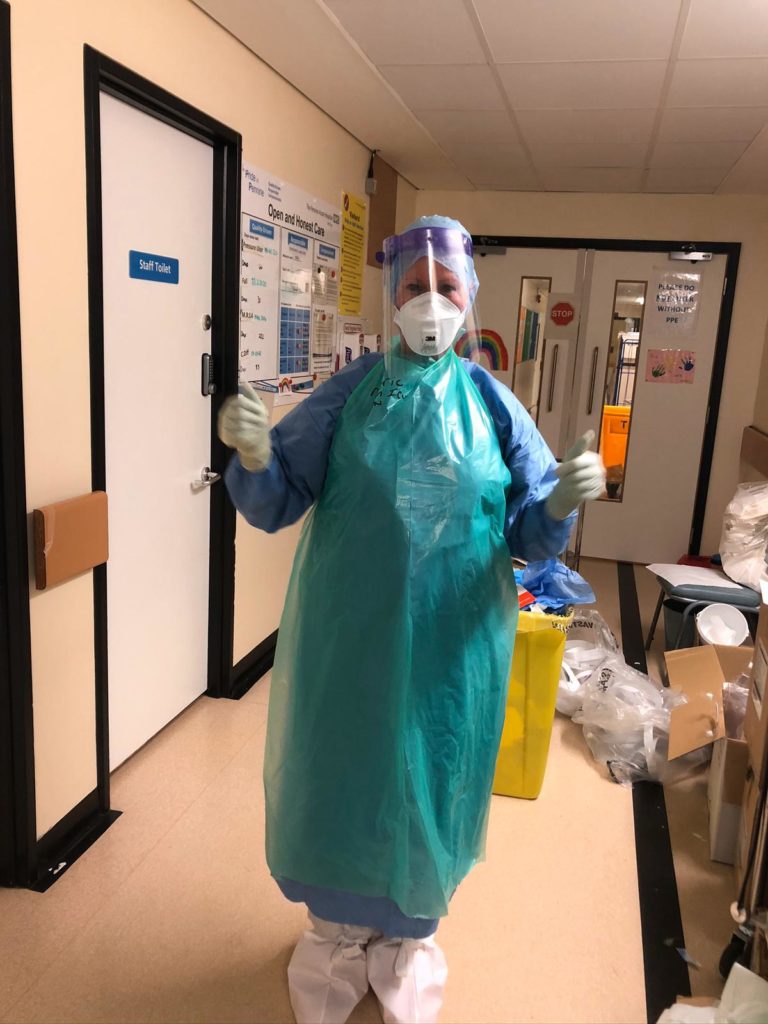 From Theatre to an ICU Nurse
Her Story
Until 10 weeks ago, I was a theatre nurse and now I'm nursing ventilated COVID patients in ICU on 12-hour shifts.
On 12th April I started my first shift allocated to a patient who was ventilated via a tracheostomy with supervision from an ICU nurse who was overseeing 3 other non ICU nurses, on a shift from 7.30 to 2030 I took handover from the night staff and by the end of the shift I was taking blood gases, administering propofol, drawing up noradrenaline and insulin for the IV pumps, two hourly turning of the patient, maintaining oral hygiene, giving medications and changing feed via the nasogastric tube, looking after the ventilator and the tracheostomy.
Amazing Nurses
The ICU nurses are amazing for being so patient supporting and teaching us and as a result, I now feel confident to put in a shift without disturbing the ICU staff too much. I have looked after ventilated patient's on continuous positive airway pressure, Bi level ventilation and supported patients being weaned off their ventilators. I've returned to the unit weekly to see progression and deterioration, cried with sadness as some died and cried with happiness as others were discharged Our ICU nursing team have worked tirelessly around the clock to create a 'reserve army' of people who can be mobilised to look after these ventilated patients safely I am very proud to be part of this fabulous NHS reserve team It has been my absolute pleasure to be welcomed into the ICU as warmly as I have.
ICU Nurse Appreciation
I have learned how hard the job of an ICU nurse can be and the huge range of care these nurses give to keep a long-term ventilated patient safe, it is a full-time job to look after just one ventilated patient but with the support of the team of 'reservists' of which I am a part, we have maintained patient safety throughout the COVID crisis.
If you enjoyed this piece then we have some more stories from some AppLocum frontline heroes! Here is 'The Story of an Agency ODP'
Don't just take our word for it,
see what our users think
We are glad we went with this agency and will consider it for future needs where appropriate. The customer service supporter who was dealing with our case, Matthew, has been very helpful and kind in this complete process.
GP Surgery

Salford
I would recommend AppLocum! Matthew is always so helpful and great at getting shifts sorted quick and fast. The whole process was smooth and easy starting my set up at AppLocum. Matthew always keeps in touch to inform you what is going on with each job. Best agency out there!
C Brosnan

HCA
You have helped me so much throughout 2019 coming into 2020. Its been a hard year for everyone but you made sure I had work no matter what the circumstances were, you motivated me so much to apply for my [NMC] pin. You improved my skills and knowledge within these 2 years and I wouldn't have done it without you.
A Majeed

Practice Nurse
I have worked for AppLocum for three years now and they are fantastic to work for! They are like one big family! They really take the time to get to know you personally, and are so supportive from the compliance officers to the nurse consultants! They are easily accessible and really care about their ANP's.
S Brandreth

Nurse
I have been delighted by the commitment of the AppLocum team, in particular Waheed in finding me long term work during this difficult time and the communication has been superb. I started working with the team a few weeks ago and have had more work than with my usual two agencies.
L Gruszka

Locum GP
It was the best experience I have ever had, having been through the same process with other agencies many times before. Obviously, I was hesitant at first having had my own personal experiences with agencies but I soon got a good feeling about this one. Very personal and friendly approach.
R Taylor

Practice Manager
I have recently changed my locum provider and the service I receive is excellent There is always a quick response for any requirements and queries I have. A practice managers role is very hectic and having a reliable locum agency takes so much pressure off our working day.
D Cohoon

Surgery Admin