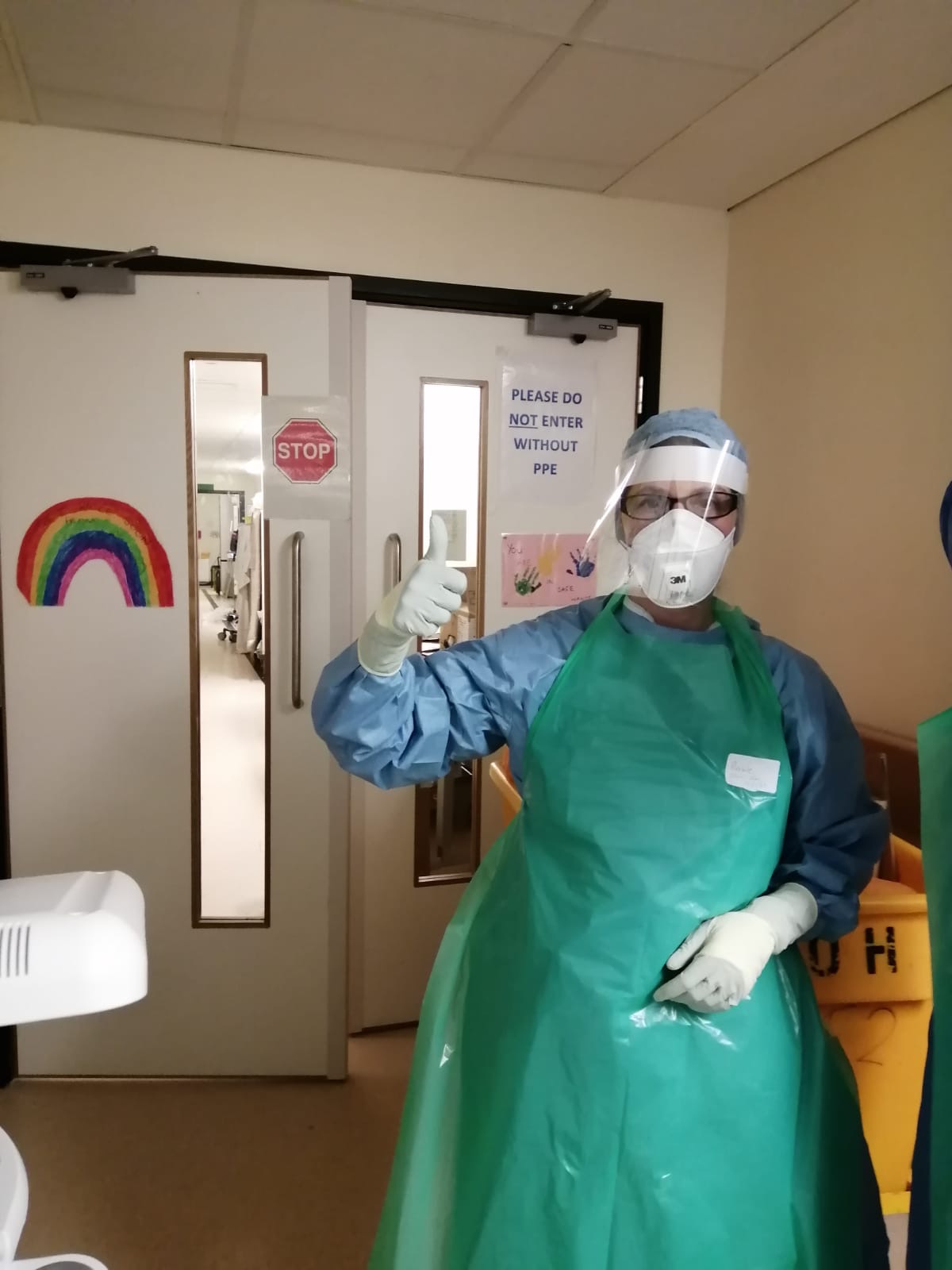 The Story of an AppLocum Nurse – Renate Taylor
"I was feeling unsure about what to do workwise during the pandemic as I was scared for myself and my family of contracting the virus but at the same time needed to earn money and also wanted to contribute as a nurse to help my fellow nurses during this difficult time…"
Introduction
My name is Renate, I am originally from Hamburg Germany and have studied adult nursing here in the UK. I have worked as a nurse mainly in theatres. I started off as a ward nurse but I soon went into theatres as a scrub and recovery nurse in the NHS. After 3.5 years I left my job and worked for the agency fulltime as a scrub and recovery nurse. I have worked within the private sector and the NHS alike. I have worked and got to know many surgeons, managers, permanent and fellow agency healthcare professionals. I have also worked in varied different surgical and clinical specialties where I have gained most of my knowledge and skills, which I still rely on and use today. I can truly say that working as an agency nurse has made me very versatile, self-sufficient and quite "streetwise" in many ways whilst knowing my limitations and always adhering to the NMC's code of conduct.
Pandemic dilemma
Just before it became apparent how serious this virus would become for everybody, I was working as an endoscopy nurse with The Yorkshire Clinic, a private hospital which is part of an Australian company called the Ramsay group. I handed my notice in February and was looking for new permanent posts back in theatres within the private hospitals as I realized that it is what I enjoy best. Coronavirus had other plans. All theatres were closed and ICUs suddenly were inundated with patients needing intensive care due to Covid-19 pneumonia infections. I faced a dilemma as to what I should do.
A fellow locum and a good friend of mine referred me to an agency I have never heard of before, AppLocum. Knowing my friend's good judgement as a long-standing locum senior ODP, I did contact Applocum and started the registration process. I initially thought "here we go again, painful, drawn-out registration process which will take forever with waiting for references and sending in 100s of documents and training certificates etc." But no, it was the best experience I have ever had, having been through the same process with other agencies many times before and who I feel were less efficient than this one. Obviously, I was hesitant at first having had my own personal experiences with agencies but I soon got a good feeling about this one. It has a very personal and friendly approach and I do not feel like one of hundreds of locums on their books. I feel when I do speak to them it's like on a personal level and that they care about us locums and its not about working as many shifts for them as possible. I was assigned to a hospital near me which is great, a hospital I already knew having worked there in theatres before, but this was a new ball game as I was assigned to an ICU. I was nervous but knew I was there to support the ICU nurses without the expectation of having ICU experience. Having worked as a recovery nurse, looking after someone's airway was familiar as I did this in my own job.
Working in ICU
The first week was quite daunting as I came into a new environment with patients that were very unwell. Working in ICU comes with a host of different skills that I was about to learn.  My first day I got fit tested for my mask and I am happy to say PPE was never an issue. We wore either surgical gowns, 3 pairs of gloves, masks, visors, Crocs shoes, bought by the trust for everyone including locums, over the shoes covers and visors. They also provided hazmat suits with all the PPE gear mentioned. This hospital is well prepared and equipped with all the PPE. The permanent ICU nurses are all very supportive and thank us locums at the end of each shift saying how much they appreciate our support, which is very uplifting and much appreciated. I have completed my 3rd week in ICU and I have learned a lot from working in such a highly skilled environment. I have had so much positive feedback from the permanent nurses and sisters and knowing you are actually making a positive difference to the staff and the patients helps with your own doubts.
Working in ICU is physically very demanding as the patients are usually on a host of different IV and NG drugs that must be given via pumps. You have to be on the ball making sure the syringes on pumps do not run out and that you have the next syringe ready and signed off by one of the ICU nurses as these drugs are life sustaining drugs. It is also physically demanding as we wear all the PPE. You get very hot and "you sweat bucket loads". I have learned new skills that I would have never come across in theatres. The atmosphere in ICU is, according to senior nurses "a warzone." We are all rushed off our feet trying to care for these very unwell patients but it's nice to see that the staff never cut corners and work together as a big team and support each other. They even have a room they call a "Wobble Room" where you can go if you have an emotional wobble. It can get heated at times and sometimes we may get agitated with each other but it's not meant in a bad way, its just the heat of the moment as it's so busy in our unit and at the end of the day we are all humans with emotions that can spill over at rare times. It is nice to see everyone pull together. Even the public, like curry houses, restaurants, random shops, relatives of patients in ICU donating lovely food, drinks, sweets, cakes etc. Never have I seen such an outpour of kindness and support for us nurses, doctors, dieticians, radiographers, physios, cleaners, proning teams, porters and many other specialities.
Media Hysteria
The only negative point I would like to make is the media, which is quick to vilify people and only show the numbers of people that have sadly passed away causing mass hysteria and anxiety amongst the people in this country. It is very sad that the media does not publish the numbers of people in ICUs, the public at home and nursing homes etc. that have either got better or been discharged down to a normal ward from an ICU or discharged home from a ward or just got better at home. I think there has been negative press in regards to PPE and the preparedness of this pandemic but we have never been through anything like this before so it's difficult to prepare for, but all nations in this world, all world leaders and hospitals alike can learn from this unprecedented event, I am certain of that.
Making an Impact
This is an extraordinary experience that many of us will remember many years to come and one that like many others will use in our portfolios as a "claim for fame", one where you can honestly be proud of having played your part in fighting this awful disease and helped so many people survive and get back home to their families and loved ones.
Don't just take our word for it,
see what our users think
We are glad we went with this agency and will consider it for future needs where appropriate. The customer service supporter who was dealing with our case, Matthew, has been very helpful and kind in this complete process.
GP Surgery

Salford
I would recommend AppLocum! Matthew is always so helpful and great at getting shifts sorted quick and fast. The whole process was smooth and easy starting my set up at AppLocum. Matthew always keeps in touch to inform you what is going on with each job. Best agency out there!
C Brosnan

HCA
You have helped me so much throughout 2019 coming into 2020. Its been a hard year for everyone but you made sure I had work no matter what the circumstances were, you motivated me so much to apply for my [NMC] pin. You improved my skills and knowledge within these 2 years and I wouldn't have done it without you.
A Majeed

Practice Nurse
I have worked for AppLocum for three years now and they are fantastic to work for! They are like one big family! They really take the time to get to know you personally, and are so supportive from the compliance officers to the nurse consultants! They are easily accessible and really care about their ANP's.
S Brandreth

Nurse
I have been delighted by the commitment of the AppLocum team, in particular Waheed in finding me long term work during this difficult time and the communication has been superb. I started working with the team a few weeks ago and have had more work than with my usual two agencies.
L Gruszka

Locum GP
It was the best experience I have ever had, having been through the same process with other agencies many times before. Obviously, I was hesitant at first having had my own personal experiences with agencies but I soon got a good feeling about this one. Very personal and friendly approach.
R Taylor

Practice Manager
I have recently changed my locum provider and the service I receive is excellent There is always a quick response for any requirements and queries I have. A practice managers role is very hectic and having a reliable locum agency takes so much pressure off our working day.
D Cohoon

Surgery Admin