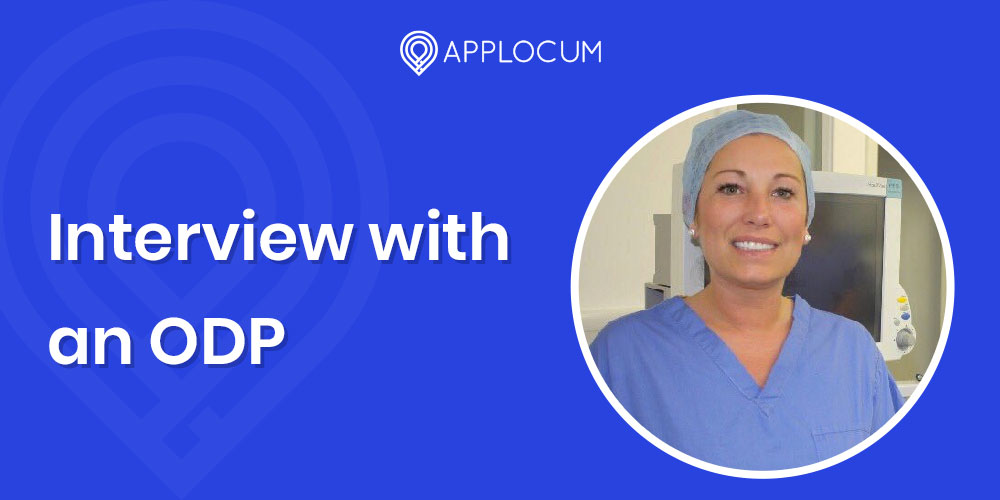 Interview with an Operating Department Practitioner (ODP)
Angela is an Operating Department Practitioner who works as a locum through AppLocum. She is interested in raising the profile of the ODP and in this interview discusses her career and offers advice to others.
What has been your career journey up to now?
I graduated with a diploma in Operating Department Practice from Northumbria University in 2011 and have worked in the same NHS trust for the past 10 years. In my day to day work, I specialise in anaesthetics and recovery for a wide variety of elective and emergency surgery including obstetrics. During the pandemic I have also been working in Critical Care, caring for ventilated patients with Covid-19. I was also part of the immunology and vaccination team in my trust. I am ILS trained and also teach basic life support core skills within my department.
What do you like most about being an ODP?
I like the fact that no two days are ever the same and you constantly get to meet and care for new people every day. In everything that you do, you get to put the patient at the centre of every decision and collaborate with the wider multidisciplinary team on how to be safe and give the best care to each individual patient. I also enjoy that I can take a patient through their whole surgical journey alleviating their fears and being their advocate when they feel at their most vulnerable and providing that continuous care.
What do you wish people knew about the role of ODPs?
There are over 14,000 ODPs registered with the Health Care and Professions Council in the UK. Our role is very flexible and adaptable. The skills we possess allow us to be able to care for patients and work in environments both in and out of the operating theatre. ODPs also work in ITU, Resus, A&E, Education, Acute Response Teams, Transfer Teams to name a few and also progress into management and senior management positions.
When did you start working as a locum and why?
I recently started working as a locum ODP because I have never worked anywhere other than my home trust. I love working where I do but want the experience of working in other hospitals and to be able to build new skills around my current role. I also feel now my children are grown, I can use my days off earning money where my skills and experience are of value to other hospitals.
Do you have any advice you would offer to others in your profession?
Get a good wealth of experience behind you after you qualify. Ensure you continue your professional development and mentor students as they help to keep you up to date as much as you assist with their learning. Be honest in your capabilities and look for opportunities to build your professional portfolio. Positively raise the professional profile of ODP.
If you want to learn more about the role of ODPs, Angela featured in a video for the NHS: A day in the life of an operating department practitioner.
Interested in working as a locum ODP? See our vacancies here.
Don't just take our word for it,
see what our users think
Within two days, I was registered and ready for work with a regular contract arranged by Matthew. When this contract ended Matthew provided me with great support and boosted my confidence enough to help me take a step up in my nursing role. He is a true credit to AppLocum and always maintains a highly professional service.
A M McGuire

Nurse
You guys are marvellous!! I work with a few agencies but to be honest you're miles better at everything so I just work with you guys now.
B McQuillan

Practice Nurse
I would recommend AppLocum! Matthew is always so helpful and great at getting shifts sorted quick and fast. The whole process was smooth and easy starting my set up at AppLocum. Matthew always keeps in touch to inform you what is going on with each job. Best agency out there!
C Brosnan

HCA
You have helped me so much throughout 2019 coming into 2020. Its been a hard year for everyone but you made sure I had work no matter what the circumstances were, you motivated me so much to apply for my [NMC] pin. You improved my skills and knowledge within these 2 years and I wouldn't have done it without you.
A Majeed

Practice Nurse
I have worked for AppLocum for three years now and they are fantastic to work for! They are like one big family! They really take the time to get to know you personally, and are so supportive from the compliance officers to the nurse consultants! They are easily accessible and really care about their ANP's.
S Brandreth

Nurse
I have been delighted by the commitment of the AppLocum team in finding me long term work during this difficult time and the communication has been superb. I started working with the team a few weeks ago and have had more work than with my usual two agencies.
L Gruszka

Locum GP
It was the best experience I have ever had, having been through the same process with other agencies many times before. Obviously, I was hesitant at first having had my own personal experiences with agencies but I soon got a good feeling about this one. Very personal and friendly approach.
R Taylor

Practice Manager
I have recently changed my locum provider and the service I receive is excellent There is always a quick response for any requirements and queries I have. A practice managers role is very hectic and having a reliable locum agency takes so much pressure off our working day.
D Cohoon

Surgery Admin