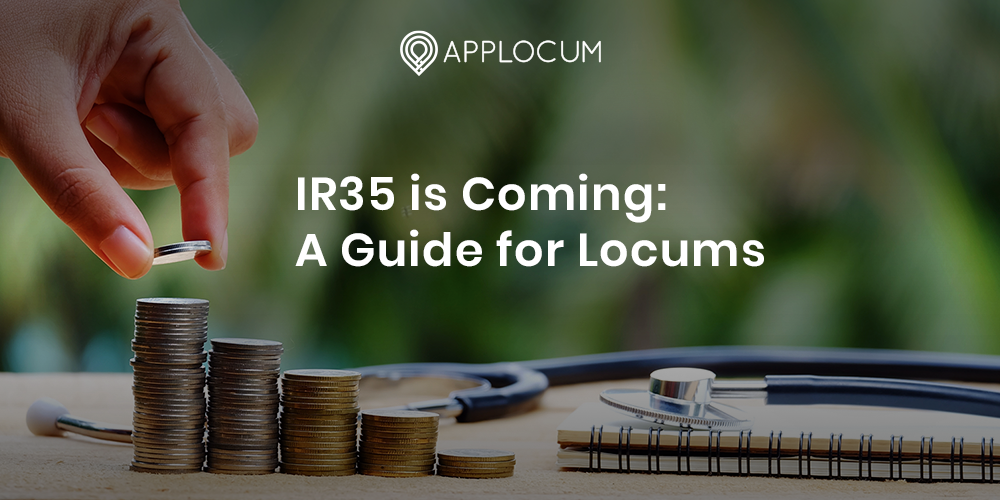 IR35 is Coming: A Guide for Locums
IR35 Legislature is Coming
In light of the global health crisis, locums would be forgiven for allowing IR35 regulations to slip from their mind. Unfortunately, IR35 has never gone away. This legislature was postponed last year but is now scheduled to impact locum healthcare professionals as of April 2021.  
What is IR35?
IR35 is government legislation designed to create parity in taxation and national insurance payments and to prevent locums from acting as employees. The biggest impact of IR35 will fall upon locums that invoice hospitals and surgeries for their services under the banner of a limited company.  
On paper, IR35 is also designed to protect locums. For example, a private clinic that hires locums exclusively over full-time employees will have their needs met without providing benefits, such as pension contributions or paid holiday.  
To ensure further protection, insist on a confirmation of arrangements letter from your employer, which outlines the detailed nature of your contract. This will not only come in handy in case of an IR35 investigation, but also set boundaries with your direct employer, should problems arise. The document will show that you do not work under direction of your employer, as well as your right to provide for a substitute etc. Keeping clear records will also ensure your protection. 
All the same, IR35 will change the way some locums approach billing. Locums that bill employers as a limited company will receive payment into a business account. Upon filing a tax return at the end of the year, the locum will pay corporation tax at the flat rate of 17% of gross profit. Also, the locum will pay personal income tax and national insurance contributions on any dividends paid to themselves from this business account. 
If the locum claimed less than £12,500 in dividends during the 2020 financial year, they would not be liable for any income tax repayments or national insurance contributions. This means that the total tax due will be 17% of a gross annual salary, not the 20%, 40% or 45% that an employee would have been liable for conducting the same services. 
The Impact of IR35 Explained
Employers that hire locums must declare if these temporary employees fall within or outside IR35 regulations. If the locum is declared to work inside IR35, it means the locum must be treated as an employee – but only for tax purposes.  
Tax repayments and national insurance contributions will automatically be deducted by an employer upon payment of the locum's invoices, just as they would a full-time employee. However, this does not entitle the locum to any of the benefits extended to such employees. The locum will not receive paid holiday and sick leave or be eligible to join a pension scheme. 
Who Decides if a Locum Falls within IR35 Regulations?
An employer. In the case of locum healthcare professionals, a clinic, hospital or GP practice must decide IR35 status. Write to your employer and explain if you act as a limited company or sole trader. Complete the government's employment status tool and supply the results as evidence. This will determine whether you fall within the IR35 legislature. 
If you fail to do this, your employer may automatically assume that you fall within IR35 legislation. This way, the employer cannot be held liable for any bending of the IR35 rules. If you disagree with an employer's assessment that you fall within IR35 regulation, seek work elsewhere. 
What is Inside IR35 and Outside IR35 Rules?
This table outlines what is inside and outside IR35 regulations. Study this and assert whether your work as a locum is likely to fall within IR35 legislation. 
Outside IR35

 

Inside IR35

 

Performing one task

 and one task alone, which is

 outlined in a contract

 

Performing multiple different tasks for the same employer

 

D

rawing up a new contract

, or amending an existing agreement

 for new role

s

 or duties

 

Taking on new

,

 ad hoc work at the request of your employer

 

If you are unable or unwilling to work, somebody else can fulfil your duties

 

Being indispensable to an employer and thus unable to be replaced by a substitute

 

Informing your employer that you are unable to work, taking time off accordingly

 

Requesting time away and having this request denied on grounds of workload

 

Financing independent training and not receiving any company perks

 

Being included in business schemes, such as training and social occasions

 

Eschewing performance reviews and 

other


business practices related to employment

 

Being assigned performance targets and attending performance reviews

 

Ability to work for other organisations, whether within or outside the health sector

 

Exclusivity to your current employer, forbidding you from working elsewhere

 
As you will see, the dividing line is quite clear. Behaving like an employee will fall inside the remit of IR35 and brings about the restrictions associated with this. If you prefer to remain outside IR35, be strict about retaining firm boundaries as a contractor. 
What Happens if a Locum Defies IR35 Legislation?
If HMRC has reason to believe that a locum is acting as a "disguised employee", an audit may be issued. This can be a lengthy, intrusive and stressful process. It can also carry a financial penalty.  
If the audit declares that a locum was ignorant of IR35 legislature and defied the regulation through negligence, 30% of any unpaid taxes will be requested. This penalty rises to 70% if the locum knew they fell within IR35 legislature but ignored the protocol, and the full 100% of the locum wilfully attempted to deceive HMRC and hide their IR35 status. 
If you have any further queries about how IR35 will impact your work as a locum healthcare professional, investigate our detailed IR35 FAQs page. We also recommend seeking the advice of a tax professional if you are concerned.  
Information on how AppLocum will approach IR35 legislation coming soon.
Don't just take our word for it,
see what our users think
I would recommend AppLocum! Matthew is always so helpful and great at getting shifts sorted quick and fast. The whole process was smooth and easy starting my set up at AppLocum. Matthew always keeps in touch to inform you what is going on with each job. Best agency out there!
C Brosnan

HCA
You have helped me so much throughout 2019 coming into 2020. Its been a hard year for everyone but you made sure I had work no matter what the circumstances were, you motivated me so much to apply for my [NMC] pin. You improved my skills and knowledge within these 2 years and I wouldn't have done it without you.
A Majeed

Practice Nurse
I have worked for AppLocum for three years now and they are fantastic to work for! They are like one big family! They really take the time to get to know you personally, and are so supportive from the compliance officers to the nurse consultants! They are easily accessible and really care about their ANP's.
S Brandreth

Nurse
I have been delighted by the commitment of the AppLocum team, in particular Waheed in finding me long term work during this difficult time and the communication has been superb. I started working with the team a few weeks ago and have had more work than with my usual two agencies.
L Gruszka

Locum GP
It was the best experience I have ever had, having been through the same process with other agencies many times before. Obviously, I was hesitant at first having had my own personal experiences with agencies but I soon got a good feeling about this one. Very personal and friendly approach.
R Taylor

Practice Manager
I have recently changed my locum provider and the service I receive is excellent There is always a quick response for any requirements and queries I have. A practice managers role is very hectic and having a reliable locum agency takes so much pressure off our working day.
D Cohoon

Surgery Admin