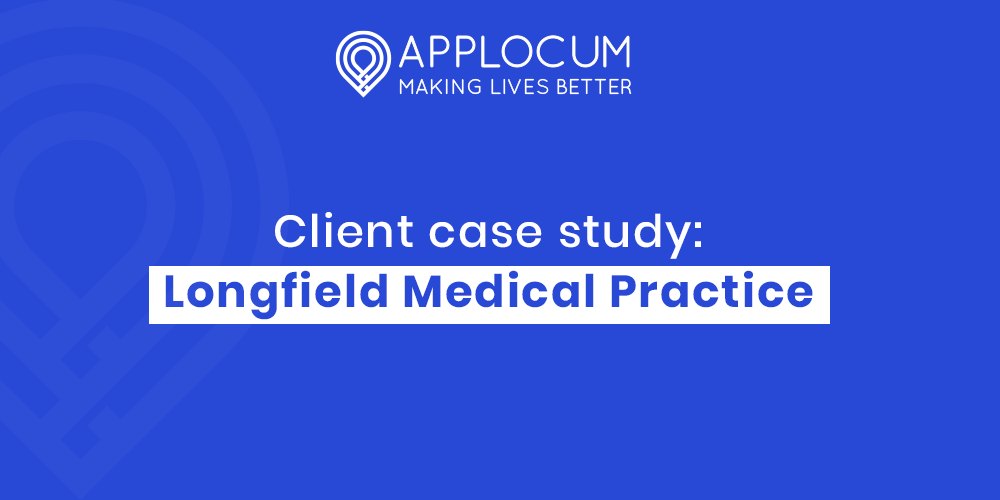 Client case study: Longfield Medical Practice
"Wouldn't go anywhere else!" – AppLocum gives Longfield Medical Practice confidence in filling staffing needs and minimises stressful admin.  
Justine, Office and Rota Manager at Longfield Medical Practice, spoke to us about her experience with AppLocum. She has been working with AppLocum for about four years and hires a range of locums based on needs. The practice has two GPs but 6000 patients so there is a big workload. They use AppLocum for holiday and sickness cover to stop paperwork building up. During the pandemic, it has been busier than ever.  
Challenge 1: Didn't have a rapport with other agencies and felt like it was just a job for them.
AppLocum's solution: Providing a strong level of communication, with a friendly and professional approach.
Challenge 2: Finding locums was stressful. Other agencies wouldn't get back to her after she gave them her requirements.
AppLocum's solution: Locum staffing is now stress-free. She has confidence that AppLocum will find the staff she needs and the locums are excellent.
Challenge 3: Looking for locums at the last minute would always took a lot of time. It meant ringing multiple agencies and working through a list from best to worst, hoping one of them has something.
AppLocum's solution: Working with AppLocum takes much less time and saves a lot of admin work. She can just make a call and send a quick email with the dates and she knows that the consultant has it sorted. She no longer has to worry.
Result
Justine said that her experience with AppLocum has been excellent and she "wouldn't go anywhere else". She has a lot of confidence in her main consultant Saj and said she feels like "he's my right-hand man" even though they don't work in an office together and she can count on him 100% for what she needs. After dealing with other locum agencies in the past who make false promises and don't get back to you, she really appreciates the level of honesty and commitment from Saj.  
Working with AppLocum has been an easy, efficient process. The quality of locums is excellent: they make a strong impression on the patients, who continue to ask about them after they've finished their placement. AppLocum has given Longfield Medical Practice confidence in finding the locums they need, reducing stress and workload in the process.  
Don't just take our word for it,
see what our users think
Within two days, I was registered and ready for work with a regular contract arranged by Matthew. When this contract ended Matthew provided me with great support and boosted my confidence enough to help me take a step up in my nursing role. He is a true credit to AppLocum and always maintains a highly professional service.
A M McGuire

Nurse
You guys are marvellous!! I work with a few agencies but to be honest you're miles better at everything so I just work with you guys now.
B McQuillan

Practice Nurse
I would recommend AppLocum! Matthew is always so helpful and great at getting shifts sorted quick and fast. The whole process was smooth and easy starting my set up at AppLocum. Matthew always keeps in touch to inform you what is going on with each job. Best agency out there!
C Brosnan

HCA
You have helped me so much throughout 2019 coming into 2020. Its been a hard year for everyone but you made sure I had work no matter what the circumstances were, you motivated me so much to apply for my [NMC] pin. You improved my skills and knowledge within these 2 years and I wouldn't have done it without you.
A Majeed

Practice Nurse
I have worked for AppLocum for three years now and they are fantastic to work for! They are like one big family! They really take the time to get to know you personally, and are so supportive from the compliance officers to the nurse consultants! They are easily accessible and really care about their ANP's.
S Brandreth

Nurse
I have been delighted by the commitment of the AppLocum team in finding me long term work during this difficult time and the communication has been superb. I started working with the team a few weeks ago and have had more work than with my usual two agencies.
L Gruszka

Locum GP
It was the best experience I have ever had, having been through the same process with other agencies many times before. Obviously, I was hesitant at first having had my own personal experiences with agencies but I soon got a good feeling about this one. Very personal and friendly approach.
R Taylor

Practice Manager
I have recently changed my locum provider and the service I receive is excellent There is always a quick response for any requirements and queries I have. A practice managers role is very hectic and having a reliable locum agency takes so much pressure off our working day.
D Cohoon

Surgery Admin