Migraine Awareness – helping you differentiate between a migraine and a headache
Migraine, as sufferers know, is a debilitating illness that can cause regular 'wipe out' for those that have it really badly and find the only way to get any slight relief is to try to sleep, in the darkness for several hours. It is very debilitating, so much so that it has been declared to be a 'debilitating illness' by the NHS, which affects those between the age of 15 and 59 as a general rule. 10 million people are affected, so the Office of National Statistics reports. 
There is no specific cure, as doctors and experts in the field have been puzzled by it for many years. The cost to the NHS is high, let alone the resources needed for those who are actually admitted to hospital. Businesses also suffer, and with around 3 million 'working days lost due to sickness' every year – this number has significantly increased over the last 5 years. 
Headaches and Migraines 
Headaches and migraine should never be confused, and sufferers know that better than anyone. Severe headache should never be called a migraine, which people tend to do when they really don't know the difference. 
Headaches are unpleasant pains in your head that can cause pressure and aching. The pain can range from mild to severe, and they usually occur on both sides of your head. Some specific areas where headaches can occur include the forehead, temples, and back of the neck. A headache can last anywhere from 30 minutes to a week. According to the NHS, the most common headache type is a tension headache. This can be caused by many factors, including stress, muscle strain, and anxiety. 
There are problems for the inexperienced sufferer, discerning exactly what migraine they have, as there are many different types: 
Classic migraines

 

Common migraines

 

Silent migraines

 

Hemiplegic migraines

 

Retinal

 

Icepick

 
There are two other headaches which can be easily confused with migraine, called 'cluster headaches' and 'cervicogenic' headaches'. Even though these are not  migraines, they can be equally as painful and also last up to a week. Treatment for these will often vary between specialists. 
Diagnosing a migraine
As you can see, this can be difficult, not just for patients but for specialists as well. Pain can occur in different places at difference times and sometimes difficult to work out which type is applicable to the patient. 
Potential symptoms of migraine
Different for most people but can initially be recognised as something you may not normally have. 
Intense throbbing or dull aching pain on one side of your head or both sides.

 

Pain that worsens if you are physically active

 

Nausea or vomiting.

 

Changes in how you see, including blurred vision, focus or blind spots.

 

Being bothered by light, noise, or smells.

 

Feeling tired and/or confused.

 

Bunged up nose.

 

Feeling cold or sweaty.

 

Stiff or tender neck.

 

Light-headedness.

 

Tender scalp.

 
If patients experience these symptoms it could be migraine and would need to be investigated at first by your GP who may refer you to a specialist.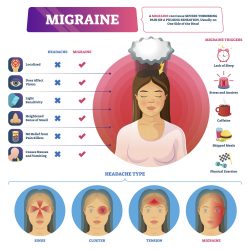 If potential sufferers have migraine, you may have certain feelings prior to it actually kicking, such as sensitivity to light, things tasting differently, tingling in hands, flashes of light in the eyes, and a general feeling of 'not quite being here'. These situations are called 'aura' migraines, where you know in advance that there is one coming on. These are quite useful, as you can start treatment before it really is painful. 
Interestingly, women experience migraine more than men, usually associated with hormonal activity or menstruation.  There are other reasons for anyone to experience migraine, such as poor diet, or family history. 
Each type of migraine may require different types of medication or other methods of relaxation as well. If you experience 'aura', this means you can get ahead of the migraine, which is very helpful to frequent sufferers. 
Don't despair, there is treatment out there, so keep trying to ease the burden. 
Don't just take our word for it,
see what our users think
Within two days, I was registered and ready for work with a regular contract arranged by Matthew. When this contract ended Matthew provided me with great support and boosted my confidence enough to help me take a step up in my nursing role. He is a true credit to AppLocum and always maintains a highly professional service.
A M McGuire

Nurse
You guys are marvellous!! I work with a few agencies but to be honest you're miles better at everything so I just work with you guys now.
B McQuillan

Practice Nurse
I would recommend AppLocum! Matthew is always so helpful and great at getting shifts sorted quick and fast. The whole process was smooth and easy starting my set up at AppLocum. Matthew always keeps in touch to inform you what is going on with each job. Best agency out there!
C Brosnan

HCA
You have helped me so much throughout 2019 coming into 2020. Its been a hard year for everyone but you made sure I had work no matter what the circumstances were, you motivated me so much to apply for my [NMC] pin. You improved my skills and knowledge within these 2 years and I wouldn't have done it without you.
A Majeed

Practice Nurse
I have worked for AppLocum for three years now and they are fantastic to work for! They are like one big family! They really take the time to get to know you personally, and are so supportive from the compliance officers to the nurse consultants! They are easily accessible and really care about their ANP's.
S Brandreth

Nurse
I have been delighted by the commitment of the AppLocum team in finding me long term work during this difficult time and the communication has been superb. I started working with the team a few weeks ago and have had more work than with my usual two agencies.
L Gruszka

Locum GP
It was the best experience I have ever had, having been through the same process with other agencies many times before. Obviously, I was hesitant at first having had my own personal experiences with agencies but I soon got a good feeling about this one. Very personal and friendly approach.
R Taylor

Practice Manager
I have recently changed my locum provider and the service I receive is excellent There is always a quick response for any requirements and queries I have. A practice managers role is very hectic and having a reliable locum agency takes so much pressure off our working day.
D Cohoon

Surgery Admin