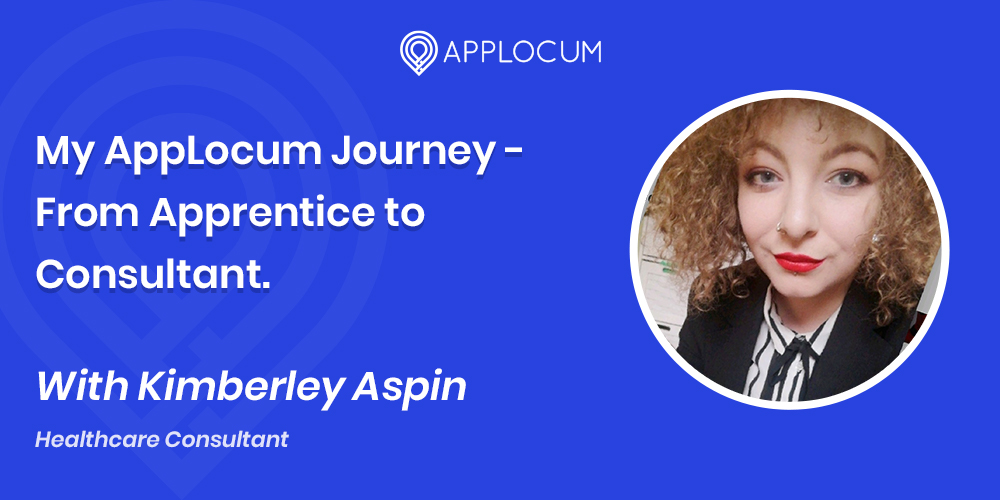 My AppLocum Journey – From Apprentice to Consultant
How Kimberley went from an apprentice to a permanent member of the AppLocum family.
Tell us about yourself and your passion for healthcare.
I actually went through education with a plan in mind to go into the healthcare sector and to become a clinician. When things didn't go to plan at the end of college I joined AppLocum and the irony now is, I may not be in the healthcare sector on the front line but I get to work with and place loads of lovely clinicians instead.
What made you join AppLocum as an apprentice?
I was applying for a number of apprenticeships at the time and nothing really stood out like Applocum did. I have always been interested in the healthcare sector and once I had a read of the website and learnt more about AppLocum, it sounded like a perfect way to go!
How were you supported to improve and enhance your skills?
My main source of support was my then sales manager Sai. She would sit with me doing role plays of how to do phone calls – I was tragic at first! Sai always pushed me to not be shy and believe in myself as she knew I would do well. After colleagues training me I have had the opportunity to be the one to train new starters using the skills I have developed over the years and pass on to others.
How did you feel when you were offered a permanent position with AppLocum?
Delighted! I was really thankful to be given the opportunity to carry on with AppLocum as I enjoy my job so much. I was given a role of North -West Nursing Consultant which I was over the moon about because I had been working as a resource for this area and had built up relationships already.
What do you enjoy about working at AppLocum?
The people. Its so nice to work with people that end up being not just work colleagues but good friends. I have made a number of friends at Applocum. There are so many different characters and everyone is so different enhancing the qualities in the team. Everyone is passionate about providing a quality service to the candidates and clients we work with so all share the same drive to do well in our jobs… but also we know how to have a laugh too!
Where do you see yourself with AppLocum in the future?
Probably in a rocking chair in the corner of the office still on the phone when I'm 70. I hope to grow with the company and would love to take on more responsibilities and opportunities when they arise.
What advice would you give yourself or other apprentices if you could go back to the start of your AppLocum journey?
Get the apprenticeship work done and persevere, haha! The reward at the end makes all the time and effort put into apprenticeships worth it. I never thought I would do an apprenticeship, I thought I would be off to Uni etc. However, I would not change a thing. Doing an apprenticeship was the best decision as it allows me to learn, develop skills and earn money at the same time!
Here is what others had to say about Kimberley:
I wanted to take some time to thank you. I joined Applocum 2 years a go as a highly recommended agency to use and I've not looked back. Other agencies I've used are all about the sales & clients, leaving me feeling vulnerable and under valued…Not Applocum!!! Kim since joining your support has been amazing ! You're always there at the end of the phone or email listening, checking on my welfare & giving me support even during these extenuating circumstances. Working hard to get shifts during Covid-19 but also keeping us safe. I know I am safe and cared for working with you that's why I cant thank you enough. THANK YOU X X X – J.M, Nurse.

It's been a delight to be a part of Kim's recruitment journey and watch her evolve from a trainee apprentice to a fully-fledged 360 recruitment consultant. Kim's perseverance and dedication to her job role has been paramount to her success and growth within Applocum and is truly commendable. During this time Kim has maintained and built great relationships with both candidates and clients she works with. Kim will always have my continued support in reaching her future goals and aspirations within Applocum. – Saiqa Abrar, Operations Manager.
If you're looking for nursing or other healthcare work, you can contact Kimberley or the AppLocum team on:
Don't just take our word for it,
see what our users think
Within two days, I was registered and ready for work with a regular contract arranged by Matthew. When this contract ended Matthew provided me with great support and boosted my confidence enough to help me take a step up in my nursing role. He is a true credit to AppLocum and always maintains a highly professional service.
A M McGuire

Nurse
You guys are marvellous!! I work with a few agencies but to be honest you're miles better at everything so I just work with you guys now.
B McQuillan

Practice Nurse
I would recommend AppLocum! Matthew is always so helpful and great at getting shifts sorted quick and fast. The whole process was smooth and easy starting my set up at AppLocum. Matthew always keeps in touch to inform you what is going on with each job. Best agency out there!
C Brosnan

HCA
You have helped me so much throughout 2019 coming into 2020. Its been a hard year for everyone but you made sure I had work no matter what the circumstances were, you motivated me so much to apply for my [NMC] pin. You improved my skills and knowledge within these 2 years and I wouldn't have done it without you.
A Majeed

Practice Nurse
I have worked for AppLocum for three years now and they are fantastic to work for! They are like one big family! They really take the time to get to know you personally, and are so supportive from the compliance officers to the nurse consultants! They are easily accessible and really care about their ANP's.
S Brandreth

Nurse
I have been delighted by the commitment of the AppLocum team in finding me long term work during this difficult time and the communication has been superb. I started working with the team a few weeks ago and have had more work than with my usual two agencies.
L Gruszka

Locum GP
It was the best experience I have ever had, having been through the same process with other agencies many times before. Obviously, I was hesitant at first having had my own personal experiences with agencies but I soon got a good feeling about this one. Very personal and friendly approach.
R Taylor

Practice Manager
I have recently changed my locum provider and the service I receive is excellent There is always a quick response for any requirements and queries I have. A practice managers role is very hectic and having a reliable locum agency takes so much pressure off our working day.
D Cohoon

Surgery Admin