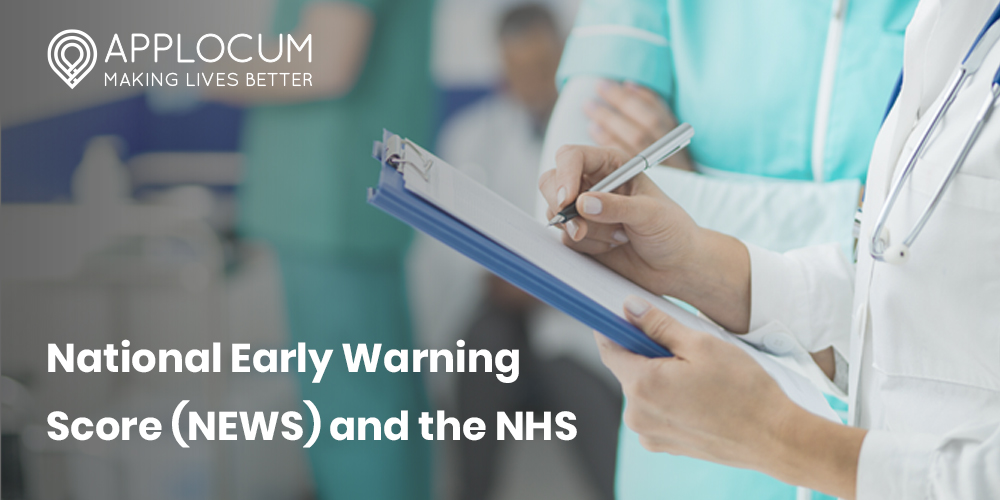 National Early Warning Score (NEWS) and the NHS
What is NEWS? 
NEWS (National Early Warning Score) was developed by the Royal College of Physicians to identify clinical deterioration in acutely ill adult patients. It aims to improve patient safety and outcomes. The existing National Early Warning Score was updated to NEWS2 in December 2017.  
NEWS2: Score and necessary actions
The NEWS2 system is concerned with the following physiological parameters:  
Temperature

 

Respiratory rate

 

Oxygen saturation 

 
Systolic blood pressure

 

Pulse rate

 

Level of consciousness

 
Each of these parameters is allocated a score of 0, 1, 2, or 3. The higher the score, the further the identified parameter is from what is considered normal. These scores are then added together in order to assess risk.  
Aggregate score 1-4
Risk level: Low  
Responsibility: Ward Nurse 
Action: Assessment taken promptly to determine the necessary clinical care or changes to frequency of monitoring.  
Score of 3 in any single parameter
Risk level: Low to medium 
Responsibility: Ward-based doctor 
Action: Determine cause and any necessary clinical care. Decide on changes to frequency of monitoring.  
Aggregate score 5 to 6
Risk: Medium 
Responsibility: Ward-based doctor or acute team nurse 
Action: Urgently review condition to determine if action is needed from critical care team  
Aggregate score 7 or above
Risk: High 
Responsibility: Critical care team  
Action: Emergency assessment necessary, patient likely needs to be transferred into a higher-dependency area of care.  
NICE recommends that adult patients with a NEWS2 aggregate score of 0 be monitored against the parameters at least once every 12 hours.  
How is NEWS2 used in the NHS and is it effective? 
NHS England and NHS Improvement support the use of NEWS2 and it is used in "100% of ambulance trusts and 76% of acute trusts." However, there are concerns that the discrepancies in the practice of early warning systems in certain settings can risk patient safety. Studies are being taken to look into the benefits of NEWS2 and NHS England suggests that it could "potentially save over 1800 lives a year."  
In a review of Early Warning Systems by the University of York, they suggested that: "in relation to patient outcomes, early warning systems when combined with rapid response appear to have the potential to reduce cardiac arrests and unplanned ICU admissions. Impact on reducing in-hospital mortality was mixed." More study is needed into the particular impact of introducing standardised use of NEWS2 across the NHS.  
NEWS2 and COVID-19 
A study of NEWS2 in relation to COVID-19 in the Clinical Medical Journal found that it was effective in identifying deteriorating COVID-19 patients. Of those 133 patients who experienced at least one serious event such as initiation of respiratory support or admission to ICU, 131 recorded at least one NEWS2 trigger above the identified threshold (NEWS2 >5). There were therefore only 2 patients out of 133 who deteriorated without a prior NEWS2 trigger being identified.  
What is your preferred early warning system and how has it affected your practice? Let us know in the comments.  
See our vacancies in hospitals nationwide for flexible work around your preferences. 
Don't just take our word for it,
see what our users think
I would recommend AppLocum! Matthew is always so helpful and great at getting shifts sorted quick and fast. The whole process was smooth and easy starting my set up at AppLocum. Matthew always keeps in touch to inform you what is going on with each job. Best agency out there!
C Brosnan

HCA
You have helped me so much throughout 2019 coming into 2020. Its been a hard year for everyone but you made sure I had work no matter what the circumstances were, you motivated me so much to apply for my [NMC] pin. You improved my skills and knowledge within these 2 years and I wouldn't have done it without you.
A Majeed

Practice Nurse
I have worked for AppLocum for three years now and they are fantastic to work for! They are like one big family! They really take the time to get to know you personally, and are so supportive from the compliance officers to the nurse consultants! They are easily accessible and really care about their ANP's.
S Brandreth

Nurse
I have been delighted by the commitment of the AppLocum team, in particular Waheed in finding me long term work during this difficult time and the communication has been superb. I started working with the team a few weeks ago and have had more work than with my usual two agencies.
L Gruszka

Locum GP
It was the best experience I have ever had, having been through the same process with other agencies many times before. Obviously, I was hesitant at first having had my own personal experiences with agencies but I soon got a good feeling about this one. Very personal and friendly approach.
R Taylor

Practice Manager
I have recently changed my locum provider and the service I receive is excellent There is always a quick response for any requirements and queries I have. A practice managers role is very hectic and having a reliable locum agency takes so much pressure off our working day.
D Cohoon

Surgery Admin