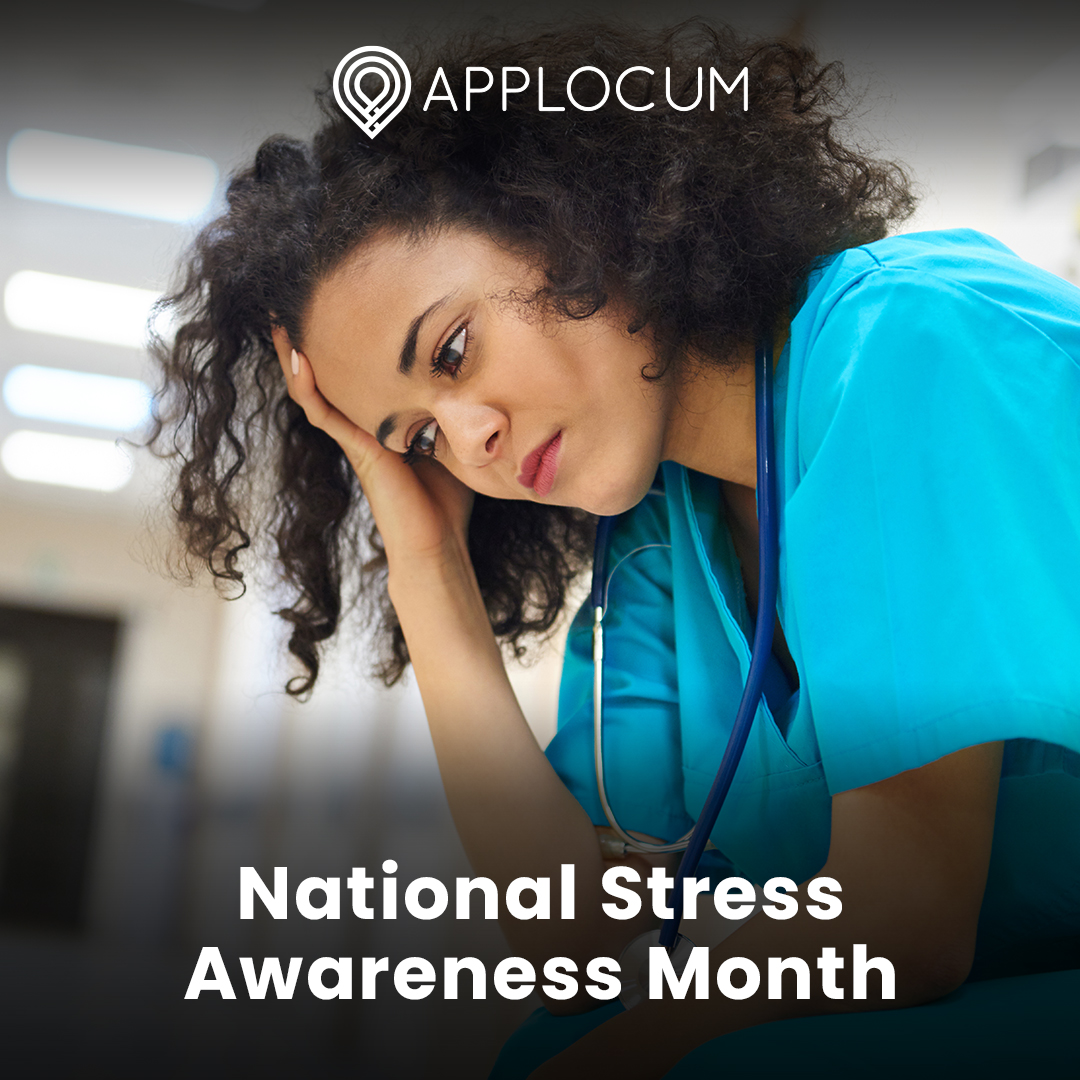 National Stress Awareness Month
At AppLocum, we provide a platform for professional medical personnel to find their ideal locum placements. Our platform is not only a comprehensive source of positions being offered, but also a place for caring and sharing ideas and concerns, that our hard-working members may experience. Our easy-to-use app makes life a lot simpler in seeking out those placements that you are best suited for.
However, not everything in life is a breeze, so this month we have concentrated on what causes our clinical fraternity the most concerns, the most stress and what it may or may not do to their mental health. Having sent out a questionnaire, we can now give you the results, bearing in mind the unforeseen circumstances that the onslaught of the pandemic has caused. The results were enlightening, and we would like to thank all of you who took part. Please continue to take part in these types of exercises, as they all serve to improve your workplace and potentially your wellbeing.
Most importantly for us at AppLocum, it provides a better understanding of our valued candidates (both professionally and personally) and increases and improves knowledge and a caring background throughout the locum community. 'Community' is the theme for this years' campaign, supported by all the mental health organizations such as Mind, Rethink and Heads Together along with more localized charities by region.
Rest assured, we are the AppLocum Community and we will always stand by you.
How do I know if I am under stress?
Stress is an insidious enemy – it creeps up on you gradually and often you are not aware of it until it reaches a critical point, or you are denying it even though you know something is wrong. Getting sufferers to admit they are under duress is one of the major problems, almost as if they feel there is a stigma attached to mental health.
Many varying factors large and small can add to your stress levels and whether you can cope with it or not. In our next article, we will cover some of the main causes, how to manage them and where to get help when you need it. This is an initial guideline of some pertinent results, and our second article will provide more in-depth analysis of each question asked.
By reading both articles, you will see what some of our locums feel, personally and professionally.
Our initial survey results
As we take stress very seriously, we asked 11 questions on what instances may cause the problem, how each person dealt/didn't deal with it. We have chosen some of the answers that stood out the most, either positively, negatively or in the third case, a passive response. The questions appear in the order they were presented on the original survey.
Question 1. 'I concentrate on my work to forget about my problems'.
Our platform professionals' dedication to work was clearly demonstrated here, with 76% disagreeing with this statement. This shows that staff put their careers, patients, and professionalism before any personal problems. Could this cause stress when people 'bottle up' any issues they may have?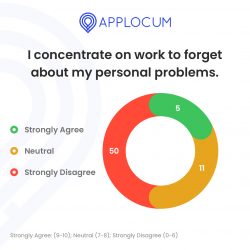 Question 4. 'I feel I have to finish all outstanding work within my shift'.
66% of survey participants stated that this was the case. This shows dedication to patients' care, but this could interfere with their personal arrangements and domestic duties (such as picking up the children from school)? Is this a factor of stress brought on by work?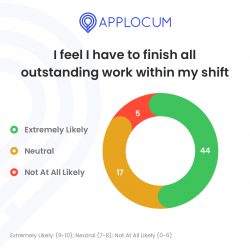 Question 5. 'I confront and resolve difficult situations when they arise'.
26% of survey participants say that this is not what they practice or simply did not want to answer. Can stress be caused by a 'coping factor', or perhaps they don't want to be confrontational?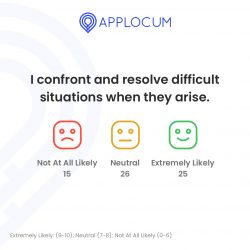 Question 8. 'I have time for my hobbies and interests after my shifts'.
Over half of the answers to this were negative in that the participants did not have enough time to enjoy their own pursuits. There could be a large stress factor involved here as hobbies and interests are a large part of relaxation techniques.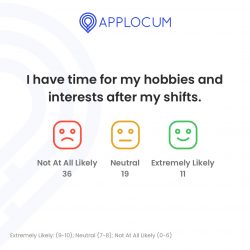 Question 9. 'I feel comfortable when experiencing new situations'.
28 people (42%) preferred to remain passive over this question. Often we find that a new placement, new people and different workplace practices can be stressful to a certain degree. Also, the introduction of new equipment or new methods take a lot of getting used to. Is this another potential cause for stress?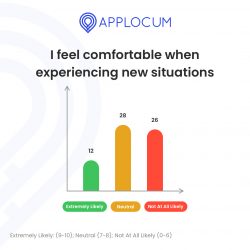 AppLocum found it important that we included all detractors, promoters, and passive opinions in our counts to produce a completely honest and 'true picture' survey. Please also note that there is no remuneration, prize or other benefit allotted to those who have taken part. We truly value your opinions on surveys that we produce and your participation in the locum community as a whole. If you didn't get a chance to fill in our survey, please do read our next article which reveals more details and other information on stress.
Don't just take our word for it,
see what our users think
Within two days, I was registered and ready for work with a regular contract arranged by Matthew. When this contract ended Matthew provided me with great support and boosted my confidence enough to help me take a step up in my nursing role. He is a true credit to AppLocum and always maintains a highly professional service.
A M McGuire

Nurse
You guys are marvellous!! I work with a few agencies but to be honest you're miles better at everything so I just work with you guys now.
B McQuillan

Practice Nurse
I would recommend AppLocum! Matthew is always so helpful and great at getting shifts sorted quick and fast. The whole process was smooth and easy starting my set up at AppLocum. Matthew always keeps in touch to inform you what is going on with each job. Best agency out there!
C Brosnan

HCA
You have helped me so much throughout 2019 coming into 2020. Its been a hard year for everyone but you made sure I had work no matter what the circumstances were, you motivated me so much to apply for my [NMC] pin. You improved my skills and knowledge within these 2 years and I wouldn't have done it without you.
A Majeed

Practice Nurse
I have worked for AppLocum for three years now and they are fantastic to work for! They are like one big family! They really take the time to get to know you personally, and are so supportive from the compliance officers to the nurse consultants! They are easily accessible and really care about their ANP's.
S Brandreth

Nurse
I have been delighted by the commitment of the AppLocum team in finding me long term work during this difficult time and the communication has been superb. I started working with the team a few weeks ago and have had more work than with my usual two agencies.
L Gruszka

Locum GP
It was the best experience I have ever had, having been through the same process with other agencies many times before. Obviously, I was hesitant at first having had my own personal experiences with agencies but I soon got a good feeling about this one. Very personal and friendly approach.
R Taylor

Practice Manager
I have recently changed my locum provider and the service I receive is excellent There is always a quick response for any requirements and queries I have. A practice managers role is very hectic and having a reliable locum agency takes so much pressure off our working day.
D Cohoon

Surgery Admin