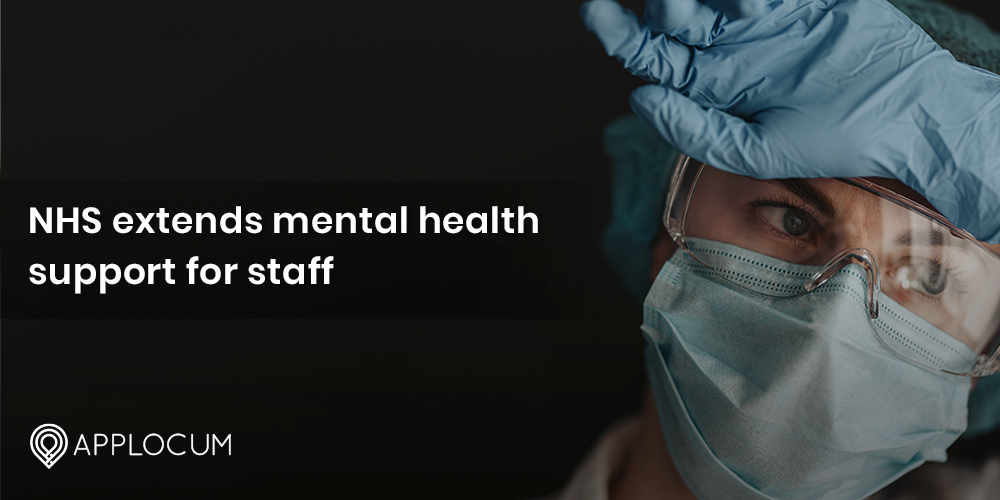 NHS extends mental health support for staff
As healthcare workers battle the second wave, there are mounting concerns about their mental wellbeing. The British Medical Association has warned that the pandemic could result in a mass exodus of doctors and nurses whose mental health have been worn down. This would create long-lasting consequences for the NHS. The BMA deputy chair and wellbeing lead, David Wrigley, told The Independent he fears that "morale will be at an all-time low and many will say enough is enough and either leave their role, retire early or go abroad".  
A frontline study by the Covid Trauma Response Working Group found that 60% of surveyed UK health workers met the criteria for at least one of three things – anxiety, depression and post-traumatic stress disorder – between May and July 2020. 28.3% of all sick leave in May 2020 was due to mental health issues. Theses absences also put further pressure on an industry already struggling with staff shortages. Burnout has become a real crisis in the NHS and this has only been exacerbated by Covid-19. You can read about how to ease the effects of burnout here. 
It is clear that burnout has a profound effect on the individual. It can also lead to a number of performative issues in the workplace. This will only cause additional stress to the individual concerned. The HSIB warned that overworked staff have more difficulty processing information, describing it as "attentional narrowing".  
So, what are the NHS doing to support their staff as their collective mental health continues to suffer?  
NHS Plan of Action
NHS England and NHS Improvement have heard the concerns of experts and staff alike. As a result, they will be investing an extra £15 million "to strengthen mental health support for nurses, paramedics, therapists, pharmacists, and support staff". NHS National Mental Health Director, Claire Murdoch has highlighted that "it is crucial that the NHS staff working tirelessly to protect the health of the nation throughout this pandemic are given the support they deserve". 
Some of this money will go towards mental health assessments and treatments. Those requiring additional support for severe needs can be referred to a specialist centre. The NHS website states that funding will also be spent on: 
–Creating a national support service for critical care staff, who are the most vulnerable to severe trauma. 
-Ensuring staff can access mental health services whenever they need to, through funding nationwide outreach and assessment services. 
-From this winter, wellbeing and psychological training should be put in place to support staff. 
Extending existing mental health support
The NHS is also looking to expand existing mental health support for staff. This is in preparation for fears that the second wave could eclipse the first. These services include:  
-A dedicated health and care staff support service which has already been used by over 16,000 people. This includes confidential support via phone and text message. 
-A specialist helpline for bereavement intended to support those struggling with the grief of losing friends and family – whether from COVID-19 or otherwise.  
-A specialist app called Liberate for Black, Asian and minority ethnic colleagues to manage anxiety and stress levels. This has had 1,061 downloads since August.  
-Online resources, guidance and webinars, which have been utilised by 285,253 staff members. This includes 90,000 downloads of mindfulness and sleep app Headspace. 
Existing mental health frameworks also include NHS Practitioner Health. This provides confidential mental health and addiction services to doctors and dentists, supporting over 2,500 new patients each year.  
In comparison to March, many more NHS staff are being tested, particularly in hotspot areas, and anxiety about PPE supplies is far less (though not eradicated). It is important that staff feel safe.  
RCN Chief Executive & General Secretary, Dame Donna Kinnair, believes that this further support gives important recognition to the struggles of health care staff. She hopes this is the start of a sustained focus on their wellbeing.  
What 
do 
staff want
? 
However, many health care workers feel their wellbeing and mental health is not being adequately supported by their workplace. At the beginning of the pandemic, a number of services were provided to support NHS staff as they battled Covid-19. This included free food, accommodation and child support. In many hospitals and trusts across the country, frontline staff claim that these measures have since been removed. Doctors are calling for their restoration. 
After the first wave of Covid-19, the Royal College of Nursing (RCN) found that the primary concern of 40,000 surveyed nurses was being underpaid and under-valued. Mike Adams of the RCN addressed the hesitance to talk about pay during a crisis. He stated that "If you want to do one thing for nurses who need a boost to get through the rest of this year, it would be to show you value them with a meaningful pay rise." During what seems like a relentless year, many staff are frustrated that that they are not receiving tangible recognition.  
Wellbeing issues are not new. According to Dame Donna Kinnair, "many of the factors that worsen the wellbeing of the workforce existed before Covid-19 such as unhealthy working patterns and a severe shortage of staff." She went on to recommend that "Employers, in all settings and sectors, must determine the impact these issues have on their staff and take action immediately."  
If you feel that you need support, our dedicated consultants are happy to speak to you if you need to check-in or express your concerns. We are proud that our staff can turn to us when they need our "support and experience in these tough times." Contact us here. 
Don't just take our word for it,
see what our users think
I would recommend AppLocum! Matthew is always so helpful and great at getting shifts sorted quick and fast. The whole process was smooth and easy starting my set up at AppLocum. Matthew always keeps in touch to inform you what is going on with each job. Best agency out there!
C Brosnan

HCA
You have helped me so much throughout 2019 coming into 2020. Its been a hard year for everyone but you made sure I had work no matter what the circumstances were, you motivated me so much to apply for my [NMC] pin. You improved my skills and knowledge within these 2 years and I wouldn't have done it without you.
A Majeed

Practice Nurse
I have worked for AppLocum for three years now and they are fantastic to work for! They are like one big family! They really take the time to get to know you personally, and are so supportive from the compliance officers to the nurse consultants! They are easily accessible and really care about their ANP's.
S Brandreth

Nurse
I have been delighted by the commitment of the AppLocum team, in particular Waheed in finding me long term work during this difficult time and the communication has been superb. I started working with the team a few weeks ago and have had more work than with my usual two agencies.
L Gruszka

Locum GP
It was the best experience I have ever had, having been through the same process with other agencies many times before. Obviously, I was hesitant at first having had my own personal experiences with agencies but I soon got a good feeling about this one. Very personal and friendly approach.
R Taylor

Practice Manager
I have recently changed my locum provider and the service I receive is excellent There is always a quick response for any requirements and queries I have. A practice managers role is very hectic and having a reliable locum agency takes so much pressure off our working day.
D Cohoon

Surgery Admin