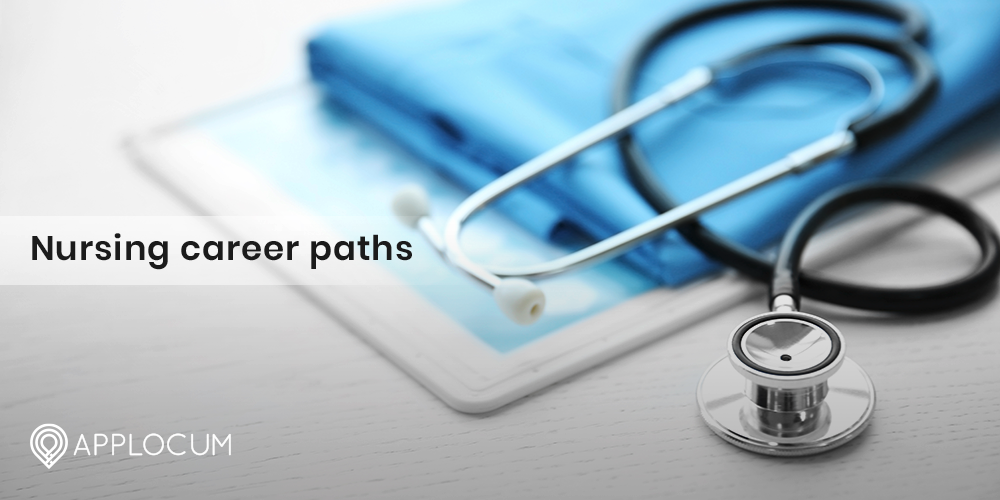 Nursing Career Paths
Nursing is more than just a job; it is a vocation. Nursing attracts personalities with heart. They are strong of will and steady of hand. In addition, nursing career paths can be linear. While the basic rate of pay for registered ward nurses remains a topic of much debate, there are opportunities to climb the ladder of nursing – whether within the NHS, or by joining the private sector.
Becoming a Nurse
If you wish to become a nurse, you will need a degree. Do not be deterred by this. Eligible candidates can apply for financial aid while studying. In addition, 94% of nursing students find a job within six months of graduation.
The entry requirements of a University that offers nursing degrees vary. Every establishment has its own unique criteria. As a rule, though, expect to be asked for C-grade or above GCSEs in English, maths and science, in addition to two or three A-levels (or Level 3 equivalents).
Depending on what field of nursing you are interested in, at least one of these A-Levels may need to be in a specialist science. If you lack this qualification, some universities will offer a foundation year of study to grant an equivalent qualification.
Specialist Nursing
"Nurse" is not a catch-all, generic job title. There are many types of nursing career paths open to any interested applicant. These are divided into five core categories:
Adult Nursing (also known as General Nursing)
Children's Nursing (Paediatrics)
Learning Disability Nursing
Mental Health Nursing
Theatre Nursing (also known as Scrub Nursing/Surgical Nursing)
Other training and specialities, such as midwifery, are also available. Decide which type of nursing appeals to you before studying. Some courses may grant qualification in two of these fields simultaneously.
Can a Healthcare Assistant Become a Nurse?
A healthcare assistant (HCA) is a critical supporting role to the nursing team of any medical facility. An HCA will work alongside nurses and doctors, aiding patients with basic mobility alongside day-to-day essential duties such as changing bedding and recording patient blood pressure and temperature.
An HCA is not a registered nurse but acts as the liaison between patient and clinician. This requires a similar mentality to a nurse, in addition to excellent, compassionate transferable skills. Gaining a role as an HCA can be the first step in the nursing career path toward training to become a qualified ward nurse. The experience gained in this role will stand an applicant in good stead for acceptance into University.
Nursing bands
Once qualified as a nurse, you will be entitled to work at any healthcare facility in the UK. Your qualifications may also permit you to work overseas.
Nursing roles are graded by bands. These bands dictate rates of pay and seniority. This table explains the many and varied roles that a nurse can step into along their nursing career path.
| | |
| --- | --- |
| Job Title | Band |
| Staff Nurse | 5 |
| Clinical Nurse | 6 |
| Discharge Co-ordinator | 6 |
| Junior Sister | 6 |
| Sister for Practice Development | 6 |
| Specialist Charge Nurse | 6 |
| Clinical Lead | 7 |
| Clinical Nurse Specialist | 7 |
| Clinical Site Manager | 7 |
| Critical Care Outreach Nurse | 7 |
| Research Nurse | 7 |
| Senior Resuscitation Practitioner | 7 |
| Sister for Practice Development | 7 |
| Ward Leader | 7 |
| Advanced Practitioner | 8 |
| Clinical Nurse | 8 |
| Directorate Lead Nurse | 8 |
| Head of Nursing | 8 |
| Matron | 8 |
| Nurse Consultant | 8 |
| Specialist Team Lead | 8 |
AppLocum has an excellent variety of locum nurse jobs for you to choose from.
Managerial Roles for Nurses
Leadership roles in nursing typically fall into band 8 or above. A nurse in a management role will still be involved with daily healthcare duties, tending to the needs of patients. In addition, these roles involve line management of junior team members, inspiring and training the next generation of nurses, demonstrating best practice and aiding with administrative tasks.
Any nurse will have the opportunity to climb the career ladder into a management role if this is appealing. The nurse in question should discuss this ambition with the leadership team of a healthcare facility. Training, education and assessments can then be arranged. With appropriate skills and commitment, nursing can be both lucrative and rewarding.
Reaching the top of your profession in a managerial role can be a daunting task, particularly with the extra load of essential paperwork. You may find you want to be more hands on in the actual care of patients, rather than an administrator. But never fear, it can be possible to do both.
Whichever role or specialism you decide, you will undoubtedly have one of the most rewarding careers in the world.
Joining an agency
As a locum nurse, if you are part of an agency they can offer advice if you're looking to progress in your career. One of our practice nurses said "you motivated me so much to apply for my (NMC) pin. You improved my knowledge and skills so much within these two years and I wouldn't have done it without you." At AppLocum we want to make sure you find your perfect job.
To discover your next step, check out our daily updated vacancies or contact us.
Don't just take our word for it,
see what our users think
I would recommend AppLocum! Matthew is always so helpful and great at getting shifts sorted quick and fast. The whole process was smooth and easy starting my set up at AppLocum. Matthew always keeps in touch to inform you what is going on with each job. Best agency out there!
C Brosnan

HCA
You have helped me so much throughout 2019 coming into 2020. Its been a hard year for everyone but you made sure I had work no matter what the circumstances were, you motivated me so much to apply for my [NMC] pin. You improved my skills and knowledge within these 2 years and I wouldn't have done it without you.
A Majeed

Practice Nurse
I have worked for AppLocum for three years now and they are fantastic to work for! They are like one big family! They really take the time to get to know you personally, and are so supportive from the compliance officers to the nurse consultants! They are easily accessible and really care about their ANP's.
S Brandreth

Nurse
I have been delighted by the commitment of the AppLocum team, in particular Waheed in finding me long term work during this difficult time and the communication has been superb. I started working with the team a few weeks ago and have had more work than with my usual two agencies.
L Gruszka

Locum GP
It was the best experience I have ever had, having been through the same process with other agencies many times before. Obviously, I was hesitant at first having had my own personal experiences with agencies but I soon got a good feeling about this one. Very personal and friendly approach.
R Taylor

Practice Manager
I have recently changed my locum provider and the service I receive is excellent There is always a quick response for any requirements and queries I have. A practice managers role is very hectic and having a reliable locum agency takes so much pressure off our working day.
D Cohoon

Surgery Admin