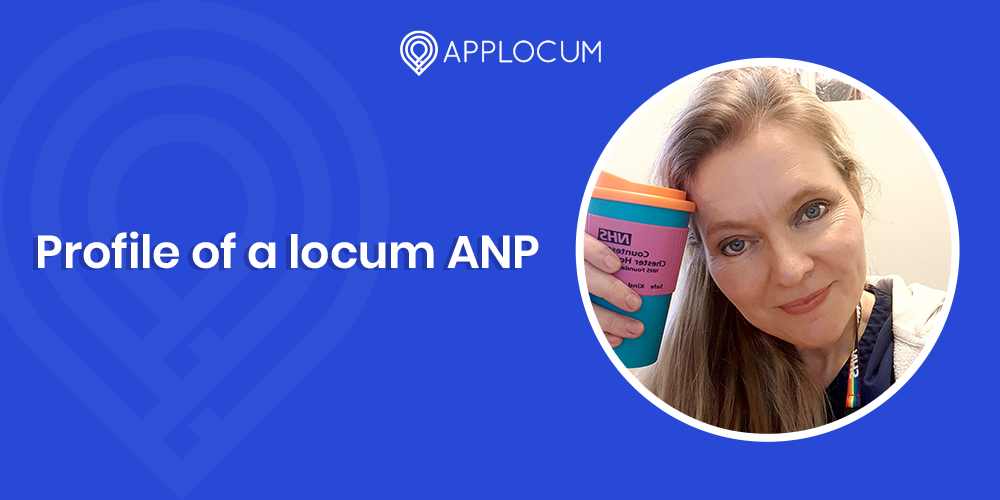 Profile of a locum ANP
One of the locum nurses who works for AppLocum kindly agreed to an interview about her experience of the COVID-19 pandemic. Jo Ward is a locum ANP with a diverse career and many great achievements under her belt. Jo spoke to us about her career journey and working during the COVID-19 pandemic. She is a shining example of how locum work allows you to diversify and develop your skills if you have a strong drive to achieve.  
This year has forced the healthcare industry to adapt constantly. Jo spoke openly about her experience in the hot hubs, providing an insight into how primary care has undergone dramatic change due to the pandemic.  
What has been your career journey leading you to become an Advanced Nurse Practitioner?
It was fascinating to hear about Jo's busy and varied career. If you need some motivation, her career story shows how many different things you can achieve if you put the effort in.  
This varied career journey began with Jo's training as an RGN in 1992. A few years later, she self-funded her training as an RSCN.  Jo has also worked as a Domestic Violence Lead, tackling the devastating effects of domestic violence. 
A master's degree in Public Health really brought Jo into her element. After successfully getting a specialist Public Health Development role, she remained in the role for 15 years. During this time, she worked in communities to improve health inequalities. She worked with stakeholders, clinicians and the local community, managing projects to make a difference. Her success led her to receive an award for leading community projects in sexual health and tackling obesity.  
Research has also been an important part of Jo's career. As a Professional Development Lead, she published a journal article about clinical supervision. For this research she spoke with around 200 staff, showing how much you can learn from speaking to a range of people. During her second Master's Degree, Jo researched Pediatric Early Warning Scores. She said she is "always studying" and repeatedly highlights the importance of professional development and the ability to diversify. 
Jo first pursued locum work 3 years ago to broaden her clinical exposure and gain more experience. She started in Walk in Centres, GP practices and OOH services. She now enjoys her work as a locum ANP.
What do you like about locum work? 
Speaking of her work as a locum ANP, Jo said "it has been brilliant doing locum work to broaden my clinical knowledge in different settings." She also really appreciates the flexibility, especially when there have been personal circumstances such as family illness which required ongoing support.  
What has your experience of the hot hubs been like? 
During COVID-19, hot hubs have been particularly important as "patients who are feverish can't be brought into normal settings" to reduce risk of cross-infection. Jo described her experience working as an ANP in these hot hubs as "enjoyable" because it introduced her to a new way of managing patients. She also recognised that it was an important measure to tackle the pandemic which was good motivation. Always eager to learn, she said that it was a good opportunity to manage clinical risk in a different way.  
How have you found this year as a nurse? 
The initial answer to this question was one word: "Interesting." We can imagine that it is a difficult experience to describe. She went on to say that it has been very changeable because the pandemic and the NHS' response has evolved so rapidly over the past nine months. There has been a need to diversify constantly, as things changed on a weekly basis, but she did "enjoy the challenge".  
According to Jo, the COVID-19 pandemic has required healthcare workers to be "swift and responsive" in order to tackle each day's new challenges. There were constant meetings and updates. It also involved reconfiguring how all services work and how patients access those services. This constant change has not ceased and will likely continue into 2021.  
What has been your experience working with 
AppLocum
? 
"Positive." Jo described her appreciation of consultants putting her forward into environments that she wouldn't have considered before, allowing her to develop new skills. She also said that it has given her good opportunities to network clinically across a wider network and "to work with a broader cohort of patients." The efficient communication and training were an added benefit, as well as that she has always been paid on time.  
You can join AppLocum online.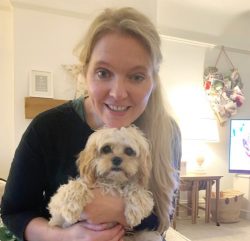 Do you have any advice you would offer othe
r nurses during this time? 
"Be kind to yourself as this [COVID-19] is a marathon journey. Everyone has their own personal challenges, including why they might not want to work on the frontline. Do what is right for you." Jo also emphasised the need to look after yourselves and others, by checking both on yourself and your colleagues after shifts. She highlighted the importance of bringing kindness into the workplace, something that we could all do with more of. Jo brightened as she talked about the puppy her family welcomed into their home during the first lockdown, saying "she is our therapy."  
Read more about looking after your mental health here.
You can read more healthcare professionals' stories on our blog, including The Story of an Agency ODP.   
We believe it is important to listen to the experiences of the healthcare professionals who work with us. We want to understand your challenges and meet your needs. It is a privilege to celebrate your amazing work in the healthcare industry. If you would like to tell your story, feel free to contact us.  
Don't just take our word for it,
see what our users think
I would recommend AppLocum! Matthew is always so helpful and great at getting shifts sorted quick and fast. The whole process was smooth and easy starting my set up at AppLocum. Matthew always keeps in touch to inform you what is going on with each job. Best agency out there!
C Brosnan

HCA
You have helped me so much throughout 2019 coming into 2020. Its been a hard year for everyone but you made sure I had work no matter what the circumstances were, you motivated me so much to apply for my [NMC] pin. You improved my skills and knowledge within these 2 years and I wouldn't have done it without you.
A Majeed

Practice Nurse
I have worked for AppLocum for three years now and they are fantastic to work for! They are like one big family! They really take the time to get to know you personally, and are so supportive from the compliance officers to the nurse consultants! They are easily accessible and really care about their ANP's.
S Brandreth

Nurse
I have been delighted by the commitment of the AppLocum team, in particular Waheed in finding me long term work during this difficult time and the communication has been superb. I started working with the team a few weeks ago and have had more work than with my usual two agencies.
L Gruszka

Locum GP
It was the best experience I have ever had, having been through the same process with other agencies many times before. Obviously, I was hesitant at first having had my own personal experiences with agencies but I soon got a good feeling about this one. Very personal and friendly approach.
R Taylor

Practice Manager
I have recently changed my locum provider and the service I receive is excellent There is always a quick response for any requirements and queries I have. A practice managers role is very hectic and having a reliable locum agency takes so much pressure off our working day.
D Cohoon

Surgery Admin