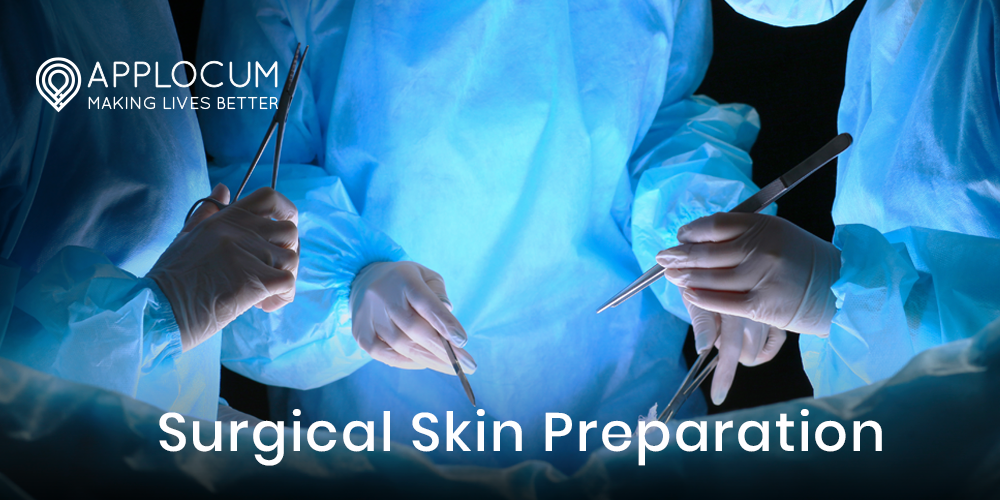 Surgical Skin Preparation
by Sion Jones 
Current figures suggest that up to 10% of patients develop a surgical site infection (SSI) following surgery. These are significant figures that may well be much higher as the method of data collection does not include infections found in patients after discharge from hospital and where many such infections are shown to develop.
Studies go on to explore that patients are affected both physically and emotionally. The cost of managing an SSI and potentially preventing other patients from being admitted for treatment adds further concern to an already over stretched healthcare system.
The most common source of bacteria entering a surgical wound is the patients own skin, but other sources of bacteria must also be taken into consideration. These include but not limited to: staff present in theatre, airborne particles which may come into contact with the patients skin, the length of the procedure, as well as the patients age and own immune response.
The risk of postoperative surgical site infection is minimised through the effective management of skin preparation of the surgical site (AFPP 2011). Skin preparation or more commonly referred to as prepping the skin is therefore extremely important, as it reduces the amount of bacteria, be it resident or transient, found on the patients skin. Antiseptic agents such as chlorhexidine or iodine are proven to effectively kill such bacteria, whilst some may also prevent the formation of new bacteria during surgery. However, it still remains unclear and evidence is limited in favour of one solution or another, with further research undoubtedly required to influence best practice and demonstrate if one single antiseptic solution is better at preventing wound infection.
Read the Surgical Skin Preparation Quality Improvement Guide here.
Don't just take our word for it,
see what our users think
I would recommend AppLocum! Matthew is always so helpful and great at getting shifts sorted quick and fast. The whole process was smooth and easy starting my set up at AppLocum. Matthew always keeps in touch to inform you what is going on with each job. Best agency out there!
C Brosnan

HCA
You have helped me so much throughout 2019 coming into 2020. Its been a hard year for everyone but you made sure I had work no matter what the circumstances were, you motivated me so much to apply for my [NMC] pin. You improved my skills and knowledge within these 2 years and I wouldn't have done it without you.
A Majeed

Practice Nurse
I have worked for AppLocum for three years now and they are fantastic to work for! They are like one big family! They really take the time to get to know you personally, and are so supportive from the compliance officers to the nurse consultants! They are easily accessible and really care about their ANP's.
S Brandreth

Nurse
I have been delighted by the commitment of the AppLocum team, in particular Waheed in finding me long term work during this difficult time and the communication has been superb. I started working with the team a few weeks ago and have had more work than with my usual two agencies.
L Gruszka

Locum GP
It was the best experience I have ever had, having been through the same process with other agencies many times before. Obviously, I was hesitant at first having had my own personal experiences with agencies but I soon got a good feeling about this one. Very personal and friendly approach.
R Taylor

Practice Manager
I have recently changed my locum provider and the service I receive is excellent There is always a quick response for any requirements and queries I have. A practice managers role is very hectic and having a reliable locum agency takes so much pressure off our working day.
D Cohoon

Surgery Admin