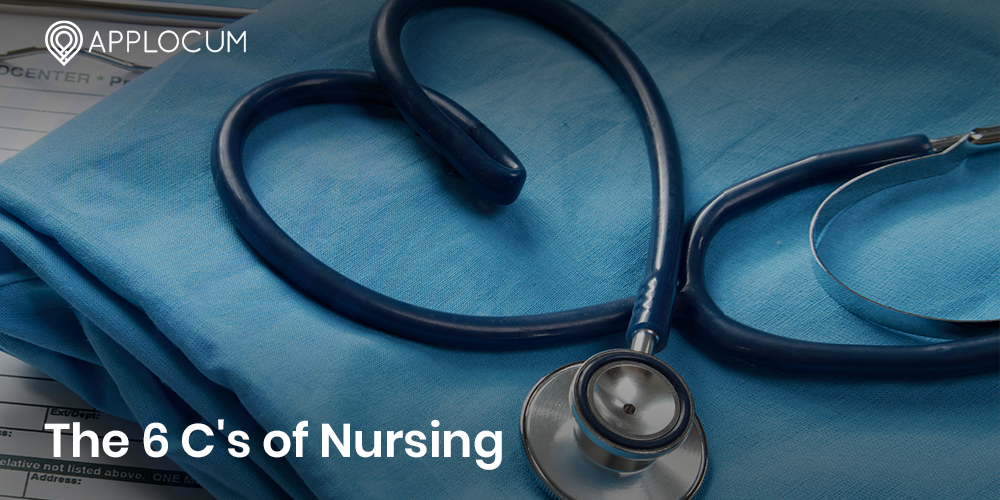 6 C's of Nursing
The 6 C's of nursing and the impact of the pandemic
People enter the nursing profession because they want to care for the sick or find their speciality. However, nobody was trained to face the endurance test that Covid-19 has brought to the UK, even though nurses are exceptionally dedicated to their profession. The 6 C's were established in 2012 by Chief Nursing Officer for NHS England, Jane Cummings. It outlines and reaffirms the core values of nursing, or the 6 C's of care.
What are the 6 C's of nursing?
The 6 C's are:
-Care
-Compassion
-Competence
-Communication
-Courage
-Commitment
These provide a foundation of values for all health and social care workers, promoting a consistent team effort of working towards the common care goal.
However, COVID-19 has complicated the ability to uphold these values. Care workers have been pushed to capacity. Winter is a peak time for most illnesses, let alone a virus so virulent that it has caused global disruption.
So far, the NHS has done an amazing job and have had to use every single piece of strength to continue upholding the 6 C's.
Why are the NHS 6 C's of nursing important?
Caring for vulnerable people is an all-encompassing job. From healthcare professionals, patients not only need the best medical care but also understanding and emotional back up. Let's look at the importance of each of the 6 C's of nursing, according to the NHS strategy 'Compassion in Practice'.
Care
Delivering care is the focus of all members of the nursing profession and it is not just about medical skill. It encompasses consideration, listening and providing patients with dignity. This would demonstrate care in practice.
This is something that nursing staff have possibly found the most challenging due to COVID-19. With people extremely ill and potentially in intensive care, staff have been so stretched. Where they would normally have worked on a 'one-to-one' basis, nurses have had to cope with 2 or more patients, with only the support of one 'unspecialised' nurse. Many nurses have found this difficult to accept and it has definitely caused stress and strain.
Compassion
Intelligent kindness is at the root of delivering compassion to match a patient's (and their family's) individual needs. Emotional support as well as delivering top class care, is extremely important. Patients can feel alone, frightened and have other emotions, which nurses can help to ease. Particularly with restrictions imposed on visitations during the pandemic, the patient may feel alone and isolated, and you may be one of the only people that they see or hear.
Competence
Every patient is different and has a very diverse set of needs, both medically and emotionally. Expertise and clinical knowledge are obviously essential, but understanding their emotions and fears can come a close second.
Communication
Talking a patient through their treatment plan as you are actually doing it provides reassurance. Listening is just as important. Listen to what a patient says and what their wishes are. Mixed with your own expertise, this will enable you to create their best care environment.
Communication with families is also important, particularly if they cannot see the patient due to coronavirus. Phone calls and messages become vital and show consideration for all the family.
Courage
This is a difficult one: being brave enough to speak up, if you feel that something is wrong, or could be done in a better way. Making suggestions for improvements within the workplace can only be for the better. Have courage in your convictions with strong and firmly based reasons.
Commitment
There is no doubt that medical staff have firmly demonstrated commitment during the pandemic. Patient care is where you are truly committed. But if you wish to take it further, commitment involves other aspects such as willingness to gain new qualifications and being prepared to accept changes and new innovations.
How can locum nurses implement the 6 C's?
Locum nurses are a valuable asset to any care environment. Not only can they ease the pressure in an overworked and overcrowded situation, they often come with fresh ideas and different working methods gleaned from other professional care placements. They provide care and emotional support in an already overstretched hospital or other facility. They provide all of the 6 C's asked for in the NHS code of practice. Locum nurses share the same values as any other nurse.
Interested in locum work? See our vacancies here. 
Don't just take our word for it,
see what our users think
I would recommend AppLocum! Matthew is always so helpful and great at getting shifts sorted quick and fast. The whole process was smooth and easy starting my set up at AppLocum. Matthew always keeps in touch to inform you what is going on with each job. Best agency out there!
C Brosnan

HCA
You have helped me so much throughout 2019 coming into 2020. Its been a hard year for everyone but you made sure I had work no matter what the circumstances were, you motivated me so much to apply for my [NMC] pin. You improved my skills and knowledge within these 2 years and I wouldn't have done it without you.
A Majeed

Practice Nurse
I have worked for AppLocum for three years now and they are fantastic to work for! They are like one big family! They really take the time to get to know you personally, and are so supportive from the compliance officers to the nurse consultants! They are easily accessible and really care about their ANP's.
S Brandreth

Nurse
I have been delighted by the commitment of the AppLocum team, in particular Waheed in finding me long term work during this difficult time and the communication has been superb. I started working with the team a few weeks ago and have had more work than with my usual two agencies.
L Gruszka

Locum GP
It was the best experience I have ever had, having been through the same process with other agencies many times before. Obviously, I was hesitant at first having had my own personal experiences with agencies but I soon got a good feeling about this one. Very personal and friendly approach.
R Taylor

Practice Manager
I have recently changed my locum provider and the service I receive is excellent There is always a quick response for any requirements and queries I have. A practice managers role is very hectic and having a reliable locum agency takes so much pressure off our working day.
D Cohoon

Surgery Admin