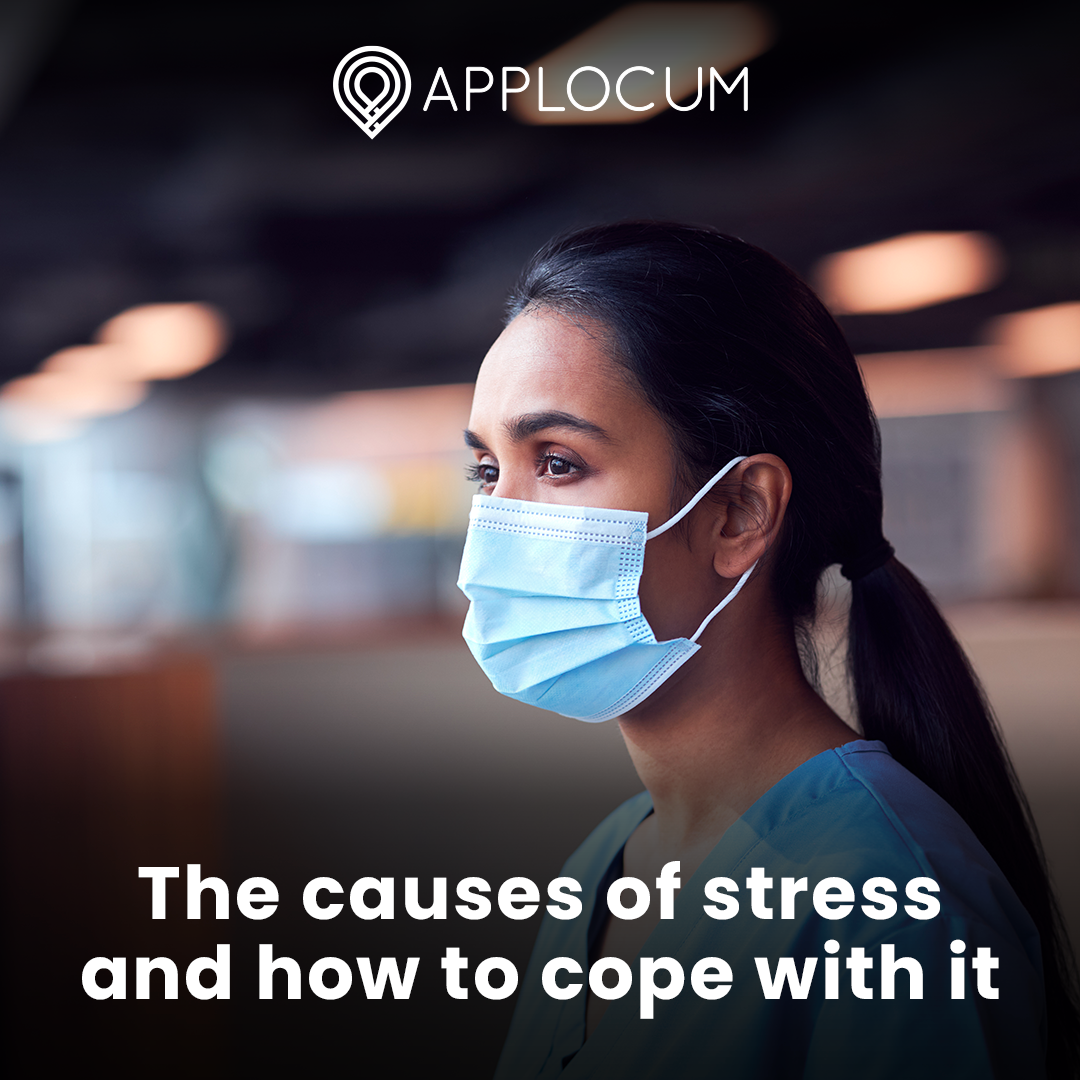 The causes of stress and how to cope with it
Stress tends to 'creep' up on you, sometimes gradually and sometimes without you even realizing it. Symptoms are manifold and quite a lot of people tend to ignore them, which can be dangerous to your mental health and your overall wellbeing.
Recognizing and taking control of any signs of stress early on, will certainly benefit you. There are various signs that you could look out for particularly – perpetual tiredness, sleeplessness, irritability, teeth grinding, headaches, outbursts, tears,
perpetual eating (often junk food), becoming less sociable and more isolated, panic, agitation, depression, loss of libido. One or a combination of some of these symptoms could be a result of stress.
Frequent Causes of Stress
Following on from our recent survey regarding stress, here are the main causes that were ascertained. Whilst we have shown what causes stress both personally and in relation to work, often, the two cannot be separated.
Personal:
Relationship difficulties/home life
Financial problems
Moving house
Illness, both personal and family
Deaths
Busy domestic schedule/children
Tiredness/exhaustion (often created by work)
Lack of fun, hobbies, or enjoyable pursuits, (often created by work).
Work:
As a medical recruitment platform, we are concerned about what causes our candidates any form of work stress. The survey showed us the following reasons that you gave. Needless to say, some of your answers were concerning. All feedback is important, and here are some of your major work concerns and potential stress factors that you see in yourselves.
The current pressure of working in the NHS is an overall contributing factor to stress. Surgeries and hospitals are working to schedules that are all but impossible to handle. Increased sickness due to the pandemic further exacerbated the problem. This can be particularly difficult for locums, as you have reported.
On the one hand, you worry about getting enough work to be able to live, pay bills etc.  Ever-increasing costs of fuel to travel to work is also a cause for concern. Sometimes, the atmosphere and conduct towards locums can be unpleasant to work in, which combined with heavy workloads, undoubtedly provokes a stressful situation. Fortunately, this is not a regular occurrence, but one that is experienced.
Furthermore, considering how difficult it is to quickly understand how a surgery or department works when they all operate differently, some of you report the following stressful circumstances.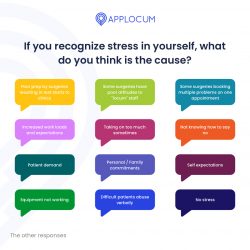 If was encouraging to see how many positive responses there were on the section regarding how you as an individual cope with everyday work problems, which can cause stress. Some of you say 'no stress', others say communication with the head of a practice or consultant if there are any issues. It helps to be heard, as bottling up a problem will merely make it worse and more stressful.
Patient demand was another issue mentioned and more concerning, was the increase in abuse from patients towards medical staff.
If you do experience stress, how do you manage it?
In our survey, we gave options to you on how to manage any stress and asked if you have other ways yourself.
Unfortunately, some of you confessed to not handling it well and others said that you bottled it up until you burst – usually on the wrong or innocent person, such as a member of the family. This is a result of stress that nobody wants to see or hear and is indicative towards talking it out, being heard and voicing concerns before it all becomes too much.
We were delighted to hear the positive ways in which you handle any stress, along the lines we have also suggested to you.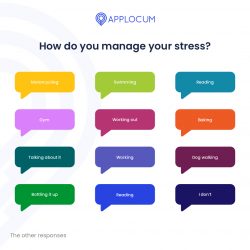 These are all great ways to relieve stress, but we would also suggest relaxation, meditation and breathing exercises. A lot of people don't know how to breathe properly!
Combining fresh air pursuits with some relaxing indoor ones are a good mix, and along with socializing or having fun with friends and family you can fight against stress.
Remember – AppLocum Cares
We are not just a recruitment platform – we care about all our candidates, and our work doesn't stop at simply placing you in the right job at the right time. We need and want to know about your concerns and issues, however inconsequential they may seem. You are important to us, so please discuss any problems. Reaching out and talking is not an indication of failure or something to be embarrassed about. Don't let stress go too far, seek professional help as soon as you can.
Some good contacts are:
Don't just take our word for it,
see what our users think
Within two days, I was registered and ready for work with a regular contract arranged by Matthew. When this contract ended Matthew provided me with great support and boosted my confidence enough to help me take a step up in my nursing role. He is a true credit to AppLocum and always maintains a highly professional service.
A M McGuire

Nurse
You guys are marvellous!! I work with a few agencies but to be honest you're miles better at everything so I just work with you guys now.
B McQuillan

Practice Nurse
I would recommend AppLocum! Matthew is always so helpful and great at getting shifts sorted quick and fast. The whole process was smooth and easy starting my set up at AppLocum. Matthew always keeps in touch to inform you what is going on with each job. Best agency out there!
C Brosnan

HCA
You have helped me so much throughout 2019 coming into 2020. Its been a hard year for everyone but you made sure I had work no matter what the circumstances were, you motivated me so much to apply for my [NMC] pin. You improved my skills and knowledge within these 2 years and I wouldn't have done it without you.
A Majeed

Practice Nurse
I have worked for AppLocum for three years now and they are fantastic to work for! They are like one big family! They really take the time to get to know you personally, and are so supportive from the compliance officers to the nurse consultants! They are easily accessible and really care about their ANP's.
S Brandreth

Nurse
I have been delighted by the commitment of the AppLocum team in finding me long term work during this difficult time and the communication has been superb. I started working with the team a few weeks ago and have had more work than with my usual two agencies.
L Gruszka

Locum GP
It was the best experience I have ever had, having been through the same process with other agencies many times before. Obviously, I was hesitant at first having had my own personal experiences with agencies but I soon got a good feeling about this one. Very personal and friendly approach.
R Taylor

Practice Manager
I have recently changed my locum provider and the service I receive is excellent There is always a quick response for any requirements and queries I have. A practice managers role is very hectic and having a reliable locum agency takes so much pressure off our working day.
D Cohoon

Surgery Admin