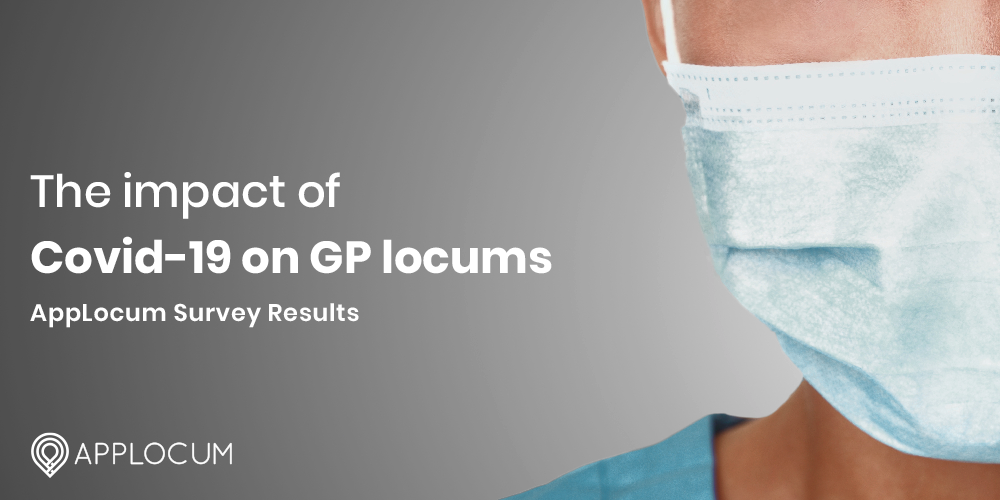 The impact of Covid-19 on GP locums – AppLocum Survey Results
We pride ourselves on being a caring company, and always ready to listen to our team of locums that represent us. In order to do so, we always welcome feedback or any concerns that our healthcare professionals have, so recently we sent out a survey on how Covid-19 has affected our GP locums on a personal and professional basis.
The results gave us a deeper insight into those GP locums working on the frontline, or those in other ancillary services such as remote consultations, testing facilities and even those that may have struggled to receive placements. This will help AppLocum and their team members discover how best we can facilitate should another crisis such as this occur.
After collating nearly 100 responses, there were mixed views on how you, as a locum, had changes in your normal work patterns, lifestyle, and even financial implications.
Here is what we found:
Downturn/Upturn in potential placements
37% of our GP's did report that placements had become more difficult to attain during the pandemic or that GP placements were either too far away from home or at scheduled times that would not fit in with domestic arrangements (bearing in mind that a vast number of children were not at school). Others mentioned that their partners hours had changed, so juggling work commitments was potentially impossible to manage. No available childcare was another key reason for a downturn in work possibilities.
For some of you, happily, you found an increase in available placements, particularly in the most 'Covid affected' areas. Equally a problem, almost 26% of you had shifts cancelled due to the virus implications.
Steady work placements with no dramatic change to income, came in at 8%.
Financial Implications
The response to this question fell into two main categories; lack of placements and non-availability of sick pay or benefits including those who had no insurance against these eventualities. In some cases, when both partners in a relationship worked in healthcare the effect on income was much more realised, making it difficult to plan or budget based on income.
Health Concerns
It was difficult to isolate the main concerns, but when added altogether, there were quite serious worries about personal health, as well as those of the patients you may have been caring for. These concerns were:
– Lack of PPE in many medical environments
– Daily testing facilities not necessarily available in placements
– Fear of taking infection home with you
– High risk whilst in service
– Physical and mental burnout (often talked about in the media)
– Stress of caring for extremely ill patients, whilst under continuous pressure
Added together during extensive shifts, this would undoubtedly have been a risk to a locums' health and well-being. The nation was certainly behind all NHS staff, as was visibly demonstrated, and fears over the health of our workers widely talked about. GP locums reported that they frequently felt vulnerable in a surgery environment, even though as much care was taken to prevent infection. Some of you felt able to tell us that you did find the mental pressure pretty much exhausting.
If you gained placements, what were your main ones?
It would appear from the results, that most of you (almost half of those who responded) were regularly employed in remote consultation work. This is totally understandable considering the virtual cessation of face-to-face patient diagnoses and/or consultation during lockdown.
The second largest area was within the 'out of hours' service (almost 20% of responses), compared to GP remote work at just under 40%. Covid-related face to face opportunities were around 8.5%. Hospital placements were low at 5.4%, potentially due to the pandemic and lack of testing facilities for new workers on site and inadequate PPE.
Did the lack of PPE make GP locums not wish to risk hospital placements?
A resounding 62% of you never had experience in working in a Covid-19 related service. Again, the potential reasons for this situation are unclear.
Has Covid-19 made you reconsider your future as a locum?
The 'yes' and no's' on this question were closer together (the former being 54% and the latter being 46%). There were a mix of responses, including 'don't know' but the main criteria for a choice was uncertainty of your future work opportunities when a potential health crisis looms, or on the other side of the coin, locum work really suits your domestic situation and availability. The financial impact of 'being out of work' for extended periods and thus the inability to support your family was also mentioned.
Permanent employment with no financial risk was also a large consideration. It is indeed a question that many locums may be asking themselves, and we value your input.
AppLocum would like to thank you sincerely for taking part in our very important survey, so that we can learn how further to improve our services to you and the healthcare industry.
We are touched and grateful for the comments and compliments made by you on the service we provide, and importantly, our willingness, friendliness and expertise as a healthcare staffing platform.
Unfortunately, there is the potential of a second wave of the virus. If you are a locum and need some advice on the current healthcare market or wish to join our team, then please get in contact.
Don't just take our word for it,
see what our users think
I would recommend AppLocum! Matthew is always so helpful and great at getting shifts sorted quick and fast. The whole process was smooth and easy starting my set up at AppLocum. Matthew always keeps in touch to inform you what is going on with each job. Best agency out there!
C Brosnan

HCA
You have helped me so much throughout 2019 coming into 2020. Its been a hard year for everyone but you made sure I had work no matter what the circumstances were, you motivated me so much to apply for my [NMC] pin. You improved my skills and knowledge within these 2 years and I wouldn't have done it without you.
A Majeed

Practice Nurse
I have worked for AppLocum for three years now and they are fantastic to work for! They are like one big family! They really take the time to get to know you personally, and are so supportive from the compliance officers to the nurse consultants! They are easily accessible and really care about their ANP's.
S Brandreth

Nurse
I have been delighted by the commitment of the AppLocum team, in particular Waheed in finding me long term work during this difficult time and the communication has been superb. I started working with the team a few weeks ago and have had more work than with my usual two agencies.
L Gruszka

Locum GP
It was the best experience I have ever had, having been through the same process with other agencies many times before. Obviously, I was hesitant at first having had my own personal experiences with agencies but I soon got a good feeling about this one. Very personal and friendly approach.
R Taylor

Practice Manager
I have recently changed my locum provider and the service I receive is excellent There is always a quick response for any requirements and queries I have. A practice managers role is very hectic and having a reliable locum agency takes so much pressure off our working day.
D Cohoon

Surgery Admin