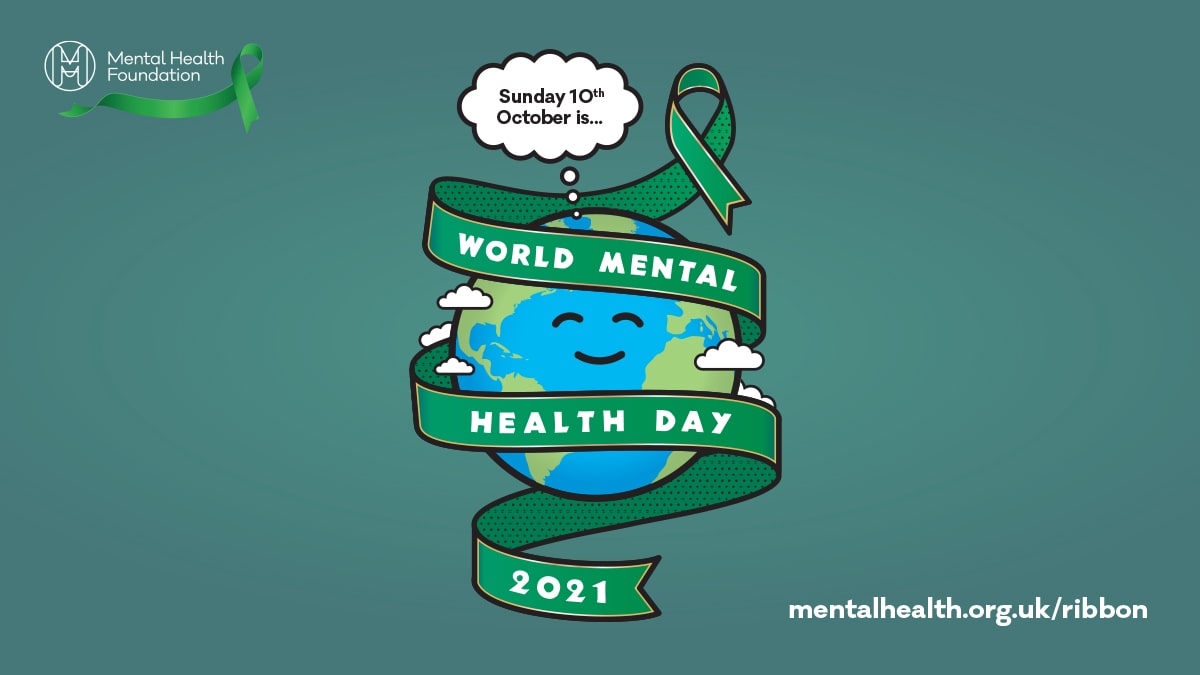 World Mental Health Day – October 10th
There is always help if you need it 
October 10th is World Mental Health Day, and people all over the world can suffer mental illness at some stage of their life. The Covid-19 pandemic certainly has not helped the situation and the incidence of mental health issues has increased over the past 18 months, due to the pressures that the virus has brought. Certain groups of people, including health and other frontline workers, students, people living alone, those under financial pressure and those with pre-existing mental health conditions, have been particularly affected. Services for mental, neurological and substance use disorders have been significantly disrupted. 
If you are a sufferer or feel your life difficult to cope with from a mental perspective, don't despair, there is so much help available from various organisations and charities. Organisations such as Mind, Samaritans, Crisis and many others are there to provide help and support to get you through this tough time. Another lesser-known participant in World Mental Health Day is Rethink Mental Health, who generally supply 24-hour service to be able to offer you advice and an 'ear' for you to talk to. 
Heads Together 
Led by the Duke and Duchess of Cambridge and Prince Harry, Heads Together unites eight mental health charities, including MIND. Since May 2016, Heads Together has encouraged millions of people to have important conversations about mental health. You can see that there is a lot of help out there if you need it. 
Going back to more local information, connected to some GP surgeries but more generally with hospitals is the CMHT (Community Mental Health Team). Most people recover from mental health problems without needing to go into hospital. You may also need help with other aspects of your life that you may find hard to cope with if you are feeling weak from pressure – for example, claiming benefits or dealing with housing problems, financial distress and other things that could be related to losing a job. Often these different services can be coordinated by the community mental health team (CMHT). CMHT may provide 24-hour service in some areas, someone to talk to and try to ease your mind and your worries.  
Don't be scared to ask for help!
There are other kinds of community mental health groups that can and will help sort out domestic situations for you or be available for emergencies or hospitalisation should you need it. It's all there, support is certainly not lacking outside the GP surgery, as many GPs do not have the time or training to manage some mental health conditions (are not trained to cope with it, merely) and generally give you advice and point you in the right direction to get help.  
So many people are frightened to admit that they have mental issues, believing that by telling somebody about it, it will affect their status in some way. There is no stigma attached to mental health or should not be. 
Supporting all these valuable and charitable organisations is important. Most funds are currently raised by the public and companies' donations. Organisations such as MIND also have shops in some towns, run on the same basis as other charity shops. You can organise an event or a fundraising scheme yourself, anything at all to provide financial support for such a worthwhile cause. 
Don't just take our word for it,
see what our users think
Within two days, I was registered and ready for work with a regular contract arranged by Matthew. When this contract ended Matthew provided me with great support and boosted my confidence enough to help me take a step up in my nursing role. He is a true credit to AppLocum and always maintains a highly professional service.
A M McGuire

Nurse
You guys are marvellous!! I work with a few agencies but to be honest you're miles better at everything so I just work with you guys now.
B McQuillan

Practice Nurse
I would recommend AppLocum! Matthew is always so helpful and great at getting shifts sorted quick and fast. The whole process was smooth and easy starting my set up at AppLocum. Matthew always keeps in touch to inform you what is going on with each job. Best agency out there!
C Brosnan

HCA
You have helped me so much throughout 2019 coming into 2020. Its been a hard year for everyone but you made sure I had work no matter what the circumstances were, you motivated me so much to apply for my [NMC] pin. You improved my skills and knowledge within these 2 years and I wouldn't have done it without you.
A Majeed

Practice Nurse
I have worked for AppLocum for three years now and they are fantastic to work for! They are like one big family! They really take the time to get to know you personally, and are so supportive from the compliance officers to the nurse consultants! They are easily accessible and really care about their ANP's.
S Brandreth

Nurse
I have been delighted by the commitment of the AppLocum team in finding me long term work during this difficult time and the communication has been superb. I started working with the team a few weeks ago and have had more work than with my usual two agencies.
L Gruszka

Locum GP
It was the best experience I have ever had, having been through the same process with other agencies many times before. Obviously, I was hesitant at first having had my own personal experiences with agencies but I soon got a good feeling about this one. Very personal and friendly approach.
R Taylor

Practice Manager
I have recently changed my locum provider and the service I receive is excellent There is always a quick response for any requirements and queries I have. A practice managers role is very hectic and having a reliable locum agency takes so much pressure off our working day.
D Cohoon

Surgery Admin