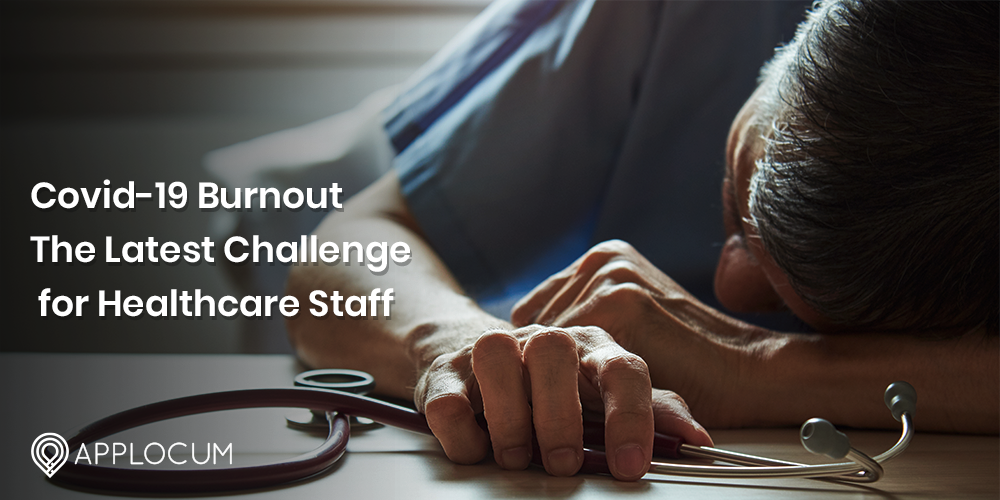 Covid-19 Burnout: The Latest Challenge for Healthcare Staff
Constant exhaustion. Reduced morale. Guilt about not working hard enough. These are familiar symptoms to people from all backgrounds. However, since Covid-19 burst onto the front pages with no warning, more and more medical professionals are finding themselves experiencing burnout.
Burnout is an overwhelming feeling of exhaustion caused by excessive stress. It leaves nothing untouched: your physical, mental and emotional capacities are all stretched beyond healthy limits. No amount of sleep can expel the fatigue. Meaningful work feels like nothing more than a series of insignificant or resented tasks. Other people seem out of reach. If you have been feeling like this, you are not alone.
Pandemic stress
The unprecedented crisis of the pandemic has had a real effect on healthcare professionals in the UK. Many of the reasons behind burnout are intensified for the people on the front lines. Obsession with job performance can be escalated by the thought of life or death scenarios. The pressure to achieve and meet demands has been under constant surveillance by media outlets always pumping out the next story. Challenges in the early stages of the pandemic such as inadequate PPE have led to an inevitable feeling of loss of control.
Every type of healthcare professional has faced their own challenges. In this industry, the lines of responsibility can become blurred. It is easy to feel like you can only give help rather than receive it too. To avoid burnout, it is important to remember that not everything is your responsibility.
Calls for more support
Increased stress and burnout is having a real effect on our NHS staff. The Doctors' Association UK reported that more than 1000 GPs stated that they would be more likely to leave the NHS following Covid-19. Many said this was due to the government's mishandling of the pandemic. Additionally, a survey conducted here at AppLocum found that many locum GPs have experienced less work opportunities during Covid-19. The issues caused by surgery closures have led to real anxiety and fear for many.
Nurses have also been profoundly affected. A report by the King's Fund on NHS nurses found that even before the pandemic "stress, absenteeism and intentions to quit had reached alarmingly high levels." Covid-19 has only exacerbated this. The report called for a review of 12-hour shifts by either reducing them to 8 hours or ensuring better management. It also suggests improved minimum standards such as rest spaces, provision of nourishment, and better protective measures against abuse.
May 2020 was a particularly difficult month for NHS staff, as it followed the peak of Covid-19 related deaths. New analysis from NHS Digital Data shows that more than a quarter of all absences in May were attributed to anxiety, stress, depression, and other mental illnesses. The 510,281 days lost to mental health absences represents a 37% increase on the previous year. According to Lib Dem health spokesperson Munira Wilson, thousands of people on the front lines of the crisis had "endured life-altering trauma and immeasurable excess stress." The party called for the government to provide more mental health support for healthcare staff, drawing attention to the important fact that "these dedicated staff keep our healthcare system running 24/7 and we need to make sure they have 24/7 support too."
Dedication to wellbeing
Of course, it isn't all doom and gloom. Here at AppLocum, we have also heard messages of hope from our staff. Though many of them started out anxious about the many changes to their regular working lives, they found that their new work became rewarding after only a few days. One of our nurses said that she feels a sense of pride in "having played [her] part in fighting this awful disease and helped so many people survive." In these extraordinary times, remember to show empathy towards yourself. Understand that taking time for yourself is a necessity, not a luxury.
Our dedicated consultants make themselves readily available to support the staff they work with, whether you need help booking shifts or simply to check-in. During the pandemic, they have also encouraged over-burdened staff to take on less shifts if they feel they need to, in order to make time for themselves. Your wellbeing is as much a priority as anything else.
"Working as a GP during Covid is a challenge, but I would like to say a big thank you to AppLocum."  – Doctor E.P.
"AppLocum has been very helpful in providing work opportunities even at this most difficult time." – ANP nurse, J.E.
If you have any queries, or would like support from us, do not hesitate to call or drop us a message.
Don't just take our word for it,
see what our users think
I would recommend AppLocum! Matthew is always so helpful and great at getting shifts sorted quick and fast. The whole process was smooth and easy starting my set up at AppLocum. Matthew always keeps in touch to inform you what is going on with each job. Best agency out there!
C Brosnan

HCA
You have helped me so much throughout 2019 coming into 2020. Its been a hard year for everyone but you made sure I had work no matter what the circumstances were, you motivated me so much to apply for my [NMC] pin. You improved my skills and knowledge within these 2 years and I wouldn't have done it without you.
A Majeed

Practice Nurse
I have worked for AppLocum for three years now and they are fantastic to work for! They are like one big family! They really take the time to get to know you personally, and are so supportive from the compliance officers to the nurse consultants! They are easily accessible and really care about their ANP's.
S Brandreth

Nurse
I have been delighted by the commitment of the AppLocum team, in particular Waheed in finding me long term work during this difficult time and the communication has been superb. I started working with the team a few weeks ago and have had more work than with my usual two agencies.
L Gruszka

Locum GP
It was the best experience I have ever had, having been through the same process with other agencies many times before. Obviously, I was hesitant at first having had my own personal experiences with agencies but I soon got a good feeling about this one. Very personal and friendly approach.
R Taylor

Practice Manager
I have recently changed my locum provider and the service I receive is excellent There is always a quick response for any requirements and queries I have. A practice managers role is very hectic and having a reliable locum agency takes so much pressure off our working day.
D Cohoon

Surgery Admin