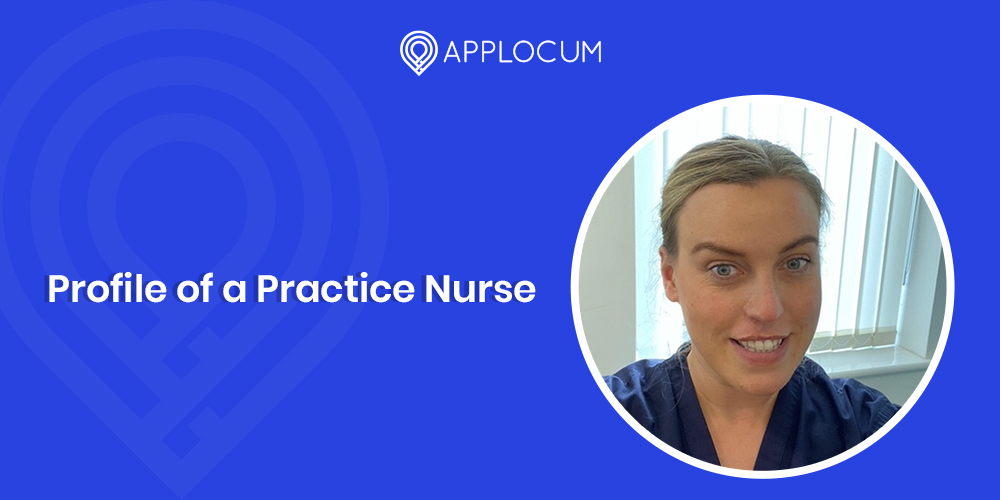 Profile of a Practice Nurse
Kate was chosen as our March AppStar for her excellent work with AppLocum. She kindly agreed to talk about her experiences as a locum Practice Nurse. Kate spoke to us about why she took on locum work and the importance of having work-life balance.  
What has been your career journey leading you to become a locum Practice Nurse? 
Kate started out as a District Nurse. As her family grew, she wanted more of a work-life balance so switched to Practice Nursing around five years ago. As a Practice Nurse, you generally only work so many hours, rather than full-time. When her children started school, she found that she wanted something to do with her extra two days. Her regular practice works with locums, so she spoke to one of them who referred her to AppLocum. She has now been doing locum work a couple of days a week for the last three years. 
What do you like about locum work? 
Kate said that she really enjoys locum work and loves experiencing different practices to see the different ways they all work. She can bring this knowledge to her regular practice to improve the patient experience and utilise the different skills that she has developed in a variety of settings. 
She also loves meeting new people and has found all the different practices so welcoming and friendly. Whilst she loves her regular practice work, Kate also enjoys "the feeling of driving to a new practice that [she's] never been to before."
What do you like about being a Practice Nurse? 
"Chronic disease management and prevention and health promotion." Kate said that she loves when people take notice of her recommendation and make lifestyle changes as a result. Educating people about their own lifestyles and looking after people's future is fulfilling work, starting from baby immunisation to prevention through screenings. It is a diverse job and you are able to manage your own time to an extent. Kate also likes how in a practice everyone works together – including the doctors, practice nurses, ANPs and support staff. 
Have you experienced any changes as a result of the pandemic? 
When the pandemic initially hit, Kate was put on furlough. At the moment, they are managing the workload for post-pandemic and organising how to see patients face-to-face without putting themselves at risk. At first, the practice only offered specific services such as cervical screening and baby immunisation. Now, chronic disease management is returning but they can't see people for longer than 15 minutes to limit exposure. Teamwork is important to manage all the different tasks. 
Do you have any advice you would offer other nurses about locum work?
Kate noted that it is really flexible for family life and work-life balance. "It has given me confidence in my own knowledge and skills because when you are sent to a new practice you are essentially on your own without a regular team."   
Working with AppLocum
"Kim is amazing, so supportive and nice." Kate said that whenever she has spoken to any member of the team they have been "really approachable and kind, which is what makes [working with AppLocum] so great."  
You can read more healthcare professionals' stories on our blog, including our Profile of a locum ANP and the Story of an Agency ODP.   
If you're interested in locum work with AppLocum, register online to hear about our latest shifts and start work as soon as you are compliant.  
We believe it is important to listen to the experiences of the healthcare professionals who work with us. We want to understand your needs and celebrate your amazing work in the healthcare industry. If you would like to tell your story, feel free to contact us.   
Don't just take our word for it,
see what our users think
I would recommend AppLocum! Matthew is always so helpful and great at getting shifts sorted quick and fast. The whole process was smooth and easy starting my set up at AppLocum. Matthew always keeps in touch to inform you what is going on with each job. Best agency out there!
C Brosnan

HCA
You have helped me so much throughout 2019 coming into 2020. Its been a hard year for everyone but you made sure I had work no matter what the circumstances were, you motivated me so much to apply for my [NMC] pin. You improved my skills and knowledge within these 2 years and I wouldn't have done it without you.
A Majeed

Practice Nurse
I have worked for AppLocum for three years now and they are fantastic to work for! They are like one big family! They really take the time to get to know you personally, and are so supportive from the compliance officers to the nurse consultants! They are easily accessible and really care about their ANP's.
S Brandreth

Nurse
I have been delighted by the commitment of the AppLocum team, in particular Waheed in finding me long term work during this difficult time and the communication has been superb. I started working with the team a few weeks ago and have had more work than with my usual two agencies.
L Gruszka

Locum GP
It was the best experience I have ever had, having been through the same process with other agencies many times before. Obviously, I was hesitant at first having had my own personal experiences with agencies but I soon got a good feeling about this one. Very personal and friendly approach.
R Taylor

Practice Manager
I have recently changed my locum provider and the service I receive is excellent There is always a quick response for any requirements and queries I have. A practice managers role is very hectic and having a reliable locum agency takes so much pressure off our working day.
D Cohoon

Surgery Admin