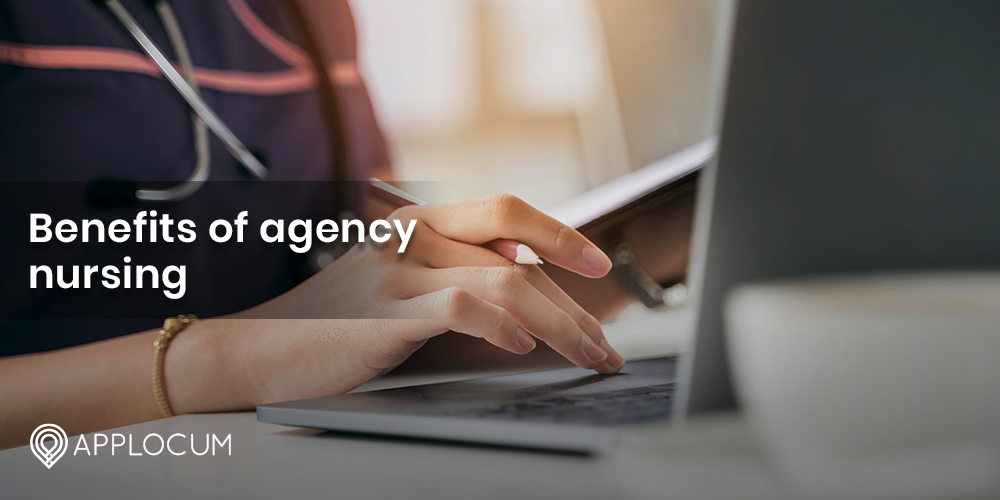 The Benefits of Agency Nursing
Being a nurse is one of the most rewarding professions, even though the pressure can make it difficult at times. There is no denying that it is an emotional rollercoaster. But nursing is respected worldwide and your dedication is thoroughly appreciated. You train for several years before taking up your first qualified position and are a valuable member of any team.
However, circumstances can change over the years since you first started as a student nurse. You may move cities or have a family which demands more of your time. You may need more flexible hours to fit in with family life. No parent wants to miss out on important moments in your children's lives – that first sports day or Christmas concert. Flexibility helps. With 24 hour, 7 days a week positions available, you can find work that suits you.
There are several great benefits of turning to agency work, so let us examine them.
Flexibility
You choose when you work and where you work. It is a winning situation if you are juggling work and family life. If you are in a relationship where your partner works shifts, you can both benefit from choosing this flexible style of working so that your home life does not suffer. Even better, you do not have to miss out on those magical moments with your children or other family members.
There are plenty of opportunities on our platform for all categories of nursing staff, and you have the benefit of working with a highly experienced and friendly team in the AppLocum office. Keeping in touch to let us know your availability and the areas where you can work will enable us to place you in your perfect job.
Equable rates of pay
Agency nurses receive good rates of pay equable with NHS guidelines. Nursing staff in all categories are in high demand in the UK, whether you wish to work full or part-time. Locum nurses can also demand higher rates of pay because of short notice or working unsocial hours. If you want to push yourself, you can even consider working extra hours than usual.
Enhance your nursing skills
As an agency nurse, you have the opportunity to increase your skills in areas that you may not yet have had the chance. You may want to specialise in a certain department or specific care situation, outside of general nursing responsibilities. The variety of locum work will enable you to increase your contacts and professional network. Each step may get you closer to your dream job. Never forget how valuable you are. This has been proven time and time again under the current pandemic situation, with nurses upskilling and moving into roles where they are needed most.
Build your nursing career
As a dedicated nurse, striving to achieve the top echelon can be a real motivation. Learning new skills and increasing your knowledge as a nurse will make you an extremely desirable candidate for many different positions.
Variety of placements
There will always be a good variety of nursing placements available. Even so, the more skills you have and being happy to work in different environments will further increase your job opportunities. As an agency nurse, this variety comes with the job. It can increase your mental strength, as well as your satisfaction and interest in your vocation.
Choose the right agency
Having a committed team of consultants supporting you can make a real difference. At AppLocum, our dedicated team is available by phone or email to offer advice and support. Help is always at your fingertips. Our team of healthcare professionals have thanked us for having "improved my skills and knowledge within these last 2 years" and "helped in securing bookings when other work had dried up." It's easy to join AppLocum with quick and simple registration on our app. Just have the relevant paperwork such as qualifications and proof of identity ready!
We also offer AppLoyalty and AppRefer Schemes as a reward for our candidates ongoing support to us. We believe that you should receive all the recognition that you deserve as a part of an ever-growing team of devoted healthcare professionals.
See our latest vacancies – here.
Don't just take our word for it,
see what our users think
I would recommend AppLocum! Matthew is always so helpful and great at getting shifts sorted quick and fast. The whole process was smooth and easy starting my set up at AppLocum. Matthew always keeps in touch to inform you what is going on with each job. Best agency out there!
C Brosnan

HCA
You have helped me so much throughout 2019 coming into 2020. Its been a hard year for everyone but you made sure I had work no matter what the circumstances were, you motivated me so much to apply for my [NMC] pin. You improved my skills and knowledge within these 2 years and I wouldn't have done it without you.
A Majeed

Practice Nurse
I have worked for AppLocum for three years now and they are fantastic to work for! They are like one big family! They really take the time to get to know you personally, and are so supportive from the compliance officers to the nurse consultants! They are easily accessible and really care about their ANP's.
S Brandreth

Nurse
I have been delighted by the commitment of the AppLocum team, in particular Waheed in finding me long term work during this difficult time and the communication has been superb. I started working with the team a few weeks ago and have had more work than with my usual two agencies.
L Gruszka

Locum GP
It was the best experience I have ever had, having been through the same process with other agencies many times before. Obviously, I was hesitant at first having had my own personal experiences with agencies but I soon got a good feeling about this one. Very personal and friendly approach.
R Taylor

Practice Manager
I have recently changed my locum provider and the service I receive is excellent There is always a quick response for any requirements and queries I have. A practice managers role is very hectic and having a reliable locum agency takes so much pressure off our working day.
D Cohoon

Surgery Admin