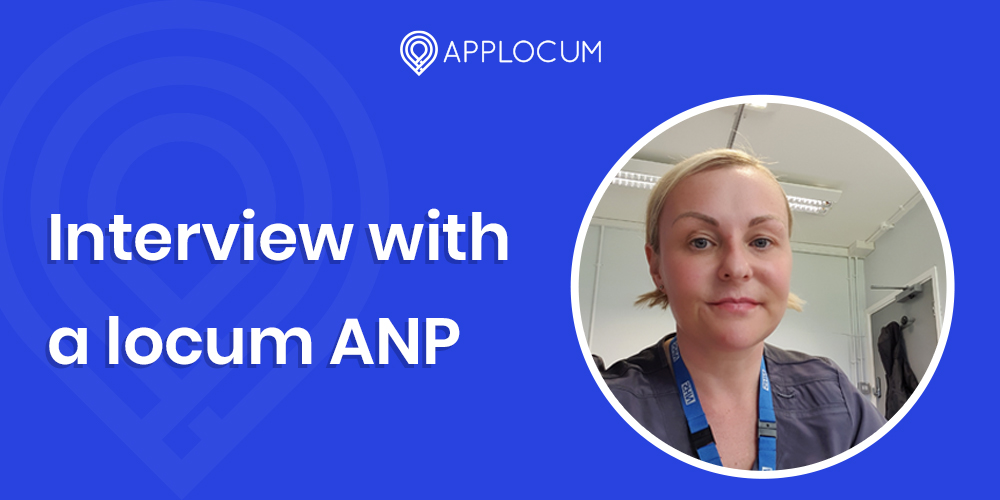 Interview with a Locum ANP
Amanda Edwards was chosen as our April AppStar thanks to her excellent work as a locum ANP. She spoke to us about why she likes locum work and the skills and opportunities she has gained over the last five years.   
What is your favourite thing about nursing? 
Amanda said she enjoys meeting new people and using her skills to treat people. With fewer GPs about, she enjoys being able to provide extra support. ANPs are very in demand as they have a wide set of skills with which they can make things better for the NHS. It is good to treat and diagnose patients, particularly providing support during COVID.  
When did you start working as a locum and why? 
"2016. I was a newbie to it and I feel like I've recruited every ANP I know. It's like I've brought a whole family with me, with all my friends. Friends have started with one foot in the door and one foot out, then ended up going full-time."  
What do you like about locum work? 
"Flexibility, less politics, more focus on what I want to do and where I want to work. I like meeting new people, particularly in Primary Care. I've also found locum work better for Professional Development as it's given me time for my professional studies." Amanda recently completed her Master's degree.  
There is also "good support at all the surgeries I work at. With the pandemic, work has been a social thing. With COVID and not being able to go out, I really appreciated the work, seeing patients and other staff. It's kept my mental health going, getting out and doing a bit to help. I've been trying to keep positive."  
Amanda also appreciates having "more autonomy and free-thinking. There is more time to analyse things clinically, which the patients and other staff really appreciate." 
Speaking about her experience with AppLocum, she said "Lily and Kim have been absolutely amazing, supporting me and covering my shifts when I needed them to. We're all only human when things happen outside of work that you can't control. They're like an extended family."  
Do you have any advice you would offer other nurses?
"Get experience in the NHS and get your courses behind you (eg. Prescribing, diagnostics and clinical skills). Then, if you're thinking about doing locum work, just go for it. Don't miss out on a whole new world of opportunity."  
Amanda also said that locum work has helped her learn how to run a business, by managing her money and being organised, as well as learning more about tax. She has used these skills outside of the NHS and healthcare.  
If you enjoyed this, you can read our other locum interviews Profile of a locum ANP and Profile of a Practice Nurse.
We have vacancies for locum nurses across the UK. See our current vacancies here or register with us to get first access to the latest nursing shifts in your area. Ring 0161 711 0655 to find out more.
Don't just take our word for it,
see what our users think
I would recommend AppLocum! Matthew is always so helpful and great at getting shifts sorted quick and fast. The whole process was smooth and easy starting my set up at AppLocum. Matthew always keeps in touch to inform you what is going on with each job. Best agency out there!
C Brosnan

HCA
You have helped me so much throughout 2019 coming into 2020. Its been a hard year for everyone but you made sure I had work no matter what the circumstances were, you motivated me so much to apply for my [NMC] pin. You improved my skills and knowledge within these 2 years and I wouldn't have done it without you.
A Majeed

Practice Nurse
I have worked for AppLocum for three years now and they are fantastic to work for! They are like one big family! They really take the time to get to know you personally, and are so supportive from the compliance officers to the nurse consultants! They are easily accessible and really care about their ANP's.
S Brandreth

Nurse
I have been delighted by the commitment of the AppLocum team, in particular Waheed in finding me long term work during this difficult time and the communication has been superb. I started working with the team a few weeks ago and have had more work than with my usual two agencies.
L Gruszka

Locum GP
It was the best experience I have ever had, having been through the same process with other agencies many times before. Obviously, I was hesitant at first having had my own personal experiences with agencies but I soon got a good feeling about this one. Very personal and friendly approach.
R Taylor

Practice Manager
I have recently changed my locum provider and the service I receive is excellent There is always a quick response for any requirements and queries I have. A practice managers role is very hectic and having a reliable locum agency takes so much pressure off our working day.
D Cohoon

Surgery Admin