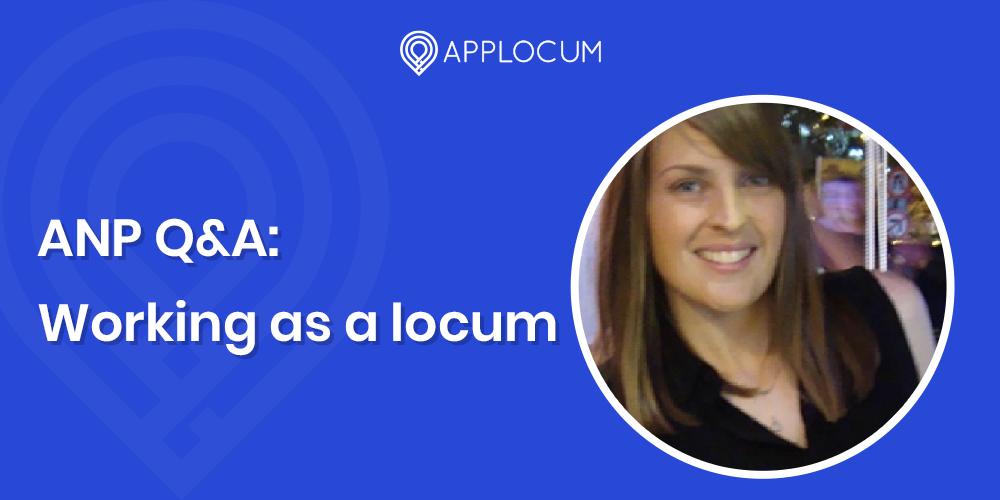 ANP Q&A: Working as a locum
What has been your career journey leading you to become an ANP?  
I started my degree in nursing studies straight after sixth form when I was 18. I qualified in 2002 and worked first as a staff nurse and then a senior staff nurse for the next 10 years. 
I then obtained the post of orthopaedic trauma coordinator and was in this role for the next 3 years. It was while employed in this role that I completed my non-medical prescribing qualification and went on to start my Masters in advanced practice. 
About 18 months into my advanced practice course, I got the opportunity to work for a local GP practice which had recently merged out of several small practices and required more ANPs. I worked there for 2 years and thoroughly enjoyed it but ultimately missed orthopaedics and when I heard they were looking for an ANP I decided to go back. 
When did you start working as a locum and why?  
It was during my second year working at the GP practice (approximately 3 years ago) that a friend and colleague told me that she had signed up with AppLocum and was doing some shifts at the local out of hours service. She said she was happy to recommend me if I was interested. I had just made a couple of expensive purchases and thought it would be an ideal opportunity to recoup the outlay. 
The company sounded like a good one to work for and it would allow me to retain some of my primary care based skills as I had already decided I was leaving the practice at that point. 
I also liked the idea of not being committed and being able to choose when I wanted to work extra shifts to fit in with life, hobbies, holidays etc. 
What do you like about nursing?  
I love caring for patients and fighting to achieve the best possible outcomes for them.  
I thoroughly enjoy the practical side for example the clinical skills that are required to be both a nurse and an ANP.  
Mostly I enjoy the team working. I currently have amazing colleagues some of whom I class as friends. 
What has your experience working with AppLocum been like?  
My experience at AppLocum has been brilliant.  
I get offered regular shifts at the local out of hours service but have also worked for several other practices in areas such as Wigan, St Helens, Liverpool and Preston, all of which have been friendly, helpful practices to work at. 
The booking process is always straightforward and organising everything from the booking of shifts to returning timesheets is a very streamlined process.  
Kim has been amazing to work for and is always available if I need any help with making or amending a booking. 
Do you have any advice that you would offer other nurses and/or locums?  
Go for it, don't let nerves get in the way. Everyone at AppLocum is friendly and there to support and I have always found permanent staff at the practices I've worked for to be helpful and friendly.   
Enjoy hearing locum stories? You can also read our Interview with a Locum ANP and Profile of a Practice Nurse.
If you are a nurse interested in locum work, we have vacancies nationwide. See them here.
Don't just take our word for it,
see what our users think
Within two days, I was registered and ready for work with a regular contract arranged by Matthew. When this contract ended Matthew provided me with great support and boosted my confidence enough to help me take a step up in my nursing role. He is a true credit to AppLocum and always maintains a highly professional service.
A M McGuire

Nurse
You guys are marvellous!! I work with a few agencies but to be honest you're miles better at everything so I just work with you guys now.
B McQuillan

Practice Nurse
I would recommend AppLocum! Matthew is always so helpful and great at getting shifts sorted quick and fast. The whole process was smooth and easy starting my set up at AppLocum. Matthew always keeps in touch to inform you what is going on with each job. Best agency out there!
C Brosnan

HCA
You have helped me so much throughout 2019 coming into 2020. Its been a hard year for everyone but you made sure I had work no matter what the circumstances were, you motivated me so much to apply for my [NMC] pin. You improved my skills and knowledge within these 2 years and I wouldn't have done it without you.
A Majeed

Practice Nurse
I have worked for AppLocum for three years now and they are fantastic to work for! They are like one big family! They really take the time to get to know you personally, and are so supportive from the compliance officers to the nurse consultants! They are easily accessible and really care about their ANP's.
S Brandreth

Nurse
I have been delighted by the commitment of the AppLocum team in finding me long term work during this difficult time and the communication has been superb. I started working with the team a few weeks ago and have had more work than with my usual two agencies.
L Gruszka

Locum GP
It was the best experience I have ever had, having been through the same process with other agencies many times before. Obviously, I was hesitant at first having had my own personal experiences with agencies but I soon got a good feeling about this one. Very personal and friendly approach.
R Taylor

Practice Manager
I have recently changed my locum provider and the service I receive is excellent There is always a quick response for any requirements and queries I have. A practice managers role is very hectic and having a reliable locum agency takes so much pressure off our working day.
D Cohoon

Surgery Admin